Landini Scottish show debut
  The new 'Active' version of the Landini 6 Series Roboshift four-cylinder tractor range made its UK debut at the Royal Highland Show on the Landini stand. Distributor AgriArgo UK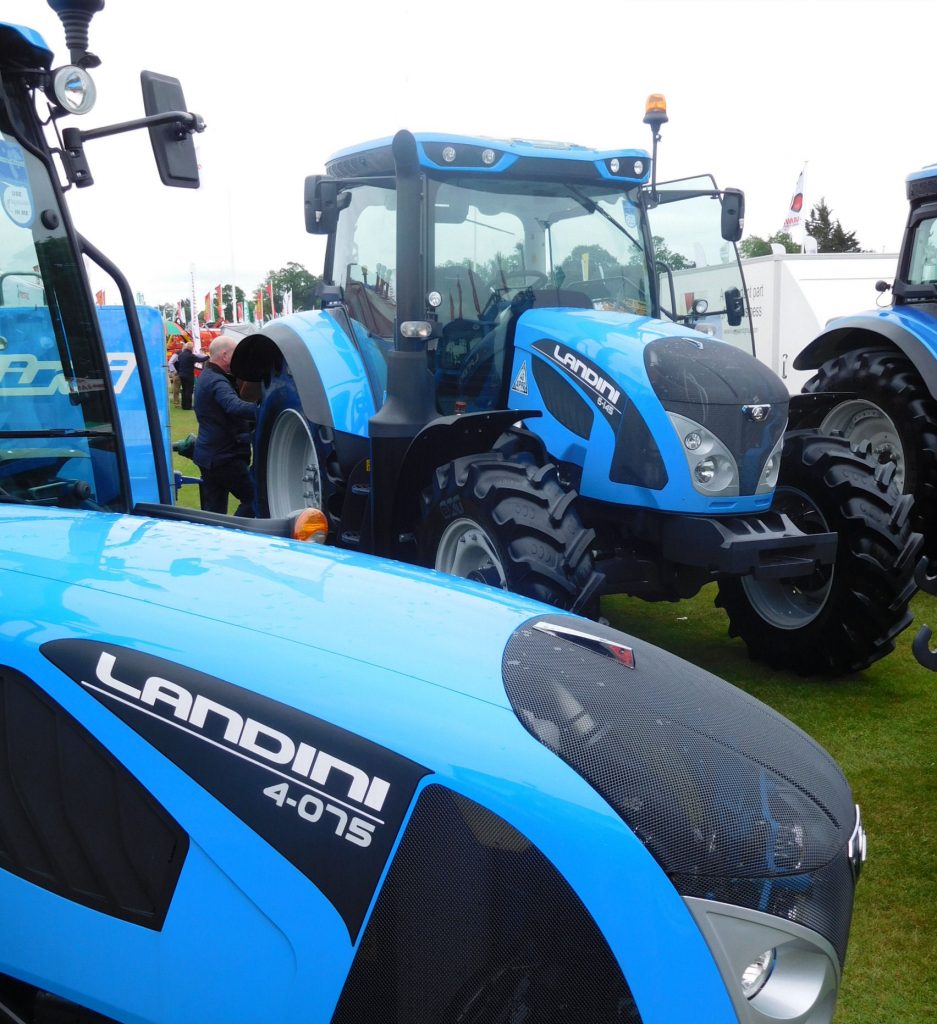 The new 'Active' version of the Landini 6 Series Roboshift four-cylinder tractor range made its UK debut at the Royal Highland Show on the Landini stand.
Distributor AgriArgo UK has introduced the new Active models as an alternative to the full-spec Dynamic versions with a package of equipment that will appeal to operators preferring a simpler specification.
Controls are laid out on a side console instead of a seat-mounted armrest, mechanical spool valves are installed in place of electric valves, and there are fewer electronic features generally.
While this creates a tractor without many of the 'gizmos' of the higher-specification machines, operators should not feel short-changed.
The tractors still have the same high performance FPT Industrial engines, a semi-powershift transmission with smooth button-operated shifting, and pto and hydraulic systems well up to the job of operating modern farm equipment.
And the changes also result in a lower price point for the various models, making them a more affordable option for buyers happy to do without top-spec features but wanting a thoroughly modern power unit with a quiet and spacious cab.
The Landini 6-145 Roboshift Active displayed at the Royal Highland Show has a power output of 143hp for all applications.
Power and torque are channelled through the 24×24 (or optional 40×40 creep) Roboshift transmission, which has thumb-button shifting amongst the four powershift steps and also between the six ranges.
Buyers can choose 40kph, 40kph Eco or 50kph gearing, each with a four-speed pto package that includes eco settings for 540rpm and 1000rpm at the shaft to save fuel when operating implements with low power demand.
Front axle and cab suspension can be added for increased comfort; the suspended axle also provides improved field traction and the stability required for a 50kph transmission.
The 6 Series Active models come with an 88-litre/min gear pump hydraulics system (plus 44-litre pump dedicated to steering and ancillaries) and 6300kg rear lift linkage. These can be upgraded to a 123-litre/min load-sensing pump and 9300kg lift capacity – both of which are standard on the higher-spec Dynamic models.
The Active specification is also available on six-cylinder Landini 7 Series Roboshift tractors from 160hp to 212hp. These feature a cast chassis for maximum strength with mounted implements.
"With the 6L, 6 Series and 7 Series tractors, the Landini range provides a great choice of specifications in the popular 143-175hp bracket to meet different needs, preferences and budgets," says Ray Spinks, general manager and sales director at AgriArgo UK. "Go for the 6L if something capable but basic suits your needs; choose the 6/7 Series Dynamic for top specification; or opt for the new 6/7 Series Active for something in between."
All are available from AgriArgo's nationwide network of Landini sales, parts and service dealers, including Scottish dealers JT Cormack, John O'Groats; Walter G Grant Agri Machinery Sales, Elgin and Marrs of Methlik, Ellon in Aberdeenshire.
Also, Argyll Agricultural Engineers, Oban; Laird Agri Sales & Service, Justinhaugh, Forfar; George Colliar, Balado, Kinross; Robert Dyke & Son, Thornhill by Stirling; DHW Tractors, Carnwath, Lanarks and Borders; and Southern Tractors, Dumfries.