Maize planting record smashed
Case IH and Väderstad smash maize planting world record as Magnum 380 CVX powers team to triumph in Hungary Magnum flagship operates Väderstad Tempo L 16 planter to cover 502.05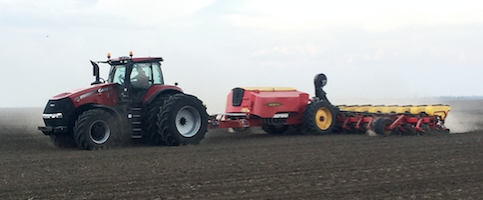 Case IH and Väderstad smash maize planting world record as Magnum 380 CVX powers team to triumph in Hungary
Magnum flagship operates Väderstad Tempo L 16 planter to cover 502.05 hectares in 24hrs / Breaks previous record of 448.29 hectares / Commercial crop to be taken through to harvest – full agronomy guidelines followed / CVX transmission proves ideal to quickly attain full working speed when starting each pass 
Case IH has helped smash the world record for the area of maize planted in 24 hours, using a Magnum 380 CVX tractor with a 16-row Väderstad Tempo L planter to cover 502.05 hectares, breaking the previous record of 448.29 hectares. Working in two fields on a farm in western Hungary, the combination was used to apply not just seed, but also fertiliser and insecticide. 
Planting at 30in (76.2cm) row spacings, the combination covered 12.19m in each run, with Case IH AccuGuide auto-steering used to deliver straight and accurate passes at working speeds up to 24kph, and 2.0cm pass-to-pass accuracy provided by Case IH's exclusive RTK+ correction signal network, which covers most of Europe – including all of Hungary – via more than 1,000 RTK stations. The ISOBUS task controller in the Case IH AFS Pro 700 terminal enabled individual management of each of the 16 row units on the planter, to ensure precise switch-on/off at the headland. 
The Magnum 380 CVX with continuously variable transmission was chosen for the record attempt not only for its fuel efficiency and ease of use, but also as it helped to quickly accelerate the tractor and implement up to the optimum working speed when pulling away from the headland at the beginning of each pass. With 221 litres/minute of oil flow available from the tractor, the Magnum 380 CVX also provided plenty of hydraulic flow to ensure the planter's fans were never short of oil. 
While this was a record attempt, it was done to exact agronomic guidelines, ensuring that the maize was planted with the same care and attention to detail – in terms of seed spacing and depth – that any farmer would use. The quality of work during the record event was monitored by staff from Gödöllő University.