Network strengthened by new appointment
  Kubota is joining forces with A M Phillip Agritech Ltd, one of Scotland's leading suppliers of farming solutions, in an exciting new partnership that further expands Kubota UK's agricultural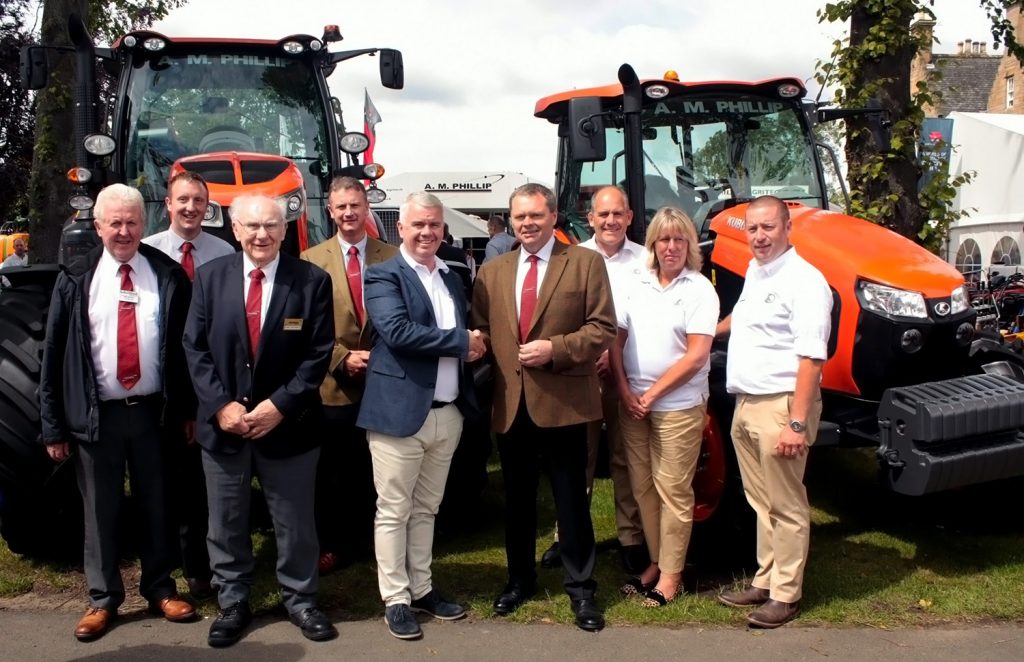 Kubota is joining forces with A M Phillip Agritech Ltd, one of Scotland's leading suppliers of farming solutions, in an exciting new partnership that further expands Kubota UK's agricultural dealer network.
The deal now means Kubota's full range of agricultural solutions will be available to farmers and contractors from three of A M Phillip Agritech's depots – Conon Bridge, Perth and Glenrothes. This includes Kubota's M7001 Series, M5001 Series, MGX-III Series and the L Series, along with the company's market leading RTV utility vehicles and Kubota grassland implements.
Rob Edwards, Business Development Manager for Kubota UK's agricultural division, commented: "This is an important announcement that further highlights Kubota's commitment to the UK agricultural industry. Already this year, we have strengthened and enhanced our network with appointments like Battlefield Machinery and Lister Machinery, but that's just the start and there's much more to come.
"Our message to the market is clear, Kubota is prepared to invest in the right products, infrastructure and network to ensure we are a real force in this market for the long term and partnerships like this with A M Phillip Agritech show how serious we are in achieving this."
A M Phillip Agritech Ltd has been serving the Scottish farming market since 1955, with six branches across the North and East of the country. With 110 staff, the company has built up an excellent reputation for providing a friendly, reliable and excellent service to its customers.
"A M Phillip Agritech is an highly respected machinery dealer in the North and East of Scotland and we are delighted to be teaming up with them," continued Rob.
"Farming in this area in extremely diverse, from hill and upland farms in the Highlands, to mixed and low level farms around Perthshire, with customers looking for everything from stock tractors right up to the most sophisticated and technologically advanced on the market. With Kubota's agricultural machines and implements alongside A M Phillip Agritech's industry leading service and support, we are confident that we have a compelling proposition to target the market and achieve growth."
A M Phillip has a long relationship with the Kubota brand, with Gammies Groundcare (a division within A M Phillip), being the independent dealer for Kubota's market leading groundcare equipment for decades.
Andrew Connon, Dealer Principal at A M Phillip Agritech, said: "By working in partnership with Kubota UK, we are determined to make an impact on the Scottish farming sector. Already, there has been huge interest from our customers in the Kubota brand and a lot of people requesting demonstrations. Farmers have an acceptance that with Kubota they will get a quality and reliable product that is easy to use and won't let them down, time and again.
"People also know the investment that Kubota is making into the agricultural market and that it is a global player investing in the future, which breeds extreme confidence in the brand. We are delighted to making this announcement at the Royal Highland Show, one of the leading events in the Scottish farming calendar, and look forward to meeting and speaking to farmers and visitors on Kubota's stand."