New Valtra flagship brings more comfort, features and power
Valtra used an exclusive press event in Finland to demonstrate its new S6-Series tractors with up to 420hp, which will replace the current S4 flagship line-up. David Williams spent time at the wheel.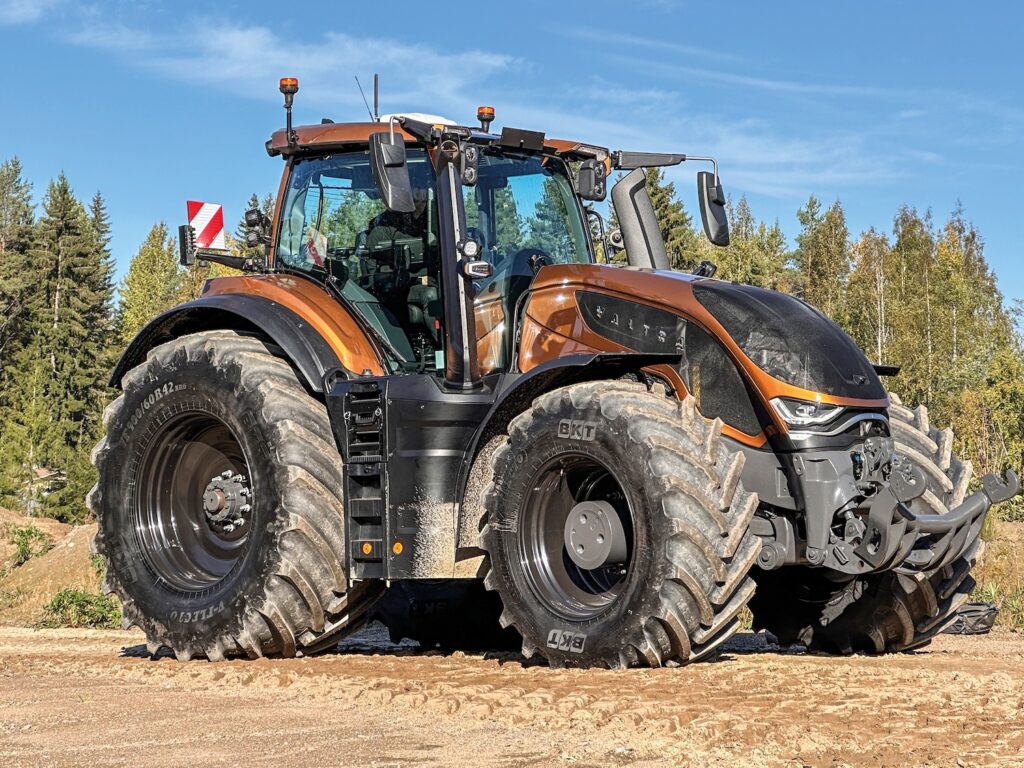 Marketed as 'The Boss', the new 6th-generation S-Series is manufactured at Valtra's Suolahti factory, and gains a new engine, cab and transmission. Valtra has grown its European market share from 5.2% in 2013 to 7.1% by early 2023, and it is expected that manufacturing the new S-Series flagship in Valtra's own plant will increase the model's appeal to customers and the dealer network and have a positive effect on the brand's market share of the higher horsepower segment.
Huge investment
Valtra has invested heavily in its Finnish factory to accommodate the larger tractors and to meet growing demand for the complete range. A state-of-the-art paint plant entered service in August this year. The new paint plant easily keeps up with current factory production rates of one finished tractor every 11 minutes, and up to 18 chassis are undergoing the painting process at a time. The latest painting technology ensures an optimal finish and, rather than supporting tractors underneath during the painting process, the new plant utilises an overhead conveyor system with the tractors suspended from above to improve access for robotised spraying and achieve better coverage.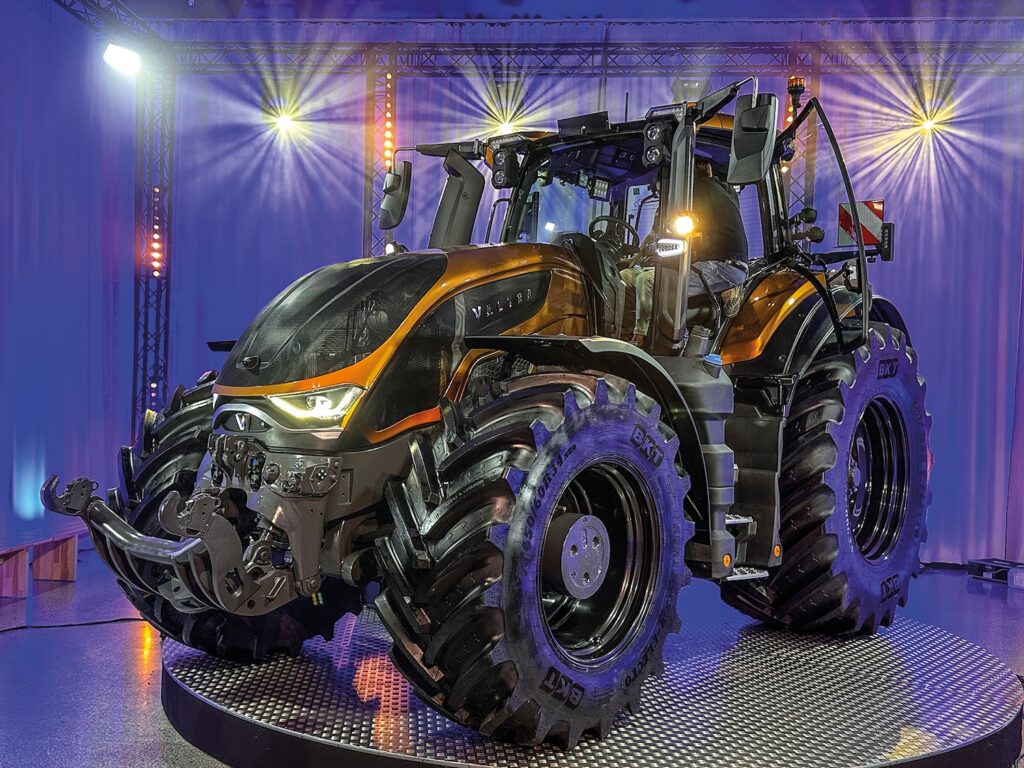 New engine, uprated transmission
Production of the new S6-Series tractors will be ramped up slowly with first customer deliveries from April 2024.
There are six models from 280–420hp. Power is from a new AgcoPower 8.4-litre engine which meets the most demanding current emissions standards without needing EGR (Exhaust Gas Recirculation). Using SCR (AdBlue) and avoiding EGR improves combustion efficiency and means the engine runs cooler, so it is more fuel efficient, and less power is needed for the cooling system.
A single turbocharger replaces the previous twin turbo set-up, and the long-stroke engine develops maximum power at 1,850rpm; approximately 5% lower revs than the previous 4th-generation S-Series tractors and maximum torque is produced at only 1,500rpm. The most powerful S416 produces up to 1,750Nm of torque – 9% more than the previous flagship while fuel consumption is reduced by 3%. All except the top model feature 20–30hp boost for specific operating conditions. The S416 has maximum power and torque always available.

Proven, high-performance transmission
The ML260 CVT transmission is like that used in the S4 models, but with an upgraded hydraulic pump and heavy-duty PTO drive train, and the rear axle diameter is increased to 125mm to handle the higher torque. Like the previous version it has two operating speed ranges, for field work and transport. Combining the new engine with the updated transmission increases efficiency, and fuel consumption is up to 10% lower on average than its predecessor, claims Valtra.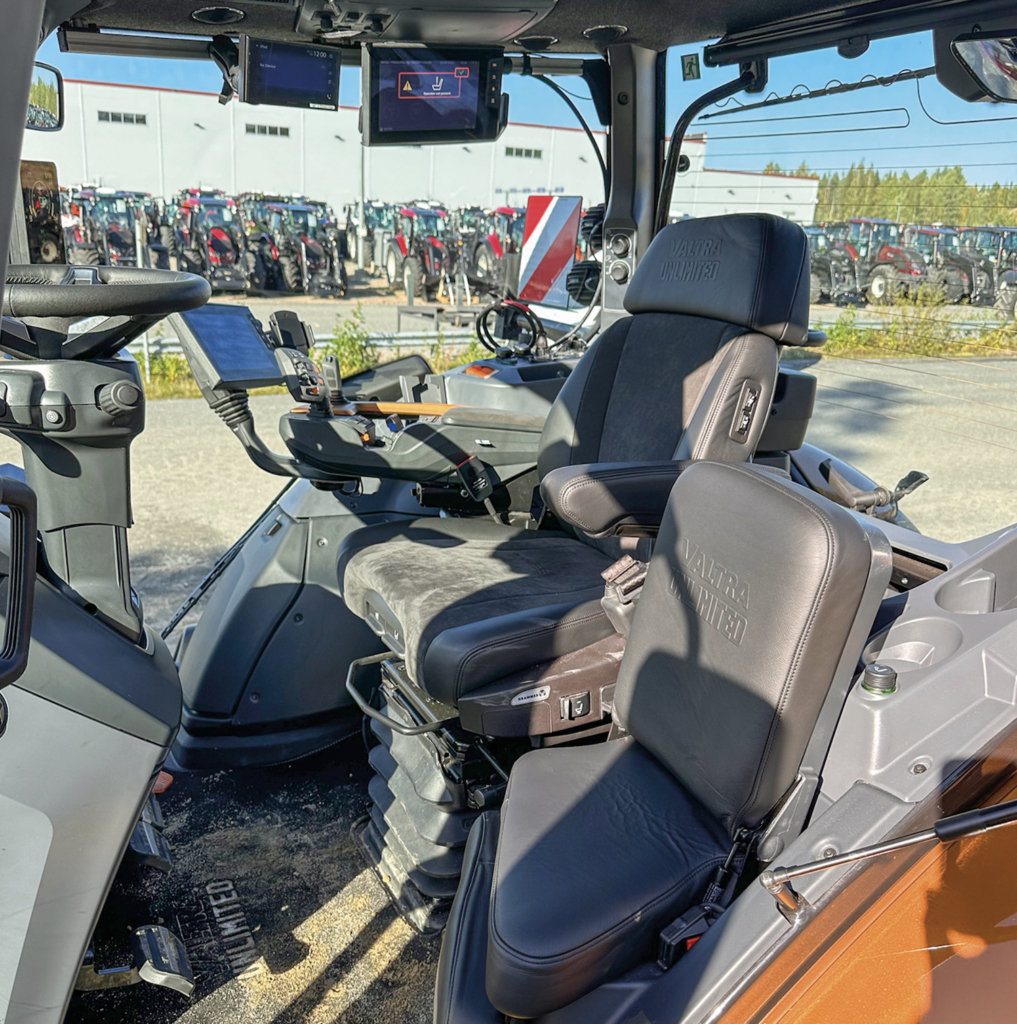 Cab frame shared
The S6-Series shares a similar cab frame to Valtra's latest N-, T- and Q-Series models. Advantages over the previous model include improved air distribution through 15 air vents at various levels around the cab, rather than directing hot or chilled air down onto the operator's head from the roof.
There are also a range of suspension options for the front axle and cab as well as multiple seats.
The Valtra cab is available with TwinTrac reverse drive controls, and a Skyview cab is also an option.
LED lighting is standard. The set of 16 includes headlights with low and high beam. Various lighting upgrade packages are also available. 
New technology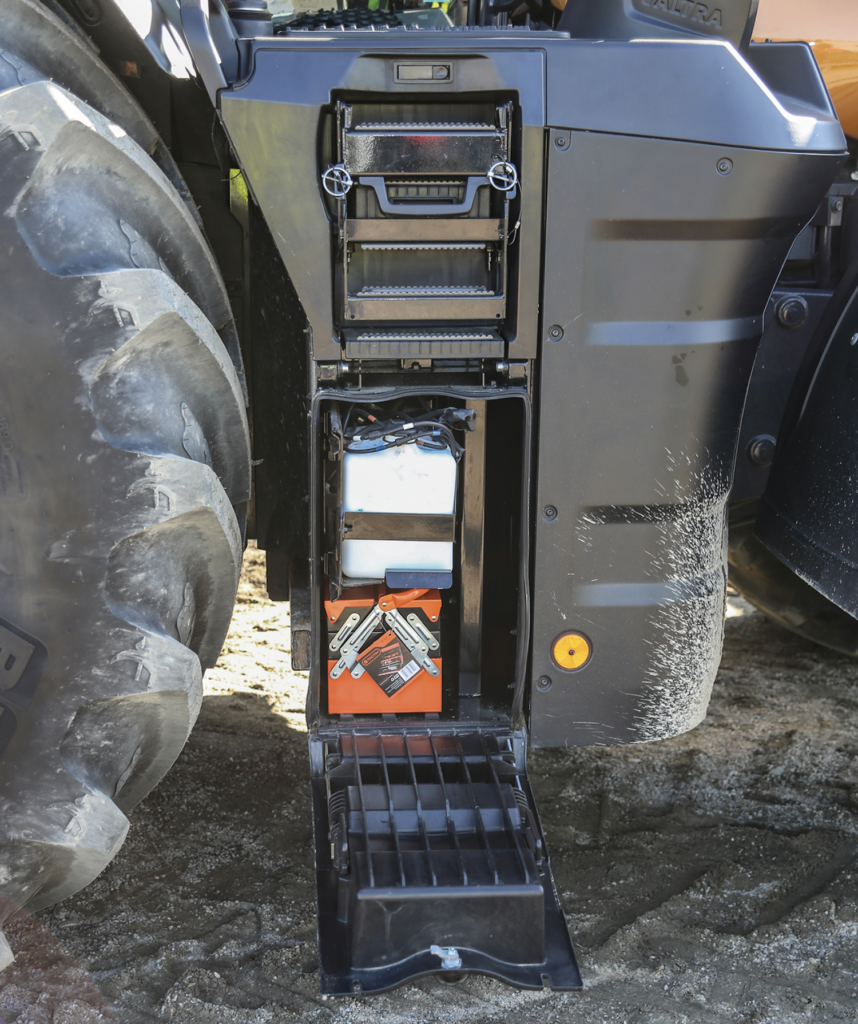 The SmartTouch user interface is available with features including SmartTurn automatic headland turning. There are four turning patterns included – Part Field Mode, U-Turn, Y-Turn and K-Turn.
"Our precision farming offering meets the demands of most customers, and the SmartTouch user interface makes Valtra smart farming technology the easiest in the market. We are working on new technology features too which will benefit our customers soon," explained product marketing specialist Johan Grotell. "For example, Isobus-based Tractor Implement Management (TIM) is planned for release for the S-Series in 2025."
 Capable specification
The wheelbase, at 3,098mm is 93mm longer than the new Q-Series tractors, and within 10mm of the previous S4-Series. Maximum gross weight is 18t.
Weight distribution without ballast is 48% on the front axle and 52% on the rear.
Rear lift capacity is 12t and the optional front linkage lifts 5.8t.
All hydraulic system options include two pumps. The base Eco unit produces 200 litres/min at just 1,650rpm and an upgrade to two pumps each producing 200 litres/min for up to 400 litres/min hydraulic flow is available, with six spool valves including one with flow rates up to 170 litres/min.
Test drive
The test-drive on land adjacent to Valtra's factory included opportunities to try the tractor on public roads and negotiating rough tracks and some steep slopes in a quarry.
The cab is comfortable and quiet, and the visibility all around is excellent. For a powerful 400hp-plus tractor it is extremely nimble and manoeuvrable, and it is easy to judge clearances in confirmed spaces as the relatively narrow bonnet allows a good view of the front wheels. There is also an excellent view down to the trailer hitch at the rear.
The front axle and cab suspension soaks up bumps well, so even the unsuspended passenger seat is quite comfortable on bumpy tracks.
Noise levels are low, and when accelerating hard up steep gradients when exiting the quarry, noise levels remained between 65–68db, even though the test tractor was a pre-production example.
The transmission is smooth and progressive. Driving in fully automatic mode using the foot throttle, even with no load behind to dampen the response from the 420hp engine it easily maintains a constant speed across uneven, severely rutted ground. Shifting between forward and reverse, the drive take-up is smooth, and it is possible to achieve precise, small movements – handy for lining up the trailer hitch or attaching linkage-mounted implements.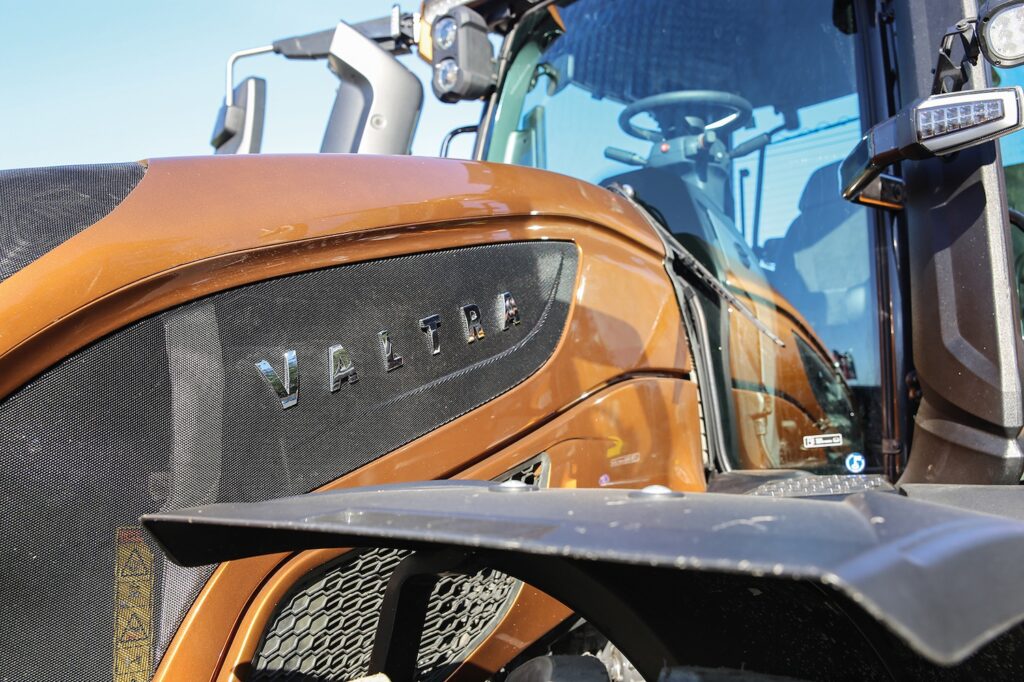 Verdict
The new S6-Series features significant improvements over previous S4-Series models, including increased performance and efficiency, and the same cab that has already helped Valtra win conquest sales from other premium brands since 2014 when it first appeared on the T4-Series. A true Valtra pedigree including manufacture in the Suolahti plant will increase its appeal, and the attractive package including back-up from a network of excellent UK dealers means it has what it needs to compete against other brands in the high-horsepower market segment.
Valtra offers its customers almost limitless customisation options for their tractors through the factory-based Unlimited Studio. These include unique paint finishes, extra equipment, and specialist attachments – all approved and fitted at the factory. Demand for the Unlimited treatment is growing and more than one third of tractors leaving the factory visit the studio for treatment before being loaded onto trains or lorries. "Large farms and agricultural contractors depend on having the right solutions to undertake smart farming tasks in the most efficient way possible," explained vice president marketing, Mikko Lehikoinen. "Valtra is uniquely placed to offer exactly what each business needs to farm more efficiently, more ergonomically and with increased safety."
The new S6-Series has its official launch at the Agritechnica show in November, and UK dealers are already receiving enquiries and requests for demonstrations.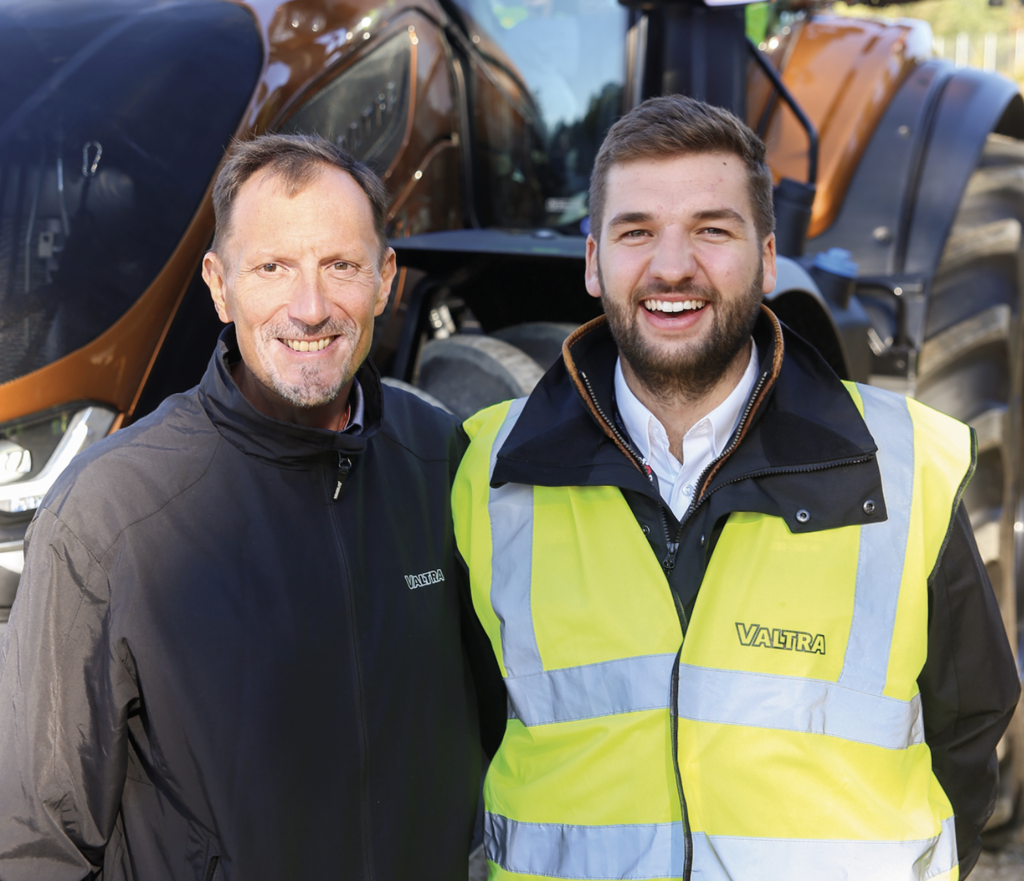 ---