Saving time and money with real-time alerts and monitoring
Making a farm as profitable as possible requires expert decision making. A Cornish agri-technology business is now making that much easier, by giving farmers access to real-time data and alerts to base their decisions on.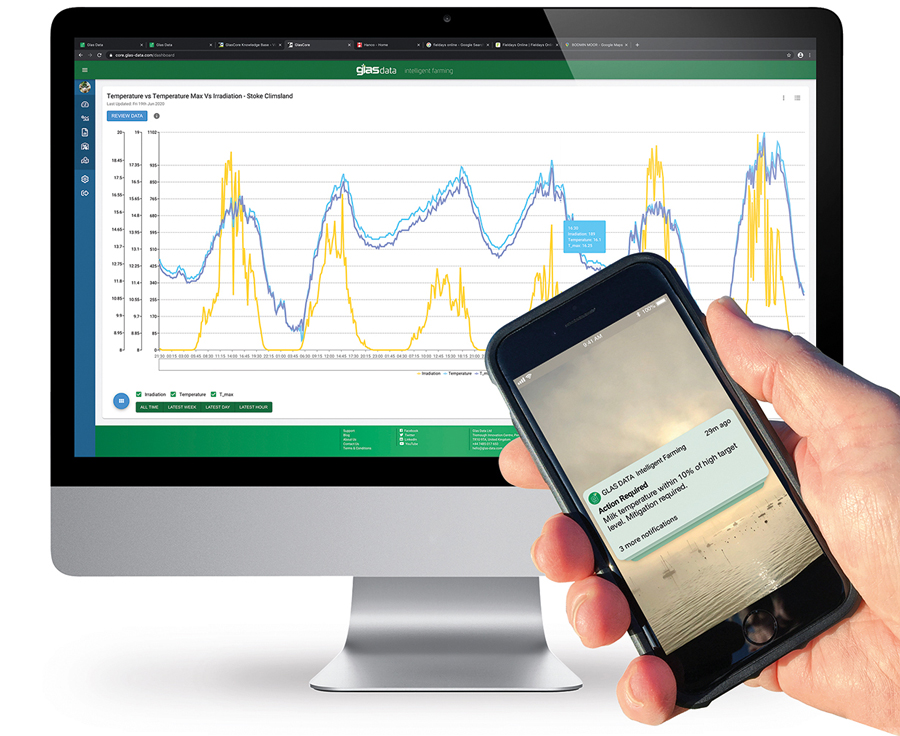 Making a farm as profitable as possible requires expert decision making. A Cornish agri-technology business is now making that much easier, by giving farmers access to real-time data and alerts to base their decisions on.
The technology now exists to monitor everything from livestock and soil health to water levels. Farmers are likely to find it useful to gather data from multiple sources across their farm. But how do they manage all that data?
"Farmers can end up with several apps or dashboards for different technologies. Managing all of this quickly uses up the time saved by introducing technology in the first place," says Colin Phillipson from Glas Data, which has developed a solution to this problem – the GlasCore dashboard.
"We've spent three years developing GlasCore and working with farmers and agriculture businesses to refine it. GlasCore pulls all of the data collected on a farm together. Farmers will find everything they need to monitor and manage their business on one screen with one login," says Colin Phillipson.
"The data is delivered in real-time too, which means that farmers can take immediate action if they spot an issue – before it becomes an expensive problem."
Collecting farm data
Glas Data work with their hardware partner, a specialist in the Internet of Things sensor technology, to build an extensive range of over 60 agricultural sensors that support the food supply chain.
The sensors use LoRaWAN (long-range, low power) technology. Colin Phillipson explains why LoRaWAN sensors are suited to agricultural use: "There is no need for 4G or 5G technology or heavy batteries. These sensors are perfect for farms as they cover a large area, with a range of up to 20 miles. You just need one antenna on the farm, which is usually installed on a farm building. For internal use, the antenna is similar to a domestic Wi-Fi hub, and takes just 10 minutes to install. Each sensor has its own battery which, depending on what the sensor is used for, will last between three and 10 years before it needs to be replaced."
The sensors can measure everything from bulk milk tank temperature to animal housing. Animal health can also be monitored with a sensor used inside a cow's rumen, which monitors temperature, pH and activity.
All of your farm's data in one place
With sensors set up around the farm collecting data, as well as the information a farmer may hold themselves (such as Excel spreadsheets of lab results), there is a lot of data to manage. The GlasCore dashboard displays all of this data, as well as geospatial and time-stamped data. This allows data to be tracked over time – and space. "Data can be pinpointed to a particular field, and the farmer can compare different locations. Other information can also be imported into the GlasCore dashboard, including the Rural Payments Agency boundary information," explains Colin Phillipson.
Benefits of real-time data and alerts
The GlasCore dashboard displays data in real-time and can be set up to deliver alerts to draw the farmer's attention to particular data. "This will result in cost savings," says Colin Phillipson. "Information will be coming in all the time, directly to a phone or desktop. Farmers can easily detect trends and spot ways to improve productivity. The system can be set up individually for each farmer, to track exactly what they need and alert them to issues of concern. Farmers can react quickly to any alerts and take mitigating action that could save significant costs, before small issues become a serious problem."
As time is a precious commodity for farmers, GlasCore makes searching between multiple computer files, or different piles of paperwork a thing of the past. Using sensors to collect data and monitor farm operations, also allows farmers to automate mundane tasks, which will save even more time.
Real-time data in action
The GlasCore dashboard is already delivering time and cost savings to farmers and food producers. For one dairy business, sensors were installed to record temperature in their freezers and an alert was set up to let them know of any issues. LoRaWAN sensors were perfect for this job as most wireless technology would not go through the steel shipping containers the freezers were stored in. "Over a weekend, the sensor identified a rise in temperature and an alert was sent to the farm manager's mobile phone.
"The problem was caused by the failure of a cooling system. Because of the real-time data monitoring and alert, they were able to fix the issue very quickly. Before using this system they would have lost an entire year's worth of stock and ingredients," says Colin Phillipson.
For another agricultural organisation, the system saved significant costs associated with a water leak. "Water meter sensors provided virtual meter readings which were displayed on the GlasCore dashboard," adds Colin Phillipson.
"The sensors transmitted data to the GlasCore dashboard every 30 minutes. This meant that water leaks were quickly identified. Without the sensors and GlasCore, it could have been a long time before the leaks were spotted as previously manual checks were made just a few times each month. The early alert to the issue saved the business many thousands of pounds in lost water."
Managing a farm is a juggling act, and finding ways to cut costs and maximise productivity can be tricky.
The GlasCore dashboard can be adapted for each business to track the data that is important to them. And by delivering it in real-time, with alerts to identify issues quickly, the potential for time and cost savings is significant.
For more information about how the GlasCore dashboard can help your business, please get in touch with Glas Data:
hello@glas-data.com
www.glas-data.co.uk