Suffolk trailer manufacturer celebrates 100th delivery to Wiltshire hire company
Taking delivery of his 100th Richard Western machine is Simon Williams of SW Hire (middle), with Darren Halliwell of supplying dealer Claas Western (right) and Mike Murray (left), of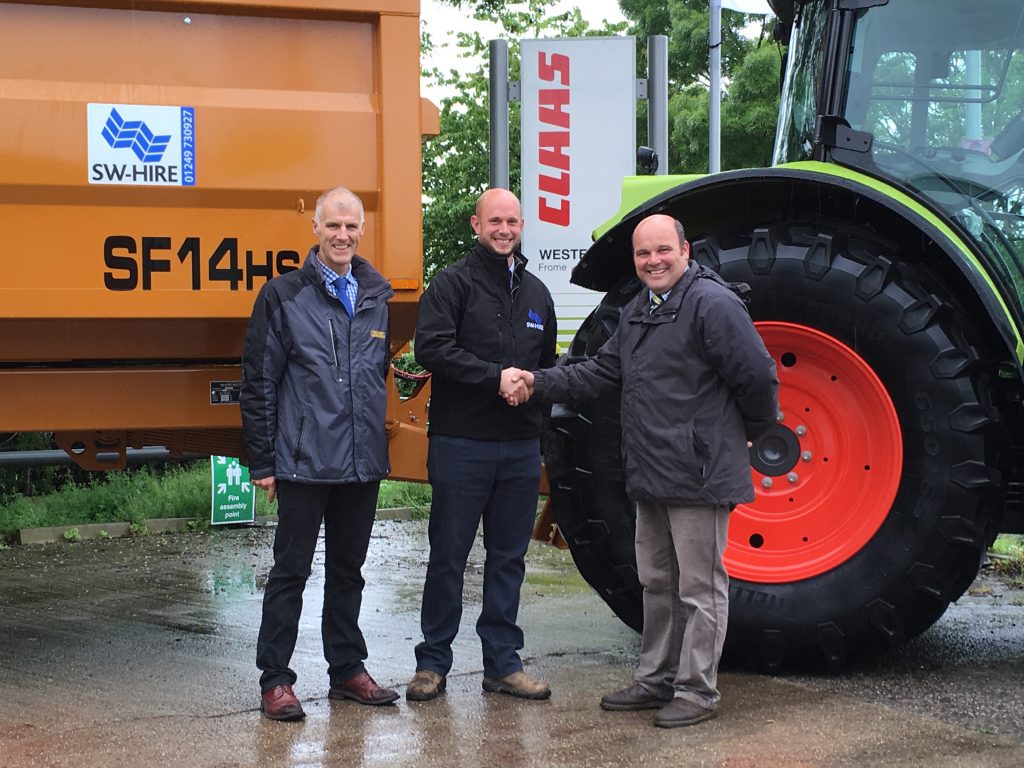 Taking delivery of his 100th Richard Western machine is Simon Williams of SW Hire (middle),
with Darren Halliwell of supplying dealer Claas Western (right) and Mike Murray (left), of Richard Western.
Chippenham, Wiltshire-based SW Hire has recently taken delivery of its 100th machine from British manufacturer Richard Western, through local dealer Claas Western.
The machine in question is an SF14HS 14-tonne grain trailer, complete with silage-side extensions. It is one of 50 Richard Western trailers on the SW Hire fleet, and joins an expanding range of kit for hire that currently includes 12, 14, 16 and 18 tonne trailers, grain chaser bins, a fleet of rear discharge muck spreaders and three slurry tankers – the latter are available with grassland dribble bars.
In addition, SW Hire also offers tractor hire from 100hp to 350hp supplied with and without GPS steering guidance, and offers customers access to a range of telescopic handlers, hedge cutters, flail toppers, rotary and bat-wing type toppers, plus mini and midi excavators.
"We've come a long way in our first 14 years of business, explains Simon Williams, managing director of SW Hire. "Our first Richard Western machine was a Delilah D10 manure spreader, and the very latest on our fleet is the new D4120 complete with hydraulic rotor covers that allow fast change-over from a vertical beater to a spreader that delivers a spread pattern similar to that offered by spinning-disc machines."
Commenting on the deal Mike Murray, sales director at Richard Western said: "We are proud to supply SW Hire and we enjoy an excellent working relationship with Simon Williams. It is clear from the success of his business that there is demand for a professional hire service as an alternative to purchasing machinery – and there are clear benefits for his customers to access the latest machinery without the capital expenditure and depreciation associated with the cost of ownership."
Mr Williams adds that having the very latest kit available for nationwide hire does help to deliver fixed costs for farming businesses, and machinery hires are available on short and long-term agreements that can extend from one day up to a year.