Tractor-mounted winches join the Spaldings range
Tractor-mounted winches join the Spaldings range Spaldings, the direct sales specialist for equipment, tools and parts, has been appointed national dealer for the UK and Ireland for tractor-mounted logging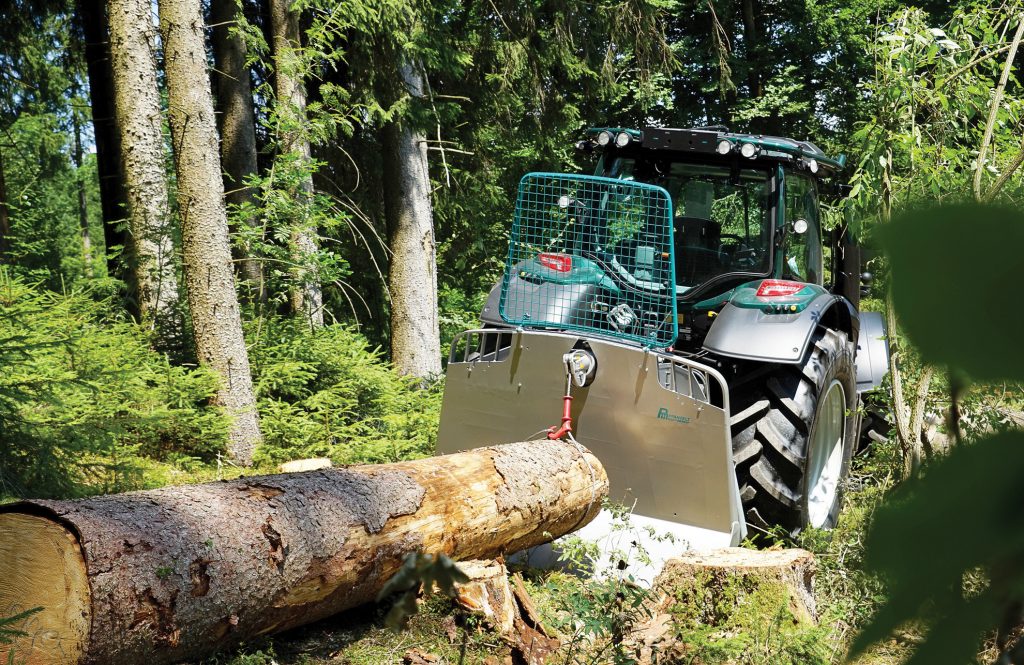 Tractor-mounted winches join the Spaldings range
Spaldings, the direct sales specialist for equipment, tools and parts, has been appointed national dealer for the UK and Ireland for tractor-mounted logging winches used in the forestry, farm and estate woodland, and grounds maintenance industries.
The products have been selected from German manufacturer Pfanzelt's logging equipment range to complement the TMC Cancela heavy duty scrub mowers and forestry shredders that Spaldings also distribute.
Nigel Whelan, marketing director at Spaldings, describes Pfanzelt's product engineering as coming from the upper end of the quality spectrum: "The family-owned business has a philosophy of building equipment for performance, long service life and low maintenance.
"It's a specialist in forestry and woodland equipment, making timber cranes and trailers, forest tractors and self-propelled timber forwarders in addition to the winches. As with the TMC Cancela products, we'll support the Pfanzelt machines supplied in the UK and Ireland with our own service back-up team."
Tractor-mounted winches
The Pfanzelt S-Line and Profi tractor-mounted geared cable winches are designed for extracting timber from awkward felling locations and skidding out of woodland to a trackside loading point.
The S-Line single drum models come in three sizes with 5t, 6t and 7.2t of pulling power, while the eight single- and twin-drum models in the Profi range span 7t to 10.2t single drum and 6t to 8.5t double drum.
Remote wireless control means the winches can be used efficiently and safely by one operator and cables from 70m to 100m long are wrapped on relatively large diameter drums to minimise the number of layers.
Pfanzelt engineers point out this minimises variation in winding-in speed and tractive force, makes the cables easier to pull out and reduces friction wear and snagging.
In-line drum orientation avoids the traction losses of up to 30% that can be incurred by winches with drums set 90 degrees to the direction of pull because of the extra guide rollers needed.
Paul Denton, Spaldings product development manager, points out that the relatively low position of the winch in-feed pulley – about 1.3m from the ground – is a more stable arrangement than the high-mounted pulleys of some designs, particularly when lateral forces are generated by pulling at an angle.
An automatic brake is fitted to the in-feed pulley to maintain tension between the cable and drum should the line go slack when winding-in logs downhill.
Tractor pto drive to the cable drums is transferred by an oil-immersed worm gear and controlled through wet multi-disc clutch and brake mechanisms that can be fine- tuned using a three-stage clutch-brake switching mechanism for different winching situations.
"The precision drive and control system provides more positive and consistent winding-in and brake performance than the chain drive and band brakes of some designs," says Paul Denton.
"These may be simpler in some respects, but Pfanzelt chooses to build winches with a more sophisticated fully-enclosed design that is not exposed to the elements or to tree sap, so the winches have lower maintenance requirements and a longer service life."
Wedge-shaped logging plates are formed in a torsion-resistant box structure to provide a strong and stable anchorage whether the winch is pulling straight or at an angle.
Handy storage compartments are built in for a chain saw and fuel can, and for tools and other items in another two lidded compartments.
Prices start at £7700 for a 5t Pfanzelt S-Line winch, and £20,850 for an 8.6t Profi single-drum model.
As with the TMC Cancela woodland and forestry machines, the winches can be ordered on the www.Spaldings.co.uk website or through the company's local sales staff covering the UK and Ireland.