Extra power increases appeal
A protracted launch of New Holland's latest T7 HD-series flagship, which commenced with a preview at Cereals in June, peaked at the German Agritechnica event this November when it was displayed to the European public for the first time. David Williams spent a few hours in the seat.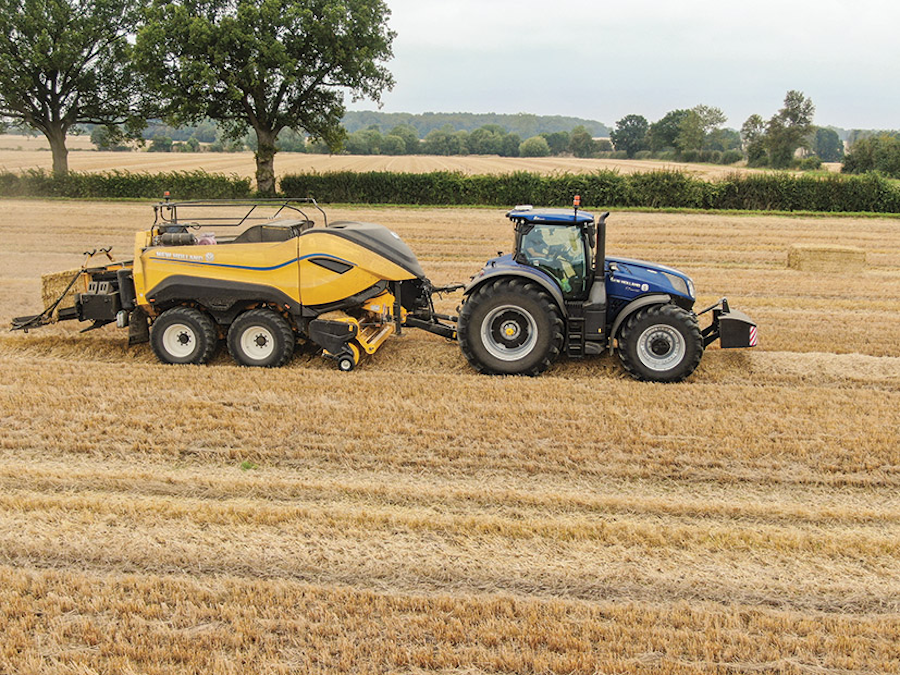 The T7.340 HD with up to 340hp is an additional model in the T7 HD line-up, with 9% more torque than the current 313hp T7.315 HD flagship. The T7.315 HD will continue to be offered, as well as the smaller T7.290 HD with 288hp.
Upgraded engine
The T7.340 HD has an FPT Industrial NEF 6 EcoBlue engine. This is like the other two T7 HD models, but for the T7.340 HD it has upgraded pistons and a new cylinder head to handle the extra power and torque, as well as a bigger cooling system with a fan specific to the application. A variable pitch, reversible fan is an option. New Holland's Hi-eSCR2 SCR (AdBlue) emissions control system meets Stage 5 requirements while minimising AdBlue consumption.
Maximum productivity
There is no difference between the rated and maximum power and torque figures. Unlike other models which offer extra power only at faster speeds and for specific applications, the new T7.340 HD always has full power and torque available – regardless of the selected gear or whether the PTO or hydraulic systems are in use. A new electronic-controlled variable geometry turbocharger contributes to a very flat torque curve between 1,200–1,800rpm. Maximum power is from 1,700–2,100rpm.
New Holland tractor product specialist, David Redman explained to Farmers Guide that the new engine doesn't require customers to compromise on maintenance intervals, as it remains at 750 hours like the other HD models, and up to twice as long as some competitors.
Flexible, efficient transmission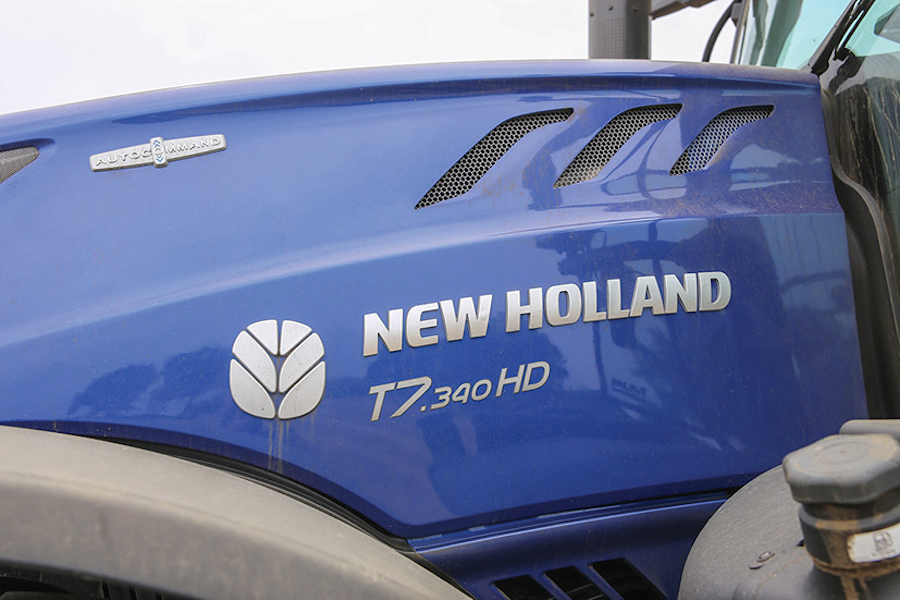 AutoCommand CVT 50kph transmission is standard. Four forward ranges and two reverse cover the full speed range without steps. The design includes multiple drive ratio points at which 100% mechanical drive is achieved. These are at the speed points most commonly used for common applications including: heavy draught work, secondary cultivations, high-speed field work such as baling and mowing as well as for high-speed transport tasks. Although the transmission design is like that of the two less powerful models, the T7.340 HD has an upgraded unit to accommodate the extra power. A higher capacity hydrostatic unit provides more drawbar pull; the gears and bearings are uprated and there is a heavier-duty rear differential, and an upgraded PTO drive.
Three programmable ranges can be set within the AutoCommand management system, for any speed from 0.5–56kph.
Capable hydraulics
The hydraulic system is a Closed Centre Load Sensing type, with a variable displacement piston pump. Max flow is 165 litres/min (std) or 220 litres/min as an option. Up to five rear electronic remote spools can be fitted plus three mid-mount – all with flow control. An advanced configurable joystick hydraulic control is an option, and customisable remote configuration is standard. Power-beyond hydraulic connections are standard.
Maximum rear hydraulic lift capacity is 11,058kg at the ball ends and the optional front linkage lifts 6,016kg. The front lift is controlled using the CommandGrip multi-function joystick, the linkage mouse or the optional hydraulic joystick. Front spools, supplied from the mid-mount valve connectors, are available.
Quietest cab
Introduced first on T7 LWB models, the latest T7 HD models have the Horizon Ultra cab with PLM Intelligence. New Holland claims this is the quietest cab on the market with an operator noise level of 66db.
Hydraulic cab suspension is semi-active with variable damping control. There are three comfort levels – auto, firm and soft. Automatic levelling and weight adjustment is standard, and the pitch adjusts to compensate during braking and acceleration.
The new T7.340 HD comes with advanced connectivity and precision farming capability. Five years of telematics services are included as standard, and PLM Connect features include location, operating status and tractor condition monitoring, service information and alerts, and automatic wireless syncing of work and field data.
The Intelliview 12 terminal also allows remote software updates and remote display access – making it easy to support less experienced users when set-up tweaks are needed.
Isobus Class 3 and TIM (tractor control by implement) is an option.
Safety and efficiency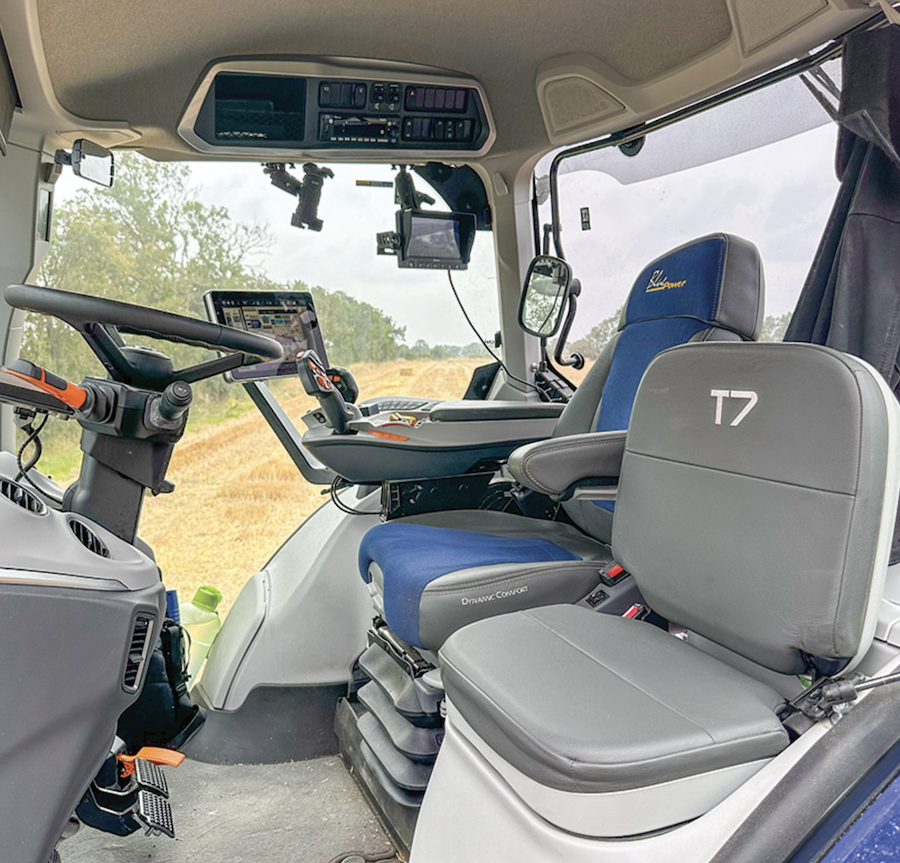 For added transport safety, the new tractors come with Intelligent Trailer Brakes. This feature helps maximise tractor and trailer stability when the operator reduces speed using the CVT and engine braking alone. The trailer brakes are automatically and progressively activated to prevent overrun even without the tractor brakes being operated.
Other driver-friendly features include CustomSteer, adjustable-rate steering which can be added into the headland turn sequence, and Trailer Steering Lock which automatically locks self-steering trailer axles depending on speed and travel direction.
Essex contractor's view
Farmers Guide enjoyed an early test-drive of the T7.340 HD, baling straw with a New Holland 1290HD large square baler. This also provided an opportunity to try out New Holland's exclusive Large Square Baler Mode.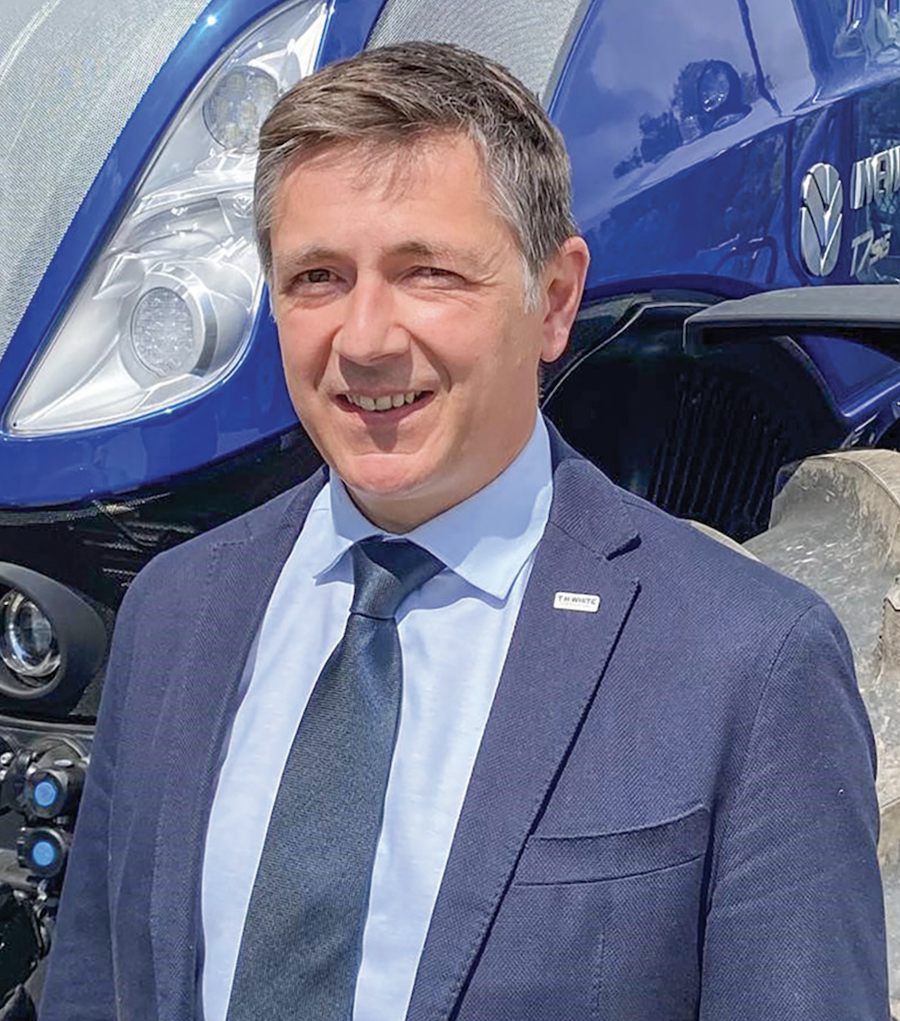 The software upgrade is available for latest T7 LWB and T7 HD tractors with Horizon Ultra cabs and PLM Intelligence controls. Activation is through the Intelliview 12 touchscreen terminal, on the tractor settings display page. The mode is compatible with all New Holland BigBalers produced since 2018 carrying the latest software updates.
The system works by predicting when each plunger stroke will occur. Additional fuel is injected to meet the momentary demand for extra power, just as the ram strikes the bale. This reduces engine speed variation and means that the PTO and baler transmission speed also remain more consistent.
The Terraglide hydraulic front axle suspension is also utilised by the system, and the cushioning action is stiffened momentarily to further reduce the nodding effect in time with each plunger compression stroke.
New Holland claims that cab rocking is reduced by 15% and fuel use is reduced up to 12% through the baling cycle. Switching the mode on and off during baling, the difference in ride comfort was noticeable.
Experienced user view
The T7.340 HD tractor tested by Farmers Guide was a demonstrator on loan to Essex-based, Blackwater Baling. Owned and managed by Gavin Strathern and his wife Liz, Blackwater Baling operates as a grass and straw baling contractor and bale supplier. Seven large square balers include BB920, BB1270, BB1290 BB9090 models, plus two recently acquired 1290 HD machines selected to produce extra dense bales for biomass. The balers and Transtacker bale chasers operate behind a fleet of tractors, most of which are New Holland T7 machines.
"By specialising we can offer the most efficient service without being distracted by other tasks," stressed Gavin. "New Holland machinery supplied by our local dealer, Ernest Doe, makes up the core of our tractor and baler fleet. There is no single reason for that – it's because of the whole package, including the machines and the way they are backed-up by the dealer and the manufacturer."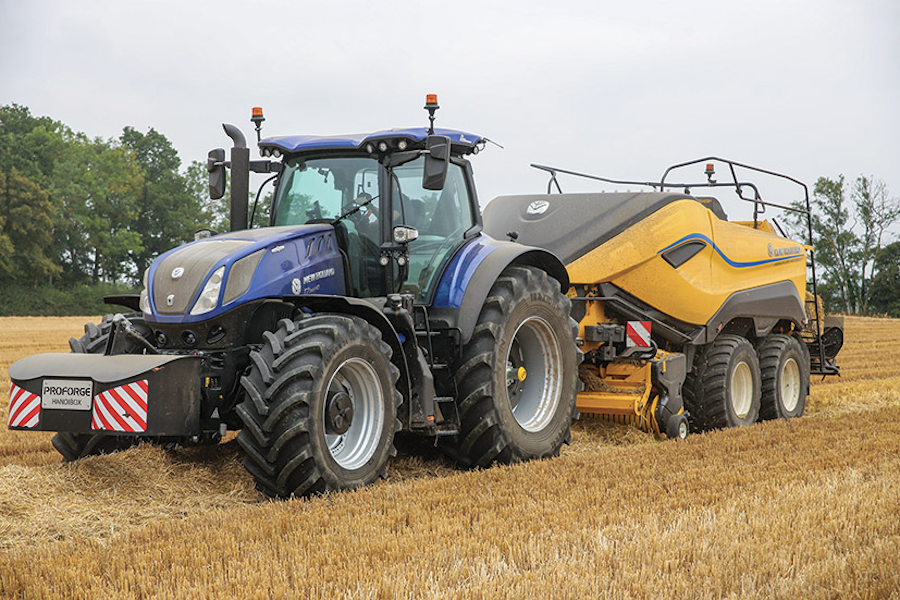 Added comfort, convenience and safety
Operator, John Baker has extensive experience operating New Holland T7 tractors and balers having worked for Blackwater Baling for the past five years. He spent a week driving the demonstration T7.340 HD tractor as well as a new T7.300 LWB model, both with Big Baler Mode, working with the company's newest 1290HD large square baler. "It significantly improves comfort," he said, "and it's much easier to drink or eat without risking spillages caused by the baler's rocking motion. Often, on steeper slopes it can feel as if a baler is pushing the back end of the tractor into a jack-knife with each plunger stroke, especially during tight turns, but with Baler Mode selected, that pushing action is reduced. The whole operation feels much more comfortable and controlled."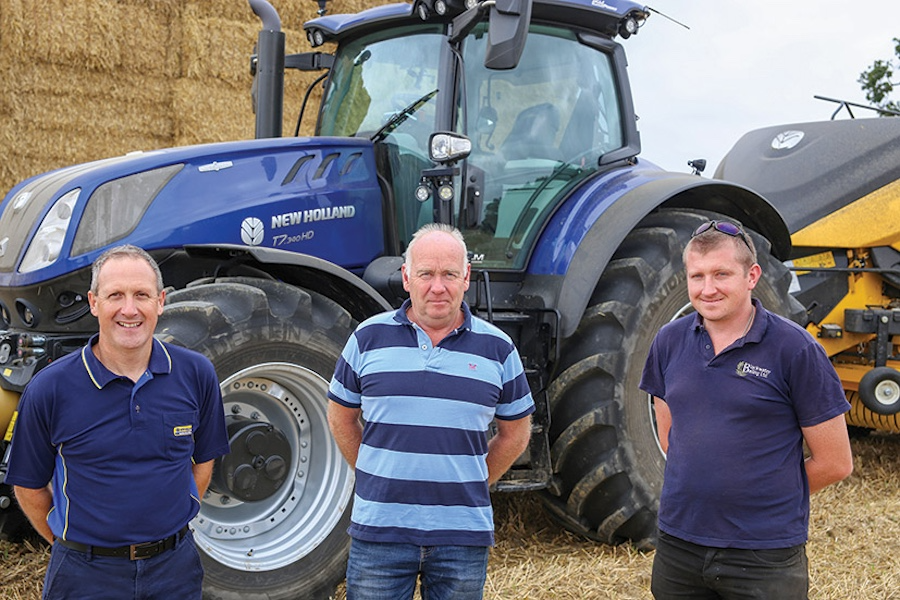 Extra capabilities
Gavin said that all the operators who tried the T7.340 HD were impressed. "We have a superb team of full- and regular part-time operators who work long days during harvest, and we rely on them to provide great service for our customers. "Having tried the new T7.340 HD tractor with the suspended cab, even some of our team members who previously preferred another tractor brand for transport work have been converted, and say the latest New Holland is more comfortable. When we next update the tractors then we will take note of their views, and it's likely that we will end up with an all-New Holland fleet."
---