UK debut at the LAMMA show for new McCormick X7.624 VT-Drive
A new range of more powerful stepless transmission tractors will be represented by the top model in a new-look line-up making its UK debut on the Argo Tractors stand at the LAMMA show in January.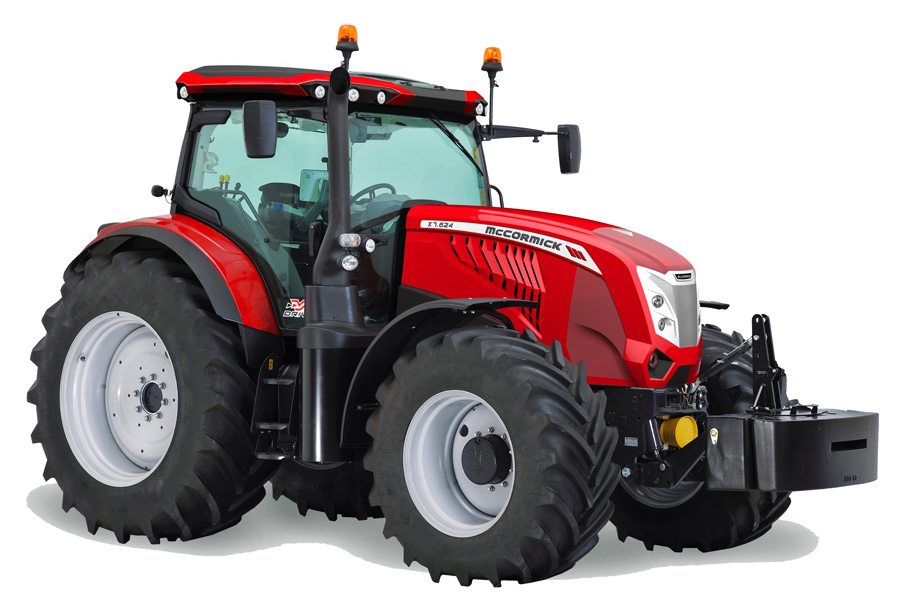 A new range of more powerful stepless transmission tractors will be represented by the top model in a new-look line-up making its UK debut on the Argo Tractors stand at the LAMMA show in January.
The McCormick X7.624 VT-Drive with up to 230hp for draft work and 240hp for pto-driven implements and road transport is the most powerful model in the latest X7 Series, which also features lower running costs thanks to engine service intervals extended to 1200 hours, a more comprehensive 360deg LED lighting package set into a new cab roof panel, and new control features in the Premiere cab.
To emphasise their new levels of performance potential, the X7.6 VT-Drive tractors have a more purposeful chiselled-jaw appearance in the same style as the larger 264-310hp X8 VT-Drive flagship models.
Adrian Winnett, managing director of Argo Tractors operations in the UK and Ireland, said: "The push for more performance is relentless so Argo Tractors has taken the opportunity when switching to Stage V emissions-compliant engines to introduce more powerful VT-Drive models to the McCormick range.
"Our previous CVT models in the X7 Series peaked a 195hp; with the X7.624 VT-Drive they go to 240hp, giving farmers and contractors a very powerful but versatile package with all the performance and driver-comfort attributes of a stepless transmission."
McCormick X7.6 VT-Drive series
The complete line-up of new McCormick X7.6 VT-Drive tractors comprises the X7.620 VT-Drive with 180hp draft power and 190hp for transport and pto-driven implements such as power harrows and tillers.
The X7.621 VT-Drive serves up 200hp and 210hp, while the X7.623 VT-Drive puts 215hp and 225hp at the operator's disposal.
McCormick Betapower 6.7-litre engines by FPT are supported stress-free in a cast iron front chassis that also provides front-end weight for optimum traction, and Stage V emissions compliance is achieved through a revised SCR AdBlue injection system working in combination with a diesel oxidation catalyst (DOC) – no DPF is required.
The latest-spec engines also feature optimised fuel filters and a more comprehensive oil filtration system, which together with a new engine oil specification has allowed service intervals to be doubled from 600 hours to 1200 hours, making a significant contribution to reduced running costs.
Running cost savings can also be made by using the engine braking system, which manipulates an electronic motorised valve on the turbocharger and is operated by a button on the cab floor.
Dynamic engine braking can be used to ease reliance on the service brakes and so extend the working life of the friction materials or to supplement the multiple oil-immersed discs in heavy braking situations.
McCormick X7.6 VT-Drive transmission
Power and torque from the McCormick X7.6 VT-Drive tractor's higher output engines are channelled through the new ZF Terramatic TMT20 transmission.
This uses four planetary gear sets, wet clutches and hydraulic speed variation to provide the finest possible seamless ground speed adjustment, with high levels of mechanical efficiency across the zero to 50kph envelope.
Control software developed by Argo Tractors makes the system easy to use by inexperienced and experienced CVT tractor drivers alike, with a choice of management modes providing optimum engine and transmission control strategies for different fieldwork and transport situations.
Four working speed bands can be set by the operator through the 12in Data Screen Manager display in the cab, and manual control is available through the accelerator pedal and Easy Pilot proportional controller.
Heavier duty rear axle and power take-off assemblies handle the higher power and torque outputs, and a four-speed pto package with 'power' and 'economy' 540rpm and 1000rpm gearing, contributes to the tractor's impressive performance and fuel-economy credentials.
Control and DSM display upgrades
The neat, simple and uncluttered design of the Premiere cab interior continues with these latest models but with control enhancements to further improve ease of use – including electric steering wheel tilt adjustment.
On the seat-mounted control console of these Premium specification tractors, the unique 'MySwitch' concept of a single button on the Easy Pilot hand controller that can operate five different tasks has been extended with a further four to which operators can allocate various hydraulic and other functions as they see fit.
For easy use, the supplementary MySwitch buttons are positioned around the roller thumb switch used to rapidly lift and lower the 9300kg rear implement hitch.
Similarly, each of the electric double-acting spool valves – three are standard, up to seven optional – can be allocated to the armrest console paddle switches or to the mini joystick, which is typically used for operating a loader or the 3500kg front hitch.
New headland management control features include dedicated command buttons on the armrest console for quick and easy access to record, edit or engage previously-recorded automatic tractor and implement control sequences for different implements.
The headland management system is designed to minimise the operator's workload during headland turns; and so is McCormick Easy Steer, which reduces by up to half the number of steering wheel turns needed to go from lock to lock.
Easy Steer is available with factory-installed satellite Precision Steering Management, which offers a number of Topcon Agriculture display terminal, precision farming app and accuracy options through McCormick dealers.
The Premiere cab's mechanical coil spring and damper suspension can be upgraded to a semi-active hydraulic system with damper settings adjustable through the Data Screen Manager display.
Both systems complement the smoothing-riding and field traction-enhancing characteristics of the front axle with its parallel link hydraulic independent wheel suspension.