Lamborghini – from World War II to Clarkson's Farm
Thanks to Jeremy Clarkson's new Amazon Prime series, the British public will be more aware than ever of Lamborghini tractors, but outside of Clarkson's high jinks are 73 years of hidden tractor history.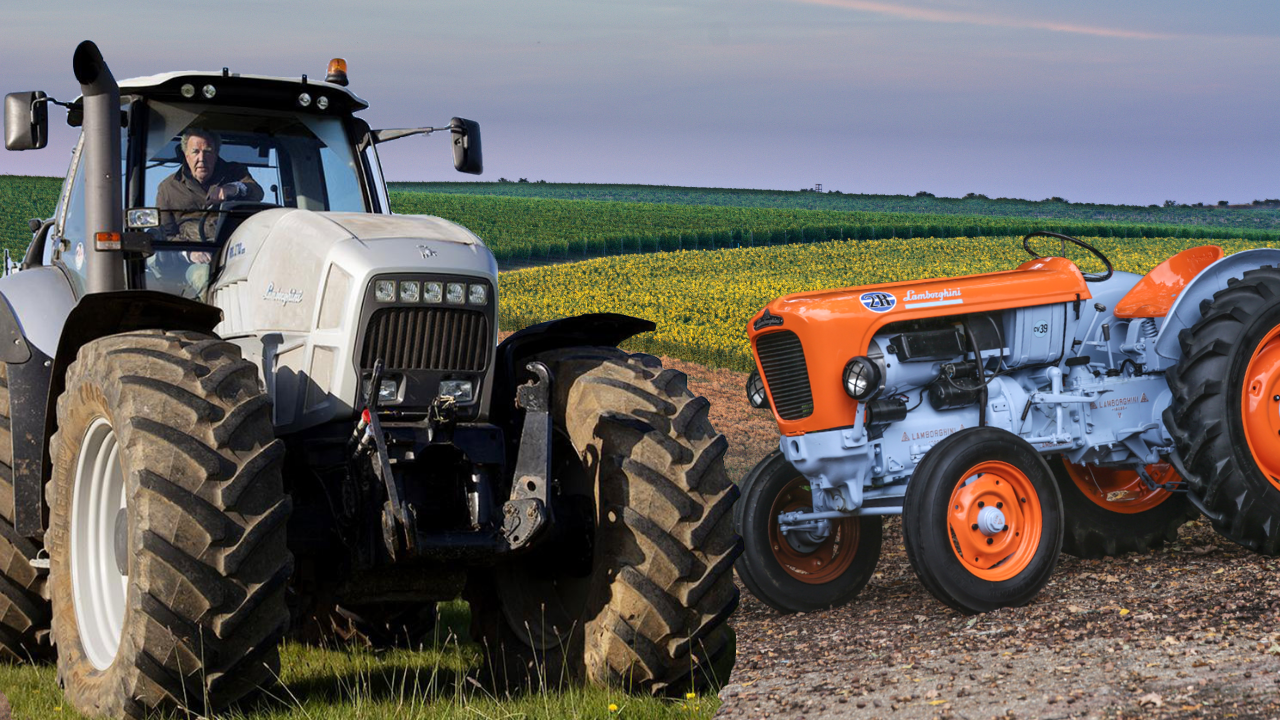 When Jeremy Clarkson first announced he had bought a Lamborghini tractor it was met with many eye-rolls, and anyone who has watched his eight-part series will know that he encountered more than a few problems operating his Lamborghini R8 270 DCR.
Those outside of the agricultural community could easily be fooled into thinking that the tractor was the result of a foolish car company trying to cash in on the farming market by making the biggest, brashest tractor they could.
In fact, Lamborghini began producing tractors nearly 20 years before they moved into the luxury car industry they are best known for today. The brand's tractor sector represents 70 years of Italian design, ingenuity and resilience.
Following the Second World War, Italy was in dire need of agricultural equipment. In financial ruins and having lost most of its infrastructure, the country needed affordable solutions to its growing issues.
The early Lamborghinis
When Lamborghini Trattori was founded in 1948 by Ferruccio Lamborghini, the company used discarded war materials to produce its first tractors. Ferruccio had a long history with machinery. Having grown up in an agricultural family with their vineyard, it was likely he started working on the family tractors at a young age before going on to study mechanics. During the war he served as a supervisor of vehicle maintenance in the Italian Air Force.
Following a short stint as a British prisoner of war, Ferruccio Lamborghini returned home and embarked on a life of innovation which helped the country rebound from its war-time woes.
These first models, using reclaimed parts, were far and away from the modern luxury you would associate with the brand today. The designs were simple, using components from haulage and military machines. The tractors were cheap and easy to repair – it's unlikely Jeremy Clarkson would describe his modern model as either of those things.
A turning point
Within just a few years, the company was in a position to move on from their scavenged designs, and in 1951, they launched the 'L 33'. This marked a turning point for the company as the first production tractor made entirely by Lamborghini, with the exception of the engine: a diesel-fuelled 3,500 cc in-line 6 cylinder Morris, equipped with a new fuel atomiser patented by Ferruccio Lamborghini.
The first Lamborghini crawler, the DL 25 C, was introduced in 1955, followed by the DL 30 C in characteristic bright yellow colour.
It was during the 1960s that Lamborghini began adding the more luxurious modern conveniences we now expect to find in the cab and under the hood. In 1962, they introduced four wheel drive with its '2R DT' model, also featuring air cooled engines. They also offered the first tractors in Italy to be fitted with a synchronised gearbox as standard.
Bigger and more powerful
One year later in 1963, Ferruccio discovered that his Ferrari was made using the same clutch and other parts that were going into his tractors, so promptly decided he could make his own luxury cars. This soon became the most famous of his enterprises, but work on tractors continued and they have remained in steady production from 1948 to the present day.
In the 1970s, with Ferruccio moving into retirement, Lamborghini became part of SAME Deutz-Fahr, which remains its parent company now.
Over the subsequent decades, the tractors have gotten bigger and more powerful with the R6, R7 and R8 ranges entering production at the turn of this century.
The model that is now hitting headlines after starring in Clarkson's Farm is the R8 270 DCR. Fitted with Deutz Common Rail TIER III engines with 24 valve heads, Lamborghini describes the machine as its flagship model and "an imposing beast".
The UK public was largely unaware of Lamborghini tractors until Jeremy's hit the news, as they have remained a rather uncommon sight in our fields.
There's no doubt that the giant specimen Jeremy Clarkson chose is impractical for the English countryside, but when viewed as the end product of 73 years of development from wartime scrap, it can't help but be a little inspiring.