Pioneering farmer creates gin 'inspired by the countryside'
Farmer Tom Warner and founder of Warner's Gin, diversified his family's livestock farm back in 2012, with no idea that he was about to trigger the trend for flavoured artisan gins. We spoke to Tom about his inspiration, and how the business has adapted during the Covid-19 pandemic.
Farmer Tom Warner and founder of Warner's Gin, diversified his family's livestock farm back in 2012, with no idea that he was about to trigger the trend for flavoured artisan gins. We spoke to Tom about his inspiration, and how the business has adapted during the Covid-19 pandemic.
Having spent 10 years working in the produce industry, Tom Warner returned to the family farm in Northamptonshire, hoping to take on a new diversification project. After deciding to grow plants for making essential oils, he hit upon the idea of using the distillery to make gin throughout the rest of the year.
At the time, seven years ago, the gin industry was not what it is today – Tom's idea preceded the explosion in craft distilleries and the array of flavoured gins now on the market, and the industry was dominated by multi-million-pound businesses, not independents.
The brand's first elderflower gin was inspired by his mother, who picked elderflower from the farm hedgerows and added it to the gin, creating the first modern day flavoured gin and the first of that flavour to be available at the time.
Tom says they "accidentally" found themselves ahead of the curve, becoming pioneers in pink gin when they launched the first Rhubarb Gin in 2014, followed by Raspberry in October and the limited-edition Strawberry and Rose this year. One third of each of these gins comprises pure fruit juice and Tom says the flavour palette is very much inspired by the countryside and what is being grown on the farm at the time.
"When you're born on a farm, it's intrinsically ingrained in you that you're the custodian of that land," he explains. "We wanted to create a business that's symbiotic with mother nature, high quality and flavoursome."
The farm now has 10 gins, with 25 per cent of their flavourings being cultivated on the 200-year old Falls Farm in Harrington, and 74 per cent of the ingredients being sourced from Great Britain. The farm, which has been in the Warner family for 70 years, spans 140 acres, including three botanical gardens spread over five acres, 20 bee hives and a cattle operation which continues to be run by Tom's father. As well as providing the flavours for gin, it also provides a huge habitat for pollinators – something that is close to the heart of the business, which aims to become as self-sustaining as possible when it comes to botanicals.
Describing the brand, Tom says: "When you grow up on a farm, your heart and soul is rooted in the land you work every day. To us, real craft means graft so we strive to make not just the best gin, but the most authentic.
"Like all farming, I guess there's an honesty in the hard work that goes into every drop, and in knowing that every flavour can be traced back to the land. Being gin farmers is no different – uncompromising, hand-crafted quality is at the heart of what we do; we don't use flavourings, we don't use synthetics, everything we do is real. Creating something extraordinary that brings people together, that's what truly matters."

Setting a trend
When starting out, Tom acknowledges that he and his business partner knew nothing about the gin industry but decided to trust their gut and inspiration. He believes creativity and the ability to "turn weaknesses into strengths" played a part in their success – while they faced certain disadvantages, namely being cash poor and developing a novel product that had not yet taken off, these fuelled his hunger for success.
"Being cash poor can be a killer for a new business and is probably the biggest enemy, but the hunger made us more creative and work harder," he explains. "We had to be really inventive and creative with our flavours and our story. Our creativity made us stand out and our little distillery became the blueprint for all the distilleries that followed when the flavoured gin craze hit."
After slow sales initially, Tom says business "took off like a rocket", resulting in a demanding couple of years. Now, co-owned with his wife Tina, the business owns more than 23 per cent of the super-premium flavoured gin market, turning over £10.9 million in 2019.
For farmers who are thinking about diversifying, Tom says it's very easy to copy other people, but he recommends going into it with open eyes and doing thorough research, looking for the white space in the market that no one else has filled yet. He also cautions against viewing diversification as a side project – it can be all-consuming and requires someone to run it full time.
With Brexit looming and the possibility of trade deals with the US, Tom predicts that diversification will become increasingly important, as well as selling the added value that British farming can offer – high quality, high welfare and brands that tell a story.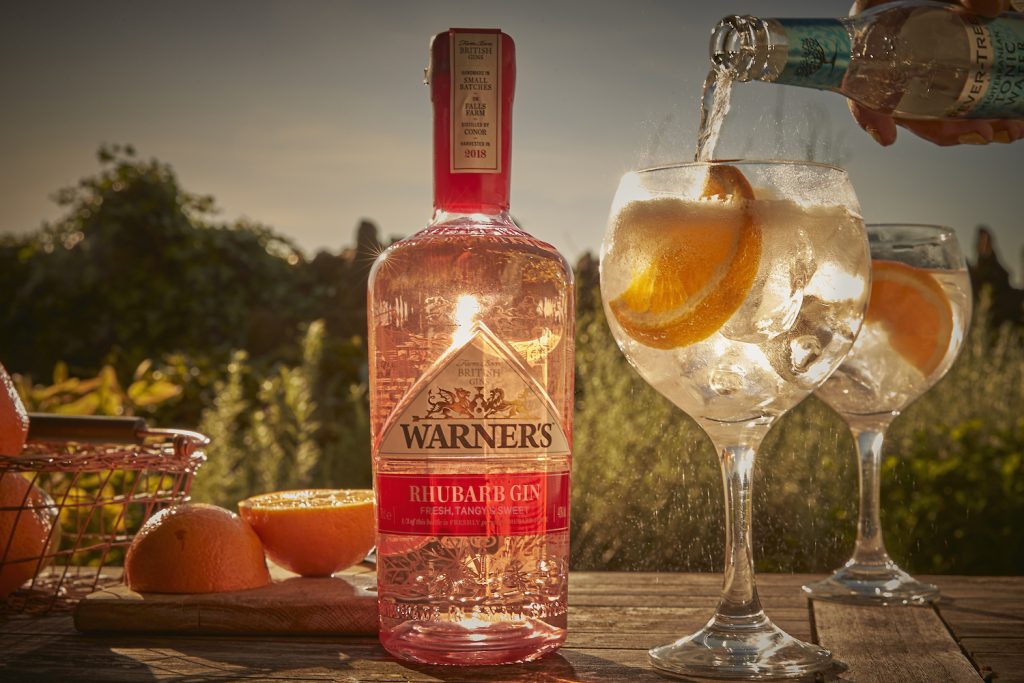 The pandemic effect
When global lockdowns saw us retreating into our homes back in March, Tom says 50-60 per cent of the business was switched off overnight, forcing him to furlough staff initially and restructure finances and business plans for the next year in case of a worst-case scenario.
The company bounced back in true entrepreneurial fashion by bringing a taste of the British countryside into consumers' homes through launching a series of interactive virtual tastings and tours, broadcast from their farm distillery.
Beginning on 13th June, they are the first of their kind from any British drinks company and follow Tom around key sites at the farm including five acres of botanical gardens, showing millions of bees in their hives. Tom describes it as "like Countryfile Spring Watch but with gin". Lasting for 1.5 hours, it comprises live distillations, talks and a goody bag that includes a botanical growing kit and five double mixers.
Participants can also explore the company's award-winning conservation programme – it has a dedicated conservation and sustainability manager and donates proceeds from is Raspberry Gin to the People's Trust for Endangered Species, and those from the Honeybee Gin to the Royal Horticultural Society.
Going forward, Tom predicts that Covid is partially responsible for a growing awareness of health. Coupled with the fact that a quarter of Generation Z do not drink, he is currently looking to develop alcohol-free gins, noting that it is essential to observe market trends and plan for the future.