Oatly accused of 'bullying' British family farm in trademark row
Multi-billion-dollar oat drink company Oatly has come under fire after suing a small Cambridgeshire farm for alleged trademark infringement, with consumers and farmers alike left bewildered by the accusation.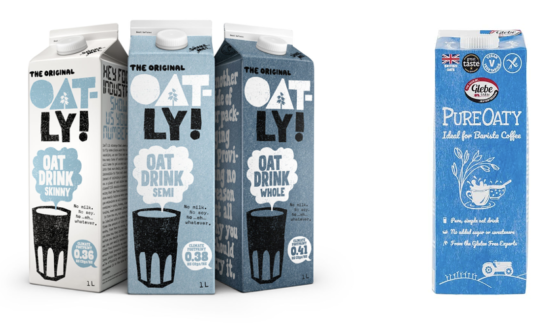 Glebe Farm Foods, which produces the gluten-free PureOaty drink, has been taken to court by fellow oat drink manufacturer Oatly, as it claims the drink's name and packaging are too similar to its own.
The move has left consumers baffled, with many taking to social media to question what the similarity is.
Glebe Farm owners Philip and Rebecca Rayner commented: "We have always been surprised by this, and although Oatly are much bigger than us, we do not believe we have done anything wrong. You may see the products side by side […] and make your own conclusions.
"And aside from fighting their claim as it is, there are deeper principles at play here for us as a family farming business in wanting to challenge back."
The case has prompted a backlash against Oatly on social media, with many criticising the multi-billion-dollar company for throwing its weight against a small British family farm. A petition is also calling for Oatly to cease action against Glebe Farm, accusing it of "rather aggressively, and wholly unnecessarily" targeting the British farm.
Twitter user Sophie Rollo commented: 'I've gone from adoring @oatly to defending the company to now being grateful I didn't invest in them and shaking my head. What a horrible and delusional power play.' Another, Natalie Valerie, added: 'Oh come on @oatlyUK… You've just lost me as a customer. The name isn't even similar to yours.'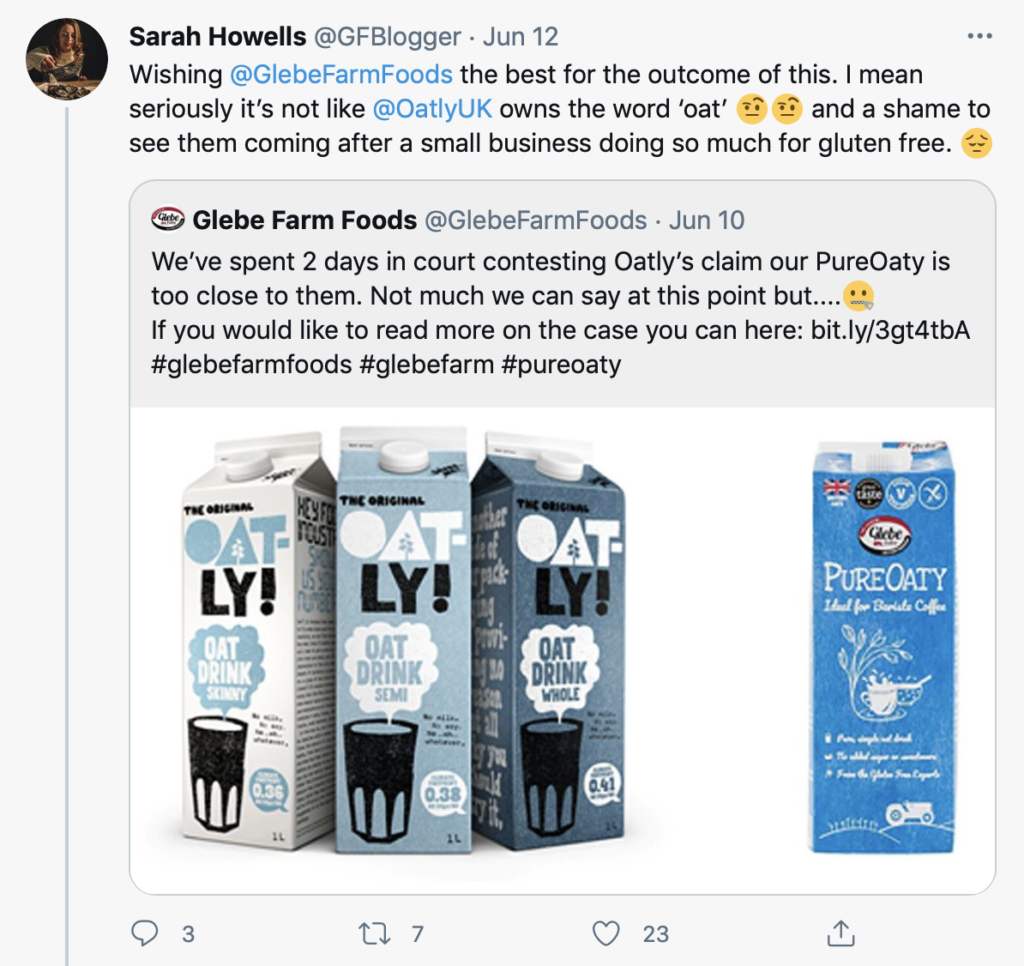 Some, including Farmer Tom, were quick to point out the irony that Oatly recently used the strapline 'Are you stupid? The Milk Lobby thinks you are', as part of its campaign to prevent an EU ban on non-dairy alternatives using words such as 'milky' and 'creamy' on their packaging, as it is confusing for consumers.
Farmer Tom also pointed out that Oatly had accused the 'milk lobby' of using its power and influence to harm a small oat drink manufacturer – whereas now the company is valued at $2 billion.
In a tongue-in-cheek but scathing video addressing Oatly directly, Tom said: "You're now the big guy suing Glebe Farm Foods who have a value of one million, 11 thousand and 83 pounds. […] They are 0.05 per cent of your size […]. You're a giant and they're tiny and you're now saying consumers can't distinguish between the two packages and you're using your financial and legal might to underline your position as king of the hill."
Comparing Oatly's product to Glebe Farm's, Tom said he was surprised by the court case "because when you look at your products they're not even slightly alike".
Commenting on Oatly's frequent claims about dairy farming's impact on the environment, and an advertising campaign that shamed dads for drinking milk, Tom added: "And to top it all, at no point have Glebe Farm Foods run a marketing campaign using dubious and outdated statistics, patronising dads and anyone who doesn't consume their product and sticking the boot in to hardworking farmers. […] Needless to say, you are the chalk to their cheese."
Oatly has also been widely criticised for selling a stake of its business to Blackstone, which has been linked with deforestation.
Farmer Tom questioned whether Oatly's legal proceedings were "another shallow marketing campaign", or a "David and Goliath style flexing of your protein-poor legal muscles". In which case, he said: "I have to inform you that we Brits always vote for the underdog and are willing for you to have your backside handed to you on a plate."
He added: "Or perhaps it's a way to make friends and influence people as you move into your new corporate mega factory in Cambridgeshire – the very county where Glebe Farm Foods are based. Well, that may be a lesson you have to learn the hard way, no one likes a bully."
The court case concluded on 10th June but it could take several weeks before the outcome is revealed.