Omagh Show 2023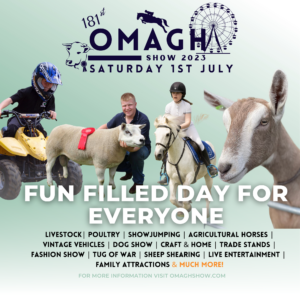 Tyrone Farming Society is looking forward to its 181st annual Omagh Show, which will take place on Friday 30th June (Equestrian Only) and all events on Saturday 1st July 2023.
Each year the Omagh Show goes from strength to strength. Records indicate that it was first established in 1832, in an effort to encourage and sustain local agriculture. Omagh Show's enduring success can perhaps best be described as a true reflection of the determination and motivation of its supporters throughout the years.
Now located on a prime site on the outskirts of Omagh town, this thriving annual Omagh Show remains a source of much pride for its community.