Warning over "perfect storm" for dairy farms
NFU Cymru warned of an uncertain future for the sector as farmers gathered at the Welsh Dairy Show.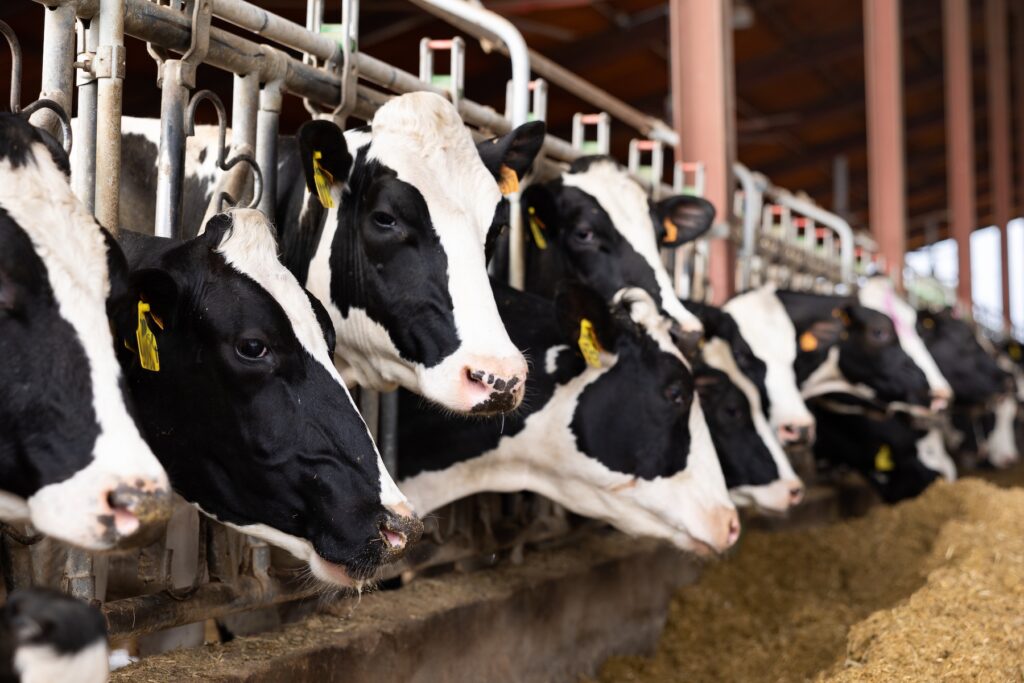 Challenging market conditions have seen milk prices decline on average by 30% since the turn of the year, with farmers receiving on average 15 pence less for a litre of milk than they received last Christmas.
Whilst input costs have fallen from their spike, they remain historically high, and many dairy farmers across Wales are receiving a price for their milk which is below the cost of production, said NFU Cymru at the Welsh Dairy Show this week.
Whilst there is a glimmer of positivity in the global milk market, it will take a long time for this sentiment to arrive at the farm gate, meaning dairy farmers are facing a hard winter.
Dairy farmers in Wales also face uncertainty about whether they will be able to participate in future Welsh Government agricultural support schemes.
Many have told NFU Cymru that current plans – particularly around tree planting – will limit their productive capacity making it impossible for them to join the future Sustainable Farming Scheme, unless Welsh Government plans are adapted.
The level of investment required on farm to ensure compliance with an increasing regulatory baseline is challenging farm finances, the planning system continues to frustrate those looking to install additional slurry storage, and bovine TB continues to cast its dark shadow across the industry.
Farms running on empty
NFU Cymru president Aled Jones said: "Welsh dairy farmers are facing a perfect storm; the industry seems to run on fuel called 'hope it gets better' and the tank is on red. This is not the way to run an industry.
"It appears that other parts of the supply chain are passing on their losses to the primary producers and once again it is farmers who are the ones unfairly shouldering the risks that come with producing this natural, healthy and sustainable product.
"Farming is a long-term business, however the 'boom and bust' volatile nature of our markets mean dairy farmers across Wales do not have the confidence to make the everyday decisions needed to drive businesses forward.
"This uncertainty also has a ripple effect on the allied industries, and it affects the prosperity and social fabric of our rural communities. We encourage consumers to back our dairy farmers in Wales by looking for the Welsh flag when they are shopping."
Calls on the government to support dairy
Welsh dairy production is worth almost £850 million to the Welsh economy, and accounts for almost 40% of the gross output of Welsh agricultural production. The sector also generates significant employment and more than 5,300 people are directly employed on Welsh dairy farms.
In addition, with 50% of milk produced in Wales being processed in Wales, the sector supports significant employment beyond the farmgate.
NFU Cymru Dairy Board chairman, Jonathan Wilkinson said: "With a growing global population and increasing demand for dairy products, Welsh dairy farmers are well placed to supply consumers around the world with climate friendly milk.
"By optimising the use of genetics, improving nutrition and enhancing animal health, dairy farmers in Wales are striving for more efficient cows, all of which means our milk has one of the lowest carbon footprints in the world. However, the uncertainty and lack of confidence our sector faces in the here and now is testing farm resilience and places all of this at risk.
"The Welsh rural affairs minister has committed that she wants future agricultural policy in Wales to work for all farmers and NFU Cymru is adamant that this must include dairy farmers.
"I urge the minister to work with NFU Cymru and to use the forthcoming consultation, to listen to the Welsh dairy industry to safeguard the continued production of quality, nutritious and climate friendly milk in Wales."
---