Amazone's new UK headquarters to optimise customer experience
Almost 600 customers and dealers attended the official opening of Amazone UK's brand new Orchard Farm, Auckley, Doncaster headquarters and the event also provided an ideal opportunity to show-off the company's latest agricultural innovations.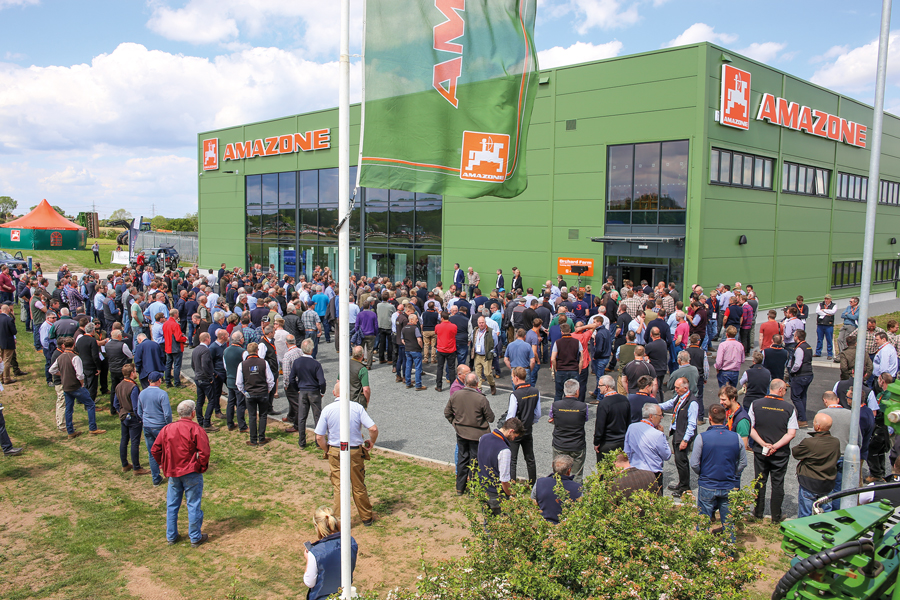 Orchard Farm was first opened to the public for Amazone's Amatechnical event in 2016 making use of the land and limited buildings previously on-site. The new headquarters in 8ha of open fields replaces the previous Harworth location nearby, and has been designed to meet the company's administrative and practical needs, but primarily to improve the experience of dealers and customers. Purpose-designed buildings provide storage for parts and machinery and there are offices, training and meeting rooms and a large showroom. External facilities include fields for demonstrating products, trial plots for testing new technology and a sprayer test-track will be added later.
Since the family-owned German manufacturer opened its UK subsidiary in 1982, a strong partnership between Amazone and British farmers has developed explained group managing director engineering, Justus Dreyer at the event. Products have become more technical and the priority is to ensure customers can achieve best results with full back-up from the company in terms of training, support and after-sales service, he explained.
Group managing director commercial, Christian Dreyer confirmed that investment in Orchard Farm is intended to enable the performance of Amazone machines to be demonstrated, to train and educate and to encourage increased dialogue with dealers and customers which in turn will contribute towards further sales growth, better ideas and leading technology for the future.
Amazone UK managing director Simon Brown commented that approximately £4m investment has been made in the site and that the new facilities have been occupied since mid February this year. "The previous location was a distribution centre. We had trial plots with a few work areas but what we needed were suitable facilities for training, education and research. Parts storage was lacking and the new building allows 50 per cent more parts stock to be held in the UK which is equivalent to a year's supply."
Asked why the decision was taken to invest now, with all the current uncertainty caused by Brexit and agricultural reform, Justus explained that because Amazone is family owned, the only shareholders are Dreyer family members who are keen to invest for the long term. "We had no hesitation in committing as we have full confidence in the UK's farmers and agricultural industry, and an excellent UK team led by managing director Simon Brown," he added.
Greater drilling flexibility
New and updated products displayed included the Cirrus drill which is now available with a Double-Shoot seeding combination. This includes a second metering system, distribution head and coulters designed for either sowing a second seed type or applying fertiliser into the seedbed without risking direct seed contact and scorch. "Fertiliser with drilling is back with a vengeance," explained Simon Brown. "Placing the fertiliser where the plant can make best use of it makes sense."
The Double-Shoot system is available for 4 and 6m trailed Cirrus drills. The 4,000-litre hopper is pressurised and split 60/40 in 2 compartments with independent metering allowing the operator to calibrate 2 different materials at different application rates.
Electric calibration is carried out at ground level remotely using the TwinTerminal 3.0 which avoids the need to return to the cab during set up. The application rate can be varied to suit a twin-rate prescription map for part-area, site-specific seeding via GPS, and having set the rate the operator can opt for both materials delivered through the TwinTeC+ or RoTeC pro coulters at the rear or one material at the rear coulters and the second to the FerTeC coulters in front of the tyre roller. This allows materials to be placed at different depths to suit the crop type, seed size and moisture requirement.
Further flexibility includes the ability to set distribution so that two materials are placed in the same seed row – such as when using starter fertiliser for cereals, or to set a mix with some fertiliser in the seed row and the remainder between the rows for uptake later.
Coulter pressure is adjusted hydraulically giving the option of automatic control to suit variable soil types according to soil texture maps – increasing pressure on heavier soils and reducing it for lighter areas to maintain even drilling depth. Automatic adjustment of coulter pressure while also adjusting the seed rate to match the conditions will optimise seed germination and establishment," explained Simon.
Options for the Cirrus 03-2CC drills include a front Crushboard ahead of the discs, S-Pack full-width tyre packers, seed blockage monitoring and the AmaTron 4 terminal for control. Amazone also offers its GreenDrill 500D to provide independent metering of a third material such as cover crop seeds, micro-fertiliser or slug pellets.
Faster and cheaper drilling
A new option for Centaya and Cataya Combination Drills allows mounting on Amazone's new 3m CombiDisc 3000 disc cultivator offering higher work rates up to 15kph, and reduced fuel use than used with a traditional power harrow. "Customers can choose between power harrow or disc cultivator mounting or have both available and swap the drill over from one to the other to suit the season and conditions," pointed out Simon. "The short disc cultivator with the mounted drill uses less fuel, offers faster operation and requires less power."
The CombiDisc has 24 serrated, 410mm discs and is ideal for seedbed preparation at depths from 3–8cm. The relatively small discs have a high peripheral speed and achieve effective soil crumbling. Sprung rubber mounts allow disc movement to follow the soil profile.
Removing or fitting the drill through the QuickLink linkage system takes little time and requires no tools, making it practical to also use the CombiDisc as a traditional disc cultivator for solo operation. The CombiDisc with standard mechanical depth adjustment costs £7,750, saving approximately £2,500 compared to the cost of a power harrow. Hydraulic depth adjustment is an option.
Double the benefit
Spreader updates include increased features for front-mounted spreaders to match those available for rear-mounted machines. Using Isobus control; left and right adjustments are automatically switched to suit and Simon Brown suggested advantages would be available for those applying two products at different rates in one pass or wanting to increase travel speeds while applying at high rates and wider spread widths. Control of both spreaders is possible through a single display.
Other spreader updates include FlowCheck to monitor shutter output on ZA-TS mounted models. The system constantly monitors each disc aperture for blockages and will also detect if the spreader is running empty. FlowCheck uses pressure sensors on each disc drive circuit to detect irregularities and if a problem is suspected the aperture is momentarily opened and closed again to try to clear the blockage.
Simon said ArgusTwin pattern monitoring is proving popular with 10 per cent of spreaders ordered now with the system. "ArgusTwin detects problems and checks the pattern is maintained evenly on slopes," explained Simon. "Through ArgusTwin the drop-point is altered to maintain the spread pattern and WindControl can also be added to adjust the disc speeds to maintain even spread when wind could affect the distribution.
Improved boom stability
Sprayer news included new Pantera 4503 self-propelled models starting to arrive with several already delivered to farms. The latest Pantera is available with new ContourControl boom control with active SwingStop pendulum limitation for booms up to 40m.