New winter wheat Mindful is an outstanding variety delivering peace of mind
Agrovista, leading supplier of agronomy advice, seed and crop protection products, has pledged to donate 10% of the profits from seed sales of its exceptional new winter wheat variety Mindful to support two farming charities and help raise awareness of their helplines.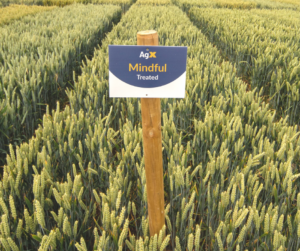 A new high yielding hard Group 4-type wheat
Mindful is a new hard Group 4-type wheat from Agrovista Seeds that produces very high yields of quality grain across a range of sites over different seasons, helping to underpin grower profits across the country.
Thanks to Agrovista's pioneering initiative, Mindful is also supporting the farming community in a very different way, building on the partnership forged between the company, the Farming Community Network (FCN) and RSABI last year.
Agrovista's head of marketing Jodie Champion says: "Given the unprecedented challenges the agricultural sector is facing, we wanted to help farming customers and their families access the emotional and practical support that both charities provide.
"Many farmers are facing increasing business and personal pressures that can, if left unchecked, seriously affect mental and physical wellbeing.
"It is vital that those involved in agriculture and their families have access to a sympathetic person at the end of the phone who understands farmers and rural life.
"Our donation will support the exceptional work that both charities carry out every day. But, more importantly, we hope that by extensively promoting the charity helplines, this may just help one person out when they need it most."
A wheat variety with remarkable consistency
When it comes to in-field performance, Mindful can compete with the best. Stuart Cree, Agrovista's technical seed specialist, says the variety has shown remarkable high-yield consistency and has topped in-house trials in two very different years.
"Mindful offers a consistently strong yield performance across differing regions and drilling dates, and after a range of previous cropping and as a second wheat," says Stuart.
"This, bolstered by solid disease resistance and high specific weight, safeguards quality, yield, and value against difficult seasons, whether deluge or drought."
Mindful produced the best mean yield across Agrovista's AgX trial sites in 2021 and 2022 at both extremes of the sowing window. Drilled in September 2022 it produced 14.89t/ha; late sown in November the same year it gave 15.44t/ha.
At Agrovista's AgX site at Haddenham, Cambridgeshire it produced a two-year mean yield of 13.15t/ha.
Trials for harvest 2022 carried out as part of the NL trialling programme both in Scotland and Cambridgeshire following peas, or cereals pre-ploughed, placed Mindful in the top three yielding varieties when sown before the 25 September, Stuart notes.
The variety has a sound combination of disease resistance ratings, suggestive of multi-gene protection derived from parents Evolution and Costello.
"Evolution delivered a step-change in disease resistance and high untreated yield, and Costello had total resistance to yellow rust," says Stuart. "This resistance is only part of Mindful's genome, promising similar stability over time."
On-farm success for Mindful
Giles Western is growing Mindful for the second year in succession on his 400ha arable operation at The Grove, near Woodbridge in Suffolk.
Last season he grew 22.5ha of pre-basic seed, drilled on 1st October 2021at 125kg/ha, into heavy clay loam left fallow after April-lifted sugar beet.
"The crop looked good from the start," says Giles. "It stood very well and remained clean. It was noticeably earlier to harvest than Dawsum and cut like a dream."
The crop yielded 12.14t/ha of bold grain, while his Dawsum averaged 11.83t/ha.
Last autumn the 22.5ha field was resown with pre-basic Mindful and a further 35.5ha of C1 seed was grown after oilseed rape and sugar beet – the latter sown on 7 January at 300kg/ha.
"The January-drilled crop looks better than Gleam drilled about the same time and the earlier-drilled Mindful looks very good as well.
"Based on my experience so far, I'll keep growing the variety for seed or feed."
A strong performance and excellent quality for farmers in North Yorkshire
Mindful winter wheat put in a strong performance last season at L Sampson & Son's 320ha farming business at Well, near Bedale, North Yorkshire.
Two medium silt fields previously cropped with potatoes were disced and subsoiled, then combination-drilled with Mindful on 20th October 2022 into a good seedbed at 160kg/ha.
The 19ha crop looked well throughout the season. "We had no worries with Mindful at any point," says director Mark Sampson. "In terms of disease it was fine and all of it remained 100% upright."
He estimates his Mindful yielded 12t/ha, similar to other varieties. Quality was excellent, with a high specific weight of 81kg/hl and low screenings.
"Mindful looks very good, with more-than-adequate standing power and yield," Mark adds. "It really ought to succeed as a commercial variety.