The right spring barley choice can make a big difference
Choose a spring barley that offers a range of attributes to increase profitability is the advice from breeders Limagrain UK. The return to favour of spring barley as a tool
Choose a spring barley that offers a range of attributes to increase profitability is the advice from breeders Limagrain UK.
The return to favour of spring barley as a tool in the black-grass armoury is an opportunity to grow for a range of end markets as well as to make the most of the straw, which can make a real difference to overall farm profitability, says Les Daubney, cereals marketing director for Limagrain.
"However this does mean that variety choice must be made carefully with a clear understanding of particular characteristics on offer, and not just an eye on final yield."
"We have heard time and again the importance of ensuring that a variety suits what the market wants; choosing a dual purpose spring barley will give you the flexibility of growing for more than one market. If in addition to this the variety has good straw characteristics then that is another significant output from the crop, be it for your own use, or for sale."
Mr Daubney points out the superb opportunity offered by Sienna this spring, a dual purpose malt distilling and feed barley, which also produces high yields of good quality straw.
Sienna has the highest specific weight on the AHDB 2017/8 Recommended List at 70.4kg/hl; a trait strongly desired by the distilling industry. "Specific weights for spring barley would appear to be falling in newer varieties compared to older historical varieties, says Ron Granger, arable technical manager for Limagrain UK. "This has come about as breeders drive to produce higher yielding varieties but at the cost of grain quality – not dissimilar to the scenario seen with winter wheats a couple of years ago"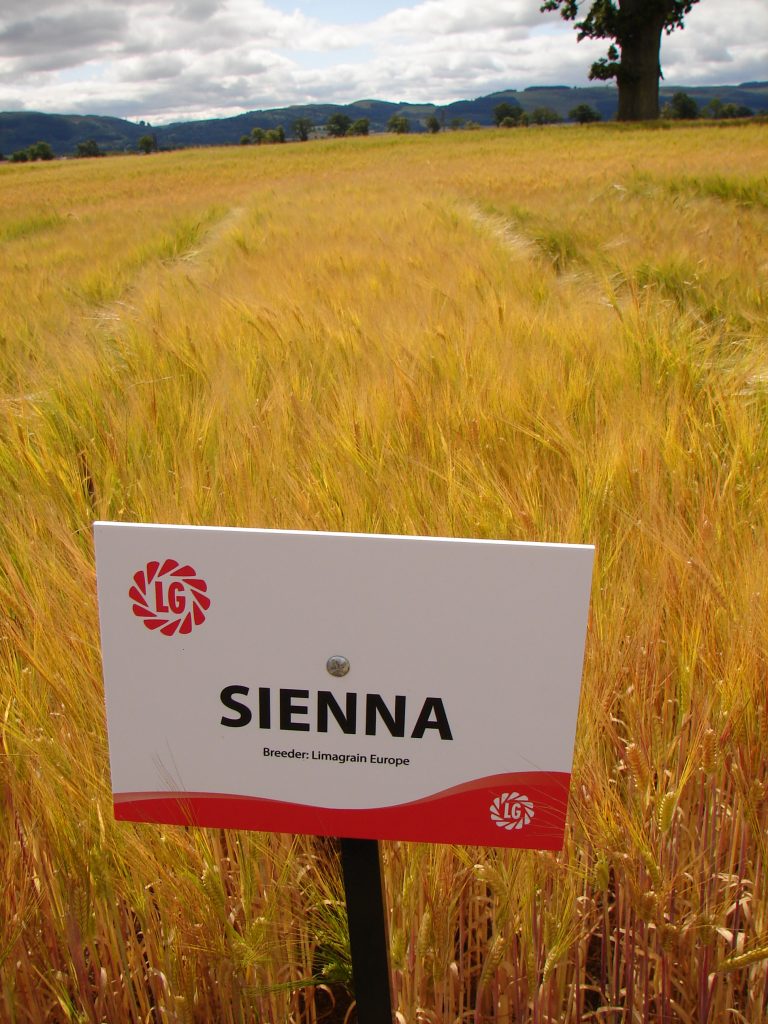 "Sienna bucks the trend in that it has the best specific weight on the AHDB recommended list and this is strongly supported from internal Limagrain agronomy trials over several years."
"We know that farmers like to grow big, bold samples, and like wheat varieties, a good specific weight would appear to be more robust especially in time of stress or erratic weather patterns, and we have seen this effect from Sienna."
Sienna also offers many of the positive traits associated with the high yielding feed variety Westminster, offering farmers a higher yielding alternative particularly in the north and west, where it has done very well in trials due to its large bushel weight and robust disease resistance profile.
Disease Resistance
| | | | | |
| --- | --- | --- | --- | --- |
| | SIENNA | Odyssey | Concerto | Westminster* |
| Mildew | 9 | 9 | 8 | (9) |
| Yellow Rust | (7) | 8 | 8 | 8 |
| Brown Rust | 5 | 3 | 5 | 6 |
| Rhynchosporium | 6 | 5 | 4 | 7 |
| Ramularia | 8 | 6 | 6 | 7 |
All data is from the AHDB Recommended Lists database. * Westminster data from AHDB RL 2016/17.
"Sienna is a tall variety (79cm), with a 7 rating for lodging and brackling, and we know that this translates into good quality straw."
Work carried out by Agrii in 2015 suggests that there are differences between varieties for straw yield. Mr Granger points out that grain yield does not always relate to straw yield, although the greater the yield potential on farm with a single variety the higher the return on straw yield.
"It's clear that variety height does have an influence on high straw yield in most cases but more importantly Limagrain data suggests that varieties like Sienna with high tiller counts produce higher straw yield, he says"
Comment from an end-user
Mike Dagg of Simpsons Malt in Berwick-upon-Tweed, has seen good results from the internal testing that Simpsons have carried out on Sienna. "Last harvest the variety performed very well in terms of yield and harvested quality. Sienna comfortably produced the best sample of all the varieties we purchased; good colour, good weight, a good skin and a very even grain size."
"Sienna also showed itself to be a good variety in terms of grain nitrogen content as it did not appear to be a grain nitrogen grabbing variety and this is obviously attractive to us as maltsters, and will also appeal to growers."
Grain nitrogen content is important in distilling barley as the lower the grain nitrogen content, the better the spirit yield will be to a distiller, explains Mr Dagg. "lf the grain nitrogen content is higher, then the distiller will not receive as many litres per tonne spirit (spirit yield) as a lower grain nitrogen barley. The distiller is looking to maximise his production and he will do this with lower grain nitrogen barleys as opposed to higher ones."
"We will be putting Sienna through production in early 2017 with a view to sending it onto a few distilleries in early February. We will know more then about how Sienna meets our and our distiller customer aspirations in terms of processability, efficiency and spirit yield. The same is true of other popular varieties such as Laureate – until a variety is given full IBD approval we have to be cautious in our approach."
Sienna is under testing with the IBD (Institute of Brewing & Distilling) and should receive its full approval in May.
 Sienna on farm
Choosing a variety with good distilling characteristics that also performs well as a feed wheat is the approach of Russell Black of West Cash Farm, Starthmiglo, Cupar.
Whilst Mr Black would consider a malting contract, he believes that if he can get good enough yields off his crop, selling it as feed is just as profitable. "There are none of the concerns of meeting the malting spec and a good contract for the feed is a safer way to guarantee your returns."
Last year Mr Black drilled 110 acres of spring barley, of which he put down 24 ha to Sienna on the recommendation of his seed rep, Douglas Bonn of Nickerson. At harvest Mr Black was thrilled with the results from his Sienna. "The crop produced a bold sample; yields averaged out about 7.4t/ha, and the straw quality was excellent as well."
The crop was drilled with the fertiliser in one pass after ploughing on the 29th March and a second nitrogen application went on at GS 31. "We are in an NVZ area so are limited to how much nitrogen we can apply when pushing for yield."
"We applied two fungicide sprays, one at GS 31 and the second at flag leaf emergence and despite the challenging disease conditions last spring, the crop remained pretty clean, showing that the disease ratings will hold up under pressure."
Fertiliser Plan
o   At drilling, 370kg/ha 16/15/15+sulphur
o   At 3 leaf,125kg/ha 33.5% nitrogen

At GS31,125kg/ha33.5% nitrogen.

Fungicide Plan

o   GS 31-Fandango 0.5l/ha & Bravo1.l/ha

o   Flag leaf-  Siltra Xpro0.4l/ha & Bravo 1.0 l/ha

o   Grain quality .69.9 bushel weight & 1.65 nitrogen & 0.9%skinning.

It's all about the straw

For dairy farmer James Wilson of Caskerdo Farm in Cupar, growing a crop of barley is all about the straw. Yield is still important, but with 330 dairy cows and 110 suckler beef to bed down each winter, he needs to know that whatever variety he grows that he will be able to harvest the volumes needed.

Most of the 270 acres of arable at Caskerdo Farm is put down to spring barley each year, with a small acreage of wheat put aside for whole cropping.

"Each year I will put in about 20 acres of a new variety just to see how well it performs in situ. Last year Douglas Bonn of Nickerson recommended trying Sienna on the basis that it was a high yielding, vigorous variety that would produce good quality straw with little brackling."

"Well he was right –I was delighted with how the variety performed. The crop wasn't drilled until the end of April, and it looked good through to harvest in September. I don't weigh the grain, but there was plenty of it, and more importantly the volume of straw that came off the field was excellent, I make 4.5-5ft bales and we were getting 8 bales/acre!"

Mr Wilson was so pleased with how Sienna performed that this year he plans to drill the whole of his spring barley acreage with Sienna.