Could new co-formulation help clear blight headache?
Impressive trials performances by a new co-formulated blight fungicide could give growers confidence that they can stay on top of the disease this year.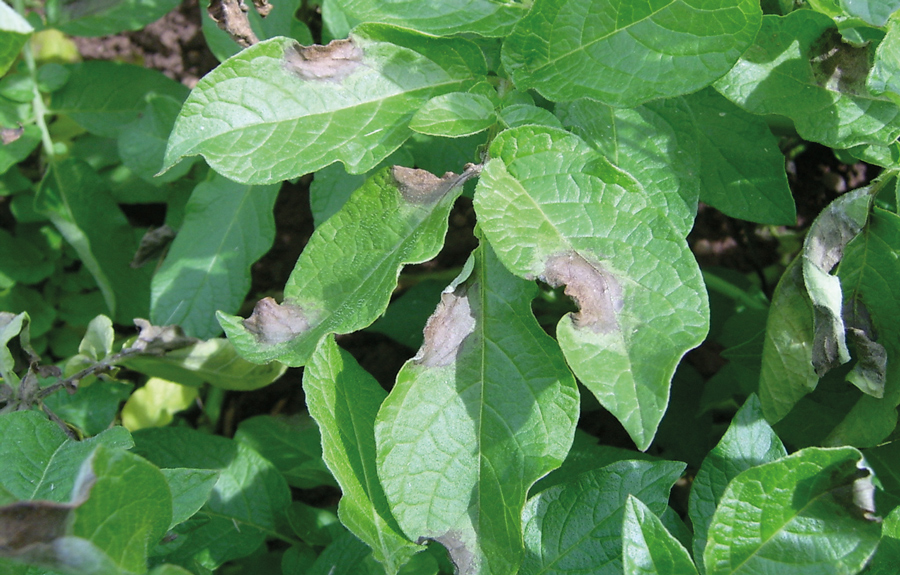 Impressive trials performances by a new co-formulated blight fungicide could give growers confidence that they can stay on top of the disease this year.
The area of 2019 potato crop that remains in the ground, with fields which were water-logged in the winter either part lifted or abandoned, is of concern. Industry experts predict this unharvested crop will act as a reservoir for disease and could emerge at just the wrong time for growers who are trying to protect 2020 crops from succumbing to blight.
In trials at Scotland's Rural College (SRUC), Dr Ruairidh Bain has been putting Corteva Agriscience's Zorvec Endavia through its paces. He says the co-formulation of oxathiapiprolin + benthiavalicarb has proven to be every bit as effective in controlling late blight at the rapid canopy development phase as other Zorvec chemistry he has worked with. Dr Bain said: "When Zorvec Enicade + amisulbrom was launched ahead of the 2018 season, it was quite an easy technical message for farmers because it was such a step up in efficacy. It set a new benchmark. What we have seen in trials with Zorvec Endavia is the same standard but in a co-formulation rather than a co-pack."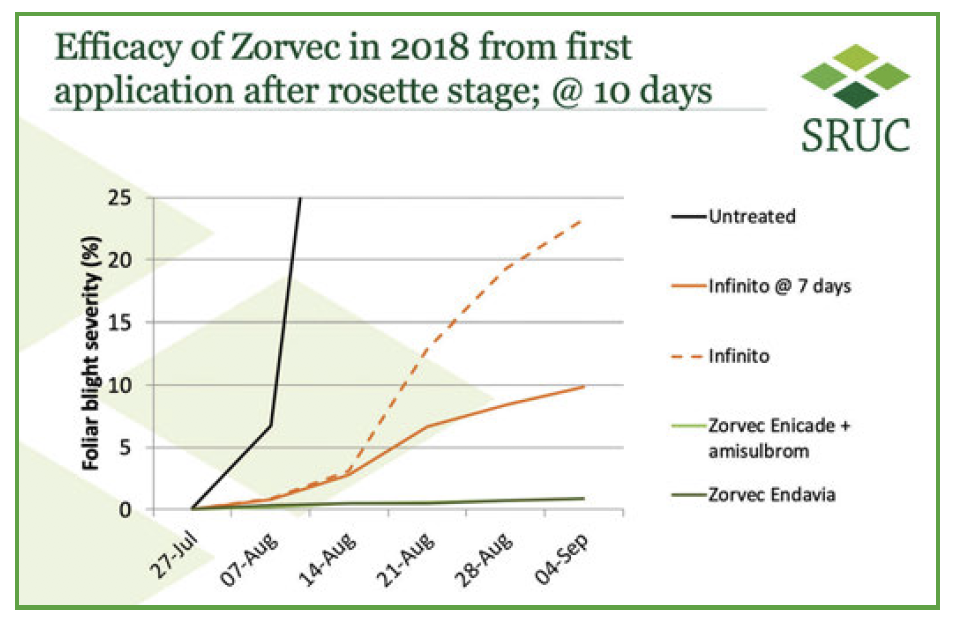 His findings mirror the EuroBlight fungicide table – the late blight network covering Europe. The Endavia co-formulation scores 4.9, out of 5.0 max, for leaf blight – the same score awarded to Zorvec Enicade + amisulbrom.
EuroBlight shows all Zorvec products to have market-leading rainfastness and protection of new growth qualities. In "extremely high" disease pressure at the SRUC Auchincruive trials site in 2018, Dr Bain said Zorvec Endavia delivered robust control and a significant length of protection. "Early on, our site experienced extremely high disease pressure, and also particularly rapid haulm growth because of the high temperatures. Zorvec Endavia stood up to that when the competitors in the trials didn't," he explained.
"We also noted that no matter which Zorvec product we have tested there has been a legacy effect from use during rapid haulm growth.
"Applied during rapid canopy, what we saw was a long-lasting dampening down of the epidemic curve which was not the case for the competitor products tested.
"It has shown to deliver very good control from the start of the epidemic when growers might not even know there is blight in the crop.
"By using a Zorvec product early you are helping to flatten the disease curve, which backs up the manufacturer's advice to use it early, during rapid canopy."
In 2019, blight pressure in England ramped up significantly in June, posing huge challenges to potato growers. Frontier's crop production specialist Dr Reuben Morris said the situation left growers reaching for Zorvec chemistry as an effective product in their armoury.
He said: "Last year was an excellent test of the technology. We went into a heavy period of blight pressure and our agronomists reached for Zorvec. I haven't had a single agronomist or grower who has said it didn't do what it says on the can.That is as good a recommendation as you can get."
Dr Morris sees Zorvec Endavia as having the same efficacy as Zorvec Enicade + amisulbrom, but with the practical advantage of being in a single 5-litre bottle. "Zorvec Enicade + amisulbrom is already such a strong product that demonstrating improved control of foliar blight with Endavia is not going to be easy. One way of separating out the Zorvec products might be their tuber blight activity, which Euroblight is beginning to score," he added.
Dr Bain added: "Benthiavalicarb is a good active ingredient for protecting new growth and it is also translaminar whereas the amisulbrom in mixture with Zorvec Enicade is a contact fungicide, so that could be an added benefit for growers. The benthiavalicarb co-formulation is also a very useful addition to fungicide resistance management."
Craig Chisholm, Corteva's field technical manager for potatoes, said growers have the option to be flexible with applications but advises the product is most effective during the rapid growth phase.
"Timings will be largely dependent on variety and conditions, but Zorvec offers up to 10 days' protection, adding flexibility to programmes at a time when demand on available labour is particularly high," he said. "Regardless of application timing, growers will look to benefit from the product's ability to move into new growth. This will have value during the rapid growth phase as well as later in the programme, particularly on varieties with an indeterminate growth habit.
"This could be particularly important this season given the challenge the volunteer population is set to pose."