Free business support for farming families in England helps tackle isolation
Farming families across England are being invited to join a free programme of support – with the option of taking part, virtually from the farm.
Now in its third year, The Royal Countryside Fund's Farm for the Future programme is offering farming families free support, guidance and advice on business and environmental management. As well as the in-person groups in 18 regions across England, the RCF is offering a unique virtual group allowing farmers to access support within their own home. Sessions are recorded and can be viewed after the live events.
Farm for the Future has achieved impressive results with 95% of participating farms saying they have increased confidence in their ability to plan for the future, and nearly 1,500 farming families taking part across England since 2021 and builds on the success of The Royal Countryside Fund's Farm Resilience Programme.
Amy, who took part in Farm for the Future in Derbyshire, said of the programme: "We've gained new knowledge and feel able to adapt our business for the future, and it's given us confidence in the business decisions we're making."
Andrew and Laura, who run a beef farm in Staffordshire participated in the programme in 2022. They both attended the virtual workshop which they reported as being helpful as they find it difficult to get away from the farm. Reflecting on the programme, Laura said: "The programme was fantastic and would absolutely recommend the programme to other farmers. Christina Hutchings, the coordinator of the online group, was fantastic in organising the workshops, and provided a lot of communication." She described the speakers throughout the programme as "informative and engaging".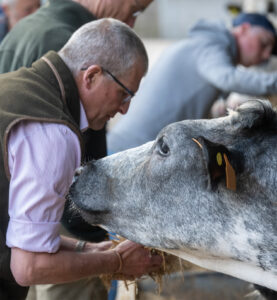 The flexible programme has helped them navigate the change in subsidies from BPS payments and they believe that they would have struggled in this transition without the programme. As a result of the programme, they now claim Countryside Stewardship and are due to sign up to claim the management fee and the animal health and welfare grant. It has also taught them more about the importance of looking after their soils and understanding the importance of the hedgerows.
Over 15 hours of training and one-to-one support is available for any English farm currently in receipt of BPS. The workshops that form the Farm for the Future programme are tailored to the local groups so farmers can be certain that they're receiving advice that will work for their business.
To learn more about the virtual Farm for the Future programme contact Christina Hutchings via email virtual.group@outlook.com or call 07715 353546.
To find your local group for in-person workshops, visit www.royalcountrysidefund.org.uk/farmforthefuture.
Registration for the 2023/24 programme is now open with the first welcome meetings taking place throughout November.
---