Women in Innovation award won by Royal Agricultural University PhD student
A PhD student from the Royal Agricultural University (RAU) who has made sustainable rope from British wool has been named as one of the top 50 Women in Innovation in the UK.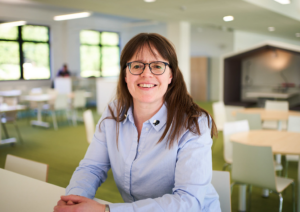 Kate Drury is one of just 50 winners, selected from more than 900 applications, in the annual Women in Innovation Awards, run by Innovate UK and UK Research and Innovation (UKRI) and announced today to coincide with International Women's Day.
Kate, who is studying for a PhD in Wool at the RAU, will now receive a £50,000 grant, as well as one-to-one business coaching, and a suite of networking, role modelling, and training opportunities to help her to grow her fledgling business.
She said: "I am really humbled to have been chosen as one of the winners of this award and for my work to have been recognised in this way. It is a huge privilege to be named in this group of amazing British women.
"The percentage of women in new innovative companies in the UK at the moment is really small and these awards really help to encourage innovative women and get more women in senior roles in innovative companies. The validation from UKRI is really valued within the industry. For me, there is no better pat on the back!"
Kate's company, Sustainable Rope Ltd, was set up 18 months ago and uses traceable wool from British farms, through the British Wool Auction, to make rope from 100% wool which is biodegradable and renewable meaning it offers a sustainable and environmentally sensitive alternative to traditional plastic rope, reducing micro plastic pollution.
The rope, which is made in a range of diameters from small lengths to full coils, is being trialled as a replacement for plastic rope to grow seaweed which itself soaks up carbon and nitrogen and has manypositive sustainable uses, from fertiliser to food stuff. The rope is also being trialled for conservation uses and at a permaculture farm.
Kate, who only uses wool from the British Wool Auction co-operative, is passionate about finding new outlets for British Wool. She added: "I come from a family of fourth generation sheep famers so I guess it makes sense that I am now doing my PhD in wool! My father was involved with British Wool when I was growing up and I was a regional representative for British Wool for six years.
"While I was doing my Masters at the RAU someone asked me if it was possible to make rope from wool. I was very honest and said that I had no idea but that I would find out – and here I am! Wool offers durability and flexibility and the variety of uses for it means very little is wasted. It is really exciting – the possibilities are endless.
"Even though my company is less than two years old, I am already getting enquiries from all over the world and this recognition will really help me to be able to commercialise that research, conduct more trials, and enable my business to grow."
The Women in Innovation awards, which are now in their sixth year, are a key part of Innovate UK's commitment to boosting the number of women entrepreneurs and reflect the Government's ambition to give more support to women innovators and business leaders.
This year's competition drew a record number of 920 applications from women business leaders, reflecting the growing number of women-led businesses in the UK. All the winners are developing novel solutions to major social, environmental, and economic challenges.
Emily Nott, head of equality, diversity and inclusion programmes at Innovate UK, said: "Each year I am blown away by the brilliant ideas and talent we uncover through our Women in Innovation programme. Despite these challenging economic times, this year's winners have shown great leadership, passion and resilience in driving their innovations forward.
"Innovate UK will now work alongside them to ensure they have the resources and support required to grow and scale their businesses, while encouraging a new generation of women to get involved in innovation, pursue their ambitions, and transform our economy and society."