Foliar fertiliser anticipates more eco-friendly farming rules post-Brexit
Crop nutrition specialist, BFS Fertiliser Services, has released a third season of trial data which show that its foliar fertiliser, PolyNPlus, reduces the overall nitrogen requirement by at least 25 per cent while maintaining or increasing crop yields.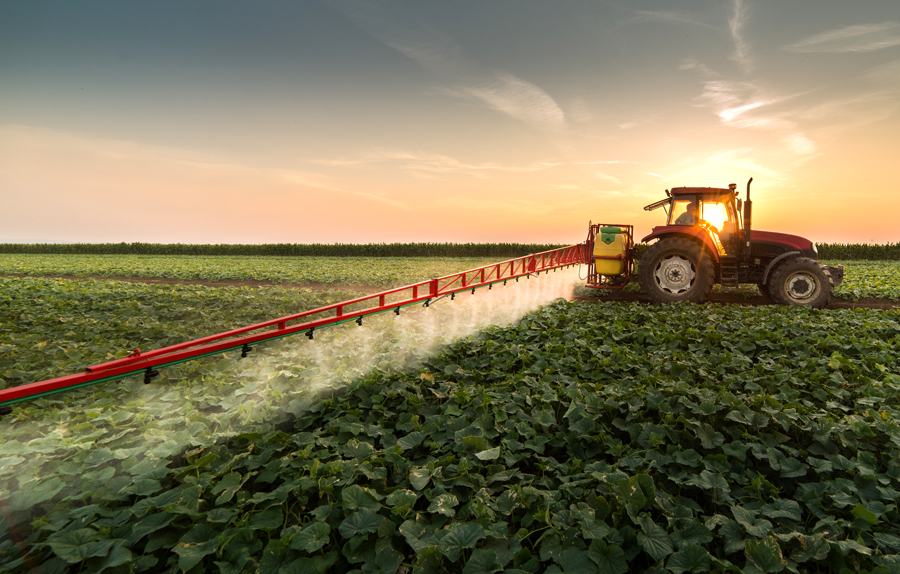 The agricultural industry is facing transformational reforms this year post-Brexit, under the UK government's promised comprehensive Net Zero Strategy and the Environmental Land Management Scheme, which will be rolled out by late 2024. Both are expected to entail the industry using fewer nutrients on crops in a drive to reduce their impact on the environment.
PolyNPlus already anticipates these strictures and helps to reduce pollution. Formulated with ureic polymers, micronutrients and organic uptake enhancers, PolyNPlus foliar fertiliser eliminates nitrate leaching and minimises ammonia and greenhouse gas emissions. This makes it virtually 100 per cent efficient, the company claims – many mature plants, particularly cereals, use less energy by absorbing nutrients through their leaves rather than through their roots. PolyNPlus solution is safe to apply direct to the leaf, eliminating potential leaf damage.
When used in a coordinated programme with soil-applied nitrogen, the result is similar or higher yields using at least 25 per cent less nitrogen than in standard farm practice.
NIAB trials
A third year of trials were conducted in the UK during 2020 to test the efficacy of PolyNPlus. NIAB held a series of trials on Extase winter wheat in Cirencester, which showed (see graphs below) that when using PolyNPlus, significantly lower levels of nitrogen were required to produce comparable or better yields. Even in the very dry spring of 2020, the yields held up impressively.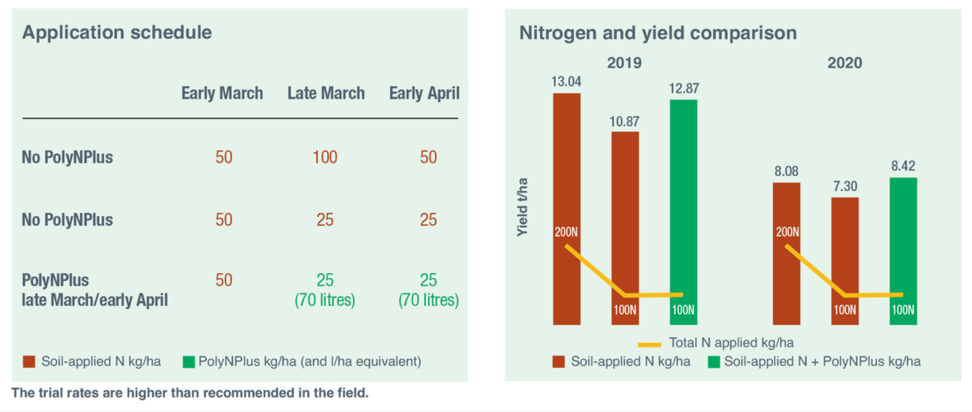 Recommended usage
In practical usage, provided 140–180kg of soil-applied nitrogen is used at the start of the growing season, foliar applications of PolyNPlus can replace the third application of soil-applied nitrogen, resulting in the same or higher yields using 25 per cent less nitrogen.
PolyNPlus is particularly useful during dry spells – such as the one faced by farmers in the spring of 2020 – when a crop's uptake of soil-applied nitrogen is low.
In addition, PolyNPlus can be tank-mixed with crop protection products, reducing the number of passes needed, saving time and application costs – a bonus in these economically challenging times. It can also be tailor-made to farmers' requirements for specific trace elements such as sulphur, manganese and magnesium.
BFS Fertiliser Services managing director, Rosalind Platt, said: "The agriculture industry is bracing itself for significant new restrictions in the future on the type and amount of nutrients they can use to produce crops. We are continuing to refine our revolutionary PolyNPlus range of foliar nitrogen to help farmers get ahead of the game. The third year of data from independent tests on PolyNPlus demonstrates clearly that less nitrogen is needed than in standard farm practice to produce the same or improved yields while benefiting the environment."
Further trials will be undertaken this year to determine how farmers can use PolyNPlus to maximum effect.