Handler brand change suits Cambridgeshire farm
One of the first of New Holland's latest model telehandlers has been selected to replace a competitor brand on a large Cambridgeshire family farm. David Williams reports.
One of the first of New Holland's latest model telehandlers has been selected to replace a competitor brand on a large Cambridgeshire family farm. David Williams reports.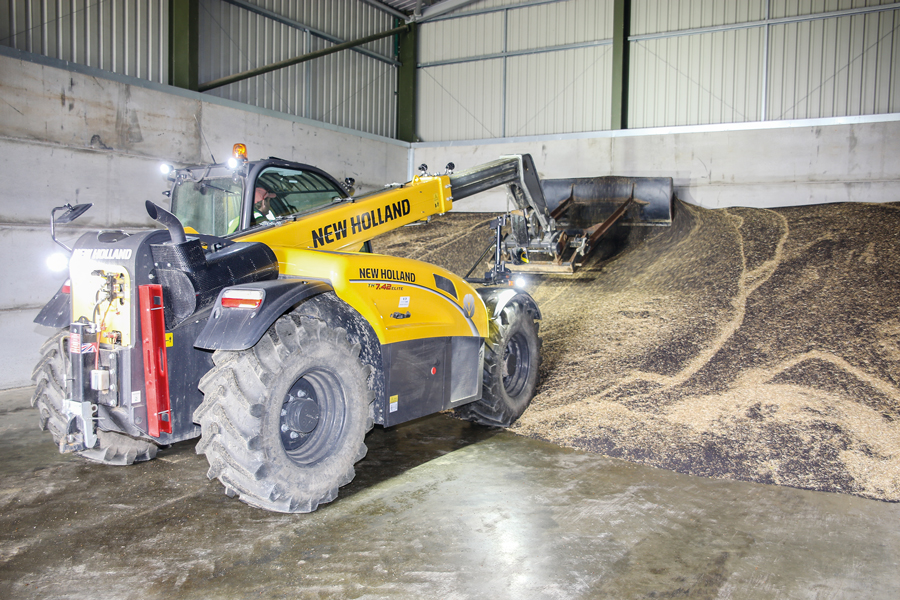 Few other machines on the farm's fleet are used as frequently as the material handler, so selecting something capable, reliable and popular with operators was essential for the Wombwell family, which farms at Ickleton, just south of Cambridge.
Trading as JD Wombwell & Son, the family has approximately 1,150ha of arable cropping which is a mix of owned and contract-farmed.
The arable enterprise is run by Will Wombwell and his brother James, and there is a 25-head Angus bull breeding enterprise run separately on-site by James and his wife. The brothers are the fifth generation of the Wombwell family to farm at Ickleton, and their father Peter also remains involved on the farm.
Cropping is mainly traditional cereals, including a large amount grown for seed, so a double breakcrop is part of the rotation. The choice of break-crop varies, but this year 100ha of sugar beet is included which will be followed by peas, while other potential options include oilseed rape followed by oats. A programme of soil improvement has been implemented in recent years and techniques include applications of manure and digestate, and grazing by up to 5,000 winter store lambs on stubble turnips over-sown into cereal crops just before harvest.
Cover crops are being added into the rotation, and the intention is to move towards reduced tillage and direct drilling as conditions allow. Most of the work is carried out by the Wombwell family, but for harvest two to three additional staff are brought in to assist.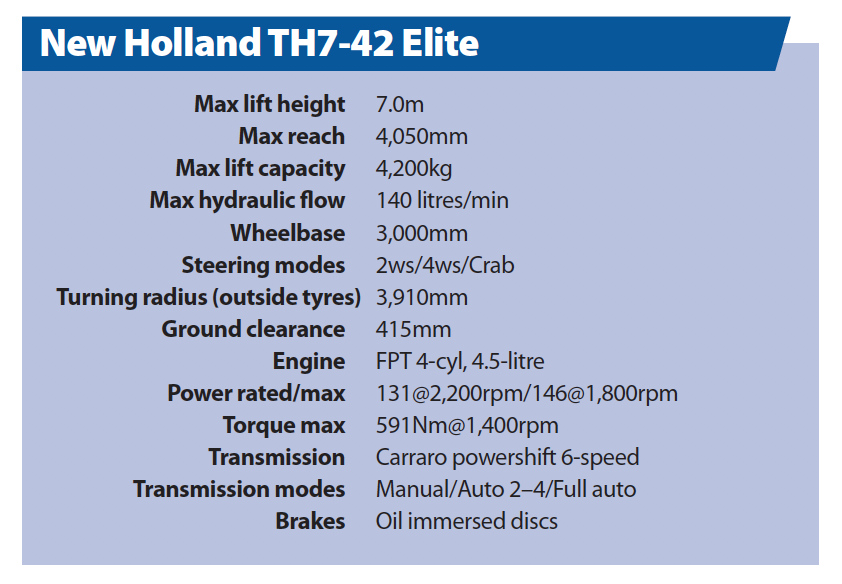 Demanding role
The farm's telehandler is used throughout the year, including by the seasonal workers who are all put through the industry-approved training course and test. "It's used more frequently than any of our tractors or other machines as there is always something needing lifting or moving," explained Will. "Its main tasks include pushing up grain during harvest and loading lorries from the stores. It also keeps drills and spreaders supplied with seed and fertiliser, including transporting it by trailer to the fields.
Straw bales are loaded in the eld and then stacked and handled in the yard, and other yard work includes mucking out the cattle sheds. It's a very varied role, and there is a lot of road travel involved as some of our outlying land areas are up to 17 miles apart."
A new handler was purchased this year to replace a machine which had been owned since 2008. "We get on well with most of our local dealers, and run a mixed fleet with no particular loyalty to any one brand," Will explained. "So, when we are sourcing new machinery, we look around at what is available, try those that appear suitable, and then compare prices.
"Our previous handler performed well and proved reliable during the 12 years we owned it, so we requested a demonstration of the latest version.
However, we all felt the controls and electronics had become far too complex, and it was important to us to have something easy to set up and use and which the seasonal workers could quickly get used to. Among the machines considered was the latest New Holland TH-series handler, and when we tried a demonstration machine loaned by our local main dealer, Ernest Doe, it impressed all of us. It had a simple control layout, a large, comfortable cab and excellent visibility all around, and the price was competitive."
New Holland upgraded its handler range in autumn 2018, with improved specification, a refreshed cab interior and a new colour scheme with yellow replacing the previous blue, along with new model designations. There are six models and 14 versions; with lift height from 6–9m and lift capacity from 3.2–4.2t. TH handlers are available in four specification levels, including the S, Classic, Plus and Elite – which is the top specification selected by the Wombwells.
Boss of the job
The model ordered was a TH7-42 Elite, with maximum 7m lift height and capable of lifting up to 4.2t – a step up from the previous 3.4t-rated machine.
"We felt that going up a size would ensure the new handler was 'boss of the job' and provide a larger margin of safety for heavier handling tasks such as lifting three Hesston bales at a time by bale grab," he added. "The only disadvantage was that it was slightly larger but with the manoeuvrability and all-around vision being so good this more than compensated. There was relatively little difference in price between the 4.2t handler and the next model down with 3.7t capacity, so the bigger machine made sense.
We specified Michelin 500/70R24 tyres which are the largest available as we felt they would be a benefit for all working environments."
Comfortable and productive
Elite specification includes a more powerful 146hp (max) engine in all size variants, whereas all other equipment levels are 133hp. It also includes a seat-mounted multi-function joystick, a heated, air-suspended seat and air conditioning as standard equipment. Will said the cab design is excellent.
"It's very comfortable and one of the main advantages over other handlers is its better legroom. I'm quite tall and being able to drive in comfort all day rather than having to squeeze my legs in makes a lot of difference.
The ride is extremely smooth on the road – the boom and seat suspension are effective, and the excellent visibility makes it easy and safe when negotiating other traffic. The control layout is good too, with everything arranged where you would expect it to be."
An option specified by the Wombwells was a 25,000-lumen LED lighting pack. Will said this has proved to be a good investment, as it makes it easier and safer to work at night or in the farm buildings, but the main advantage is when grain handling in the stores, as the bright lights 'cut through' dust, providing a clear view for the operator.
Will said the 6-speed, 40kph transmission performs well. "For our use, I feel powershift offers advantages over CVT, especially with all the road travel and trailer work we do. Control is through the main joystick, and it's easy to select between manual gear selection, semi-automatic or fully automatic and, for road use, selecting fully automatic makes operation much easier. With 146hp and the efficient transmission, it pulls our 8t seed trailer easily, and the powerful brakes provide plenty of stopping power whether the handler is travelling solo, or with a loaded trailer."
Asked about any improvements which he would like included in future design updates, Will said he has few criticisms, although all the farm's users agree that the mirror intended to provide a view of the rear trailer hitch is inadequate. "The mirror angle is adjustable, but the mounting arm is fixed, and it's impossible to find a position where the hitch can be clearly seen while backing up to a trailer. The hook is painted black too which doesn't help, so we are going to paint it a brighter colour which should improve it."
Verdict
The New Holland handler has proved reliable so far, and Will says it is popular with its users. Increased size over the previous machine hasn't proved an issue, mainly because of its better manoeuvrability. He said that having the extra lift capacity is reassuring, but the 2.5t grain bucket which was bought to suit the previous handler now seems too small, so larger replacement is needed. The cab is quiet and comfortable, and the controls are easy to use. "We are very pleased with the decision to buy the New Holland. It's a really good handler with the capacity and specification level we need. We have full confidence in the back-up available from our dealer, Ernest Doe, whenever servicing, parts or repairs are needed," he confirmed.