High-spec models in a shorter wheelbase
McCormick launched its new short-wheelbase X7 tractors at the Italian Eima show last month. David Williams was there.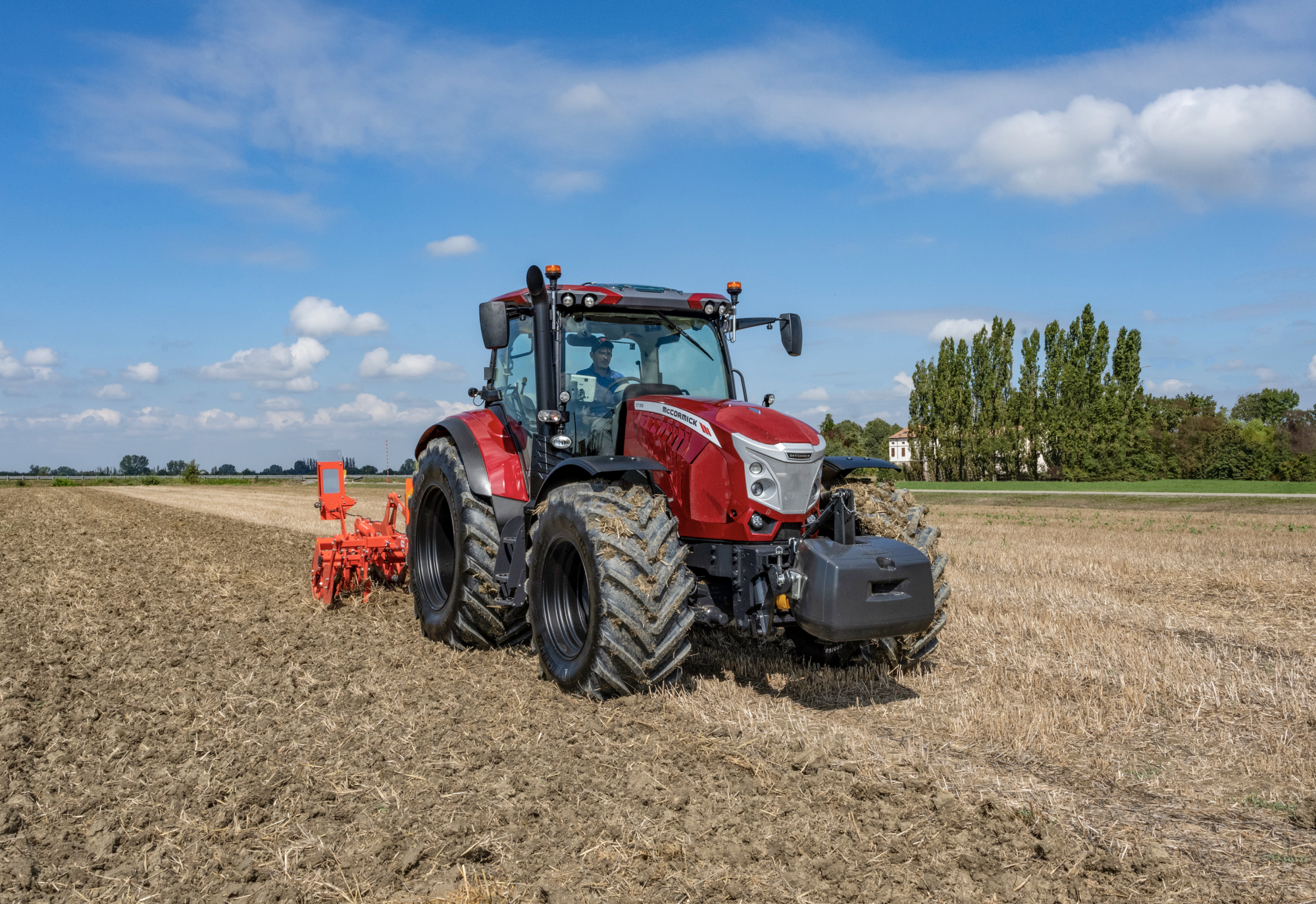 As well as showcasing the latest tractors, manufacturer and parent company Argo Tractors also arranged a visit to the main Fabbrico tractor production plant to see the results of massive investment in the facilities since Farmers Guide last visited approximately eight years ago.
Tractor specialist
"Four generations of the Morra family have been involved with farm machinery," stressed Argo Tractors corporate business director Simeone Morra. "Whereas originally we supplied only implements, 30 years ago we moved into tractors and now we manufacture only tractors while other brands have become full-line suppliers. We offer tractors across six families and three brands including the McCormick line-up from the X2 to the X8, and have earned a reputation as a tractor specialist."
Production capacity between the Argo Tractors plants is 22,000 tractors per year, and 65% of the tractor's value by components is manufactured internally. The brands are Landini, McCormick and Valpadana. Approximately 5.5% of annual turnover is invested in research and development. "Demand for our tractors remains very strong," Simeone continued. "Whereas from June 2020 to June 2021 European tractor market sales rose by 25%, sales of Argo tractors increased by 46%. All tractors are built to order."
Director of innovation Giovanni Esposito said that new models meeting Stage 5 emissions standards had been developed across 22 new platforms following 40 months of research and development by 150 engineers, involving 25,000 hours of outdoor testing and 16,000 hours of indoor tests. Research into new technology is ongoing and a new Landini X4 Electra Evolving Hybrid model using a diesel engine, mechanical rear wheel drive and electric front drive motors plus an energy recovery system was displayed as a concept at Eima.
Many advantages
Asked by Farmers Guide what advantages Argo Tractors had over larger manufacturers, Simeone suggested that, as a tractor specialist, the family had relative freedom to manage its own operation. He also said that holding the Argo tractor franchise allows dealers to sell whatever implement brands they feel best suit their customers, rather than being tied into ranges associated with a particular tractor manufacturer or importer. "They can continue offering the same implement brands or change to another if something better is available. There is always the freedom to choose," he confirmed.
An additional company strength is the short management chain, mainly through family members. "When making decisions we can be quick and responsive and act immediately.
We don't have to consider quick profits for shareholders but instead make decisions that are in the best interests of the company for long- term benefit rather than for short-term gains," he added.
AgriArgo UK business development director Ben Agar confirmed that since joining the company two years ago, the quick reactions of the board continue to impress him. "There is a short chain of command and I can contact senior board members at almost any time. When we ask for something, then it promotes a discussion to find the best way forward without having to involve lots of people, and decisions are made quickly which is a big advantage and means we always know what is happening."
Larger tractors
McCormick's X7 series has proved extremely popular with dealers and users since its introduction six years ago, and high sales volumes have altered AgriArgo's market profile in terms of average horsepower, including a clear shift towards more powerful models. "Our main volume remains in models of approximately 120hp – predominantly for livestock farms, and we also have a large share of the specialist vineyard and orchard market for smaller models – although average horsepower there is increasing, too.
"The X7 series is replacing competitor tractors on arable and mixed farms and our distributors have asked for the new short wheelbase models to fill a gap in our current range. We believe they offer just what is needed to satisfy the needs of our customers, and their contribution to our sales volumes will prove significant."
Strong dealer network
Ben Agar said that McCormick's recent change in marketing strategy including a UK team which is more accessible to dealers and customers has proved very successful, and the dealer network has evolved and increased in size. "As other manufacturers have reduced dealer numbers and increased the size of areas served by each outlet, we have concentrated on appointing dealers offering the very best customer service and back-up and in locations which are easily accessible to McCormick users. We still have a few areas where dealers are needed, but for most of the UK there is now excellent representation."
The new X7 models
At the Eima show, the McCormick line-up occupied much of the Argo Tractors stand space, and the new X7 short wheelbase models took pride of place.
There are six models with 4- or 6-cylinder engines and power shift or CVT transmissions.
X7.417 P6-Drive 165hp, 4-cyl, powershift
X7.418 P6-Drive 175hp, 4-cyl, powershift
X7.617 P6-Drive 165hp, 6-cyl, powershift
X7.618 P6-Drive 175hp, 6-cyl, powershift
X7.418 VT-Drive 175hp, 4-cyl, CVT
X7.618 VT-Drive 175hp, 6-cyl, CVT
Engines are either FPT NEF 45, 16-valve, 4.5-litre, 4-cyl, or FPT NEF, 67, 24-valve, 6.7-litre, 6-cyl, all with turbochargers, intercoolers, and common- rail, electronic fuel injection.
The wheelbase is 2,651mm for 4-cyl models, and 2,760mm for 6-cyl variants. Maximum weight is 11,500kg and rear wheels up to 710/60R38 can be fitted.
The optional front hitch lifts up to 3,500kg. Styling matches updated X7 long wheelbase models launched earlier this year, including a one-piece bonnet with a 90-degree opening angle for ease of maintenance. The cab is also similar including a revised control layout.
Transmissions
VT-Drive CVT has four ranges with oil-immersed clutches for optimum response from 0.04kph to the 50kph maximum. Control is through the VT- EasyPilot joystick.
P6-Drive has six powershift gears and five robotised ranges, giving 30 forward and 15 reverse gears, plus electro-hydraulic forward/ reverse shuttle. Optional creeper transmission gives 54 forward and 27 reverse gears. Control is by the EasyPilot joystick.
McCormick includes a brake-to-clutch system, allowing the tractor to be stopped just by depressing the brake pedal without needing to use the clutch for ease of control during transport and handling applications. Using this with APS (Auto Powershift) allows operation similar to the VT-Drive.
Capable performer
Maximum rear lift capacity is 9,300kg and hydraulic oil flow rates of 123 litres/min are standard – with an optional 160 litres/min pump available as an upgrade. Up to eight spool valves can be fitted.
The PTO has four speeds, and drive take- up is adjustable. Automatic engagement and disengagement can be selected.
Independent front axle suspension with electronic control is an option. Mechanical, or semi-active electronically controlled cab suspension are available.
High specification
A 12in touchscreen provides convenient adjustment of work settings and parameters. Many control buttons can be customised to suit the task and user.
GPS guidance and Isobus are fully integrated and operate through the main terminal. Telematics through McCormick Fleet
Management allows the tractor's operation to be monitored remotely. Additional benefits include remote fault diagnosis by authorised dealers, and software updates can be installed without an engineer visiting the tractor.
More model choice
"With the addition of the new tractors we can offer a wider range of models and power outputs," added Ben. "The new X7 tractors gain all the features recently launched on the X7.624 flagship including integrated Isobus and GPS guidance, offer superb visibility from the operator seat and are exceptionally manoeuvrable. Previously, features which were included and available were determined very much by the market sector for which a tractor model was intended, but now these advanced features are expected by all types of user and the new X7s come with very attractive operating characteristics and specification."
Orders for the new X7 models are being taken now and deliveries commence in early 2022.
Other model news
McCormick's flagship X8 has gained Stage 5 emissions compliance. Three models with 254, 286 and 310hp and 6.7-litre, 6-cyl engines use electronically controlled variable geometry turbochargers and SCR (AdBlue) to meet the latest standards.
X5-series updated
New X5 Stage 5-compliant models were also previewed at Eima. These are the 95hp X5.100, the 102hp X5.110 and the 115hp X5.120. There are two variants – Efficient and Premium.
The engine is a new FPT F36, 4-cyl, 16-valve, 3.6-litre unit with a turbocharger and intercooler and it uses EGR, a DOC, DPF and SCR to control exhaust emissions. A new cab with mechanical suspension is standard, and an even better ride is available by adding optional front axle suspension.
Eight transmission options include base 12+12 with mechanical reverse shuttle, and the top level is a 48+16 with reverse power shuttle, HML, Creeper and Park Lock.
The standard hydraulic system offers flow rates of 82 litres/min, and up to six spools can be fitted – three with mechanical control, one with electronic control and two for the front hitch or front loader which can also be combined. An optional flow selector allows the user to manage up to seven hydraulic connections.
Hitches are electronic or mechanical and equipped with ELS (Ergonomic Lift System). The electronic hitch has pitch compensation for load transport and loads up to 4,500kg can be lifted.
The PTO has adjustable engagement to suit the implement and two or four speeds. With the electronic hitch; automatic PTO control is an option for convenient headland control.
"We are seeing demand from traditional dairy farms for additional features which were available for arable farms 10 years ago, and a 120hp tractor with front axle and cab suspension will be popular, while telematics will allow these farms to benefit from tractor performance monitoring and reduced downtime," said Ben.
Factory-fitted loader mountings are a new option since Sigma 4 was acquired by the Morra family earlier this year. Benefits include a neat and durable installation and no reduction in steering angle when a loader is fitted.