Dairy farmers urged to submit accounts of their losses
Defra is asking for 'accurate and credible data' on the severity of issues facing the dairy sector, to back up the industry's call for support.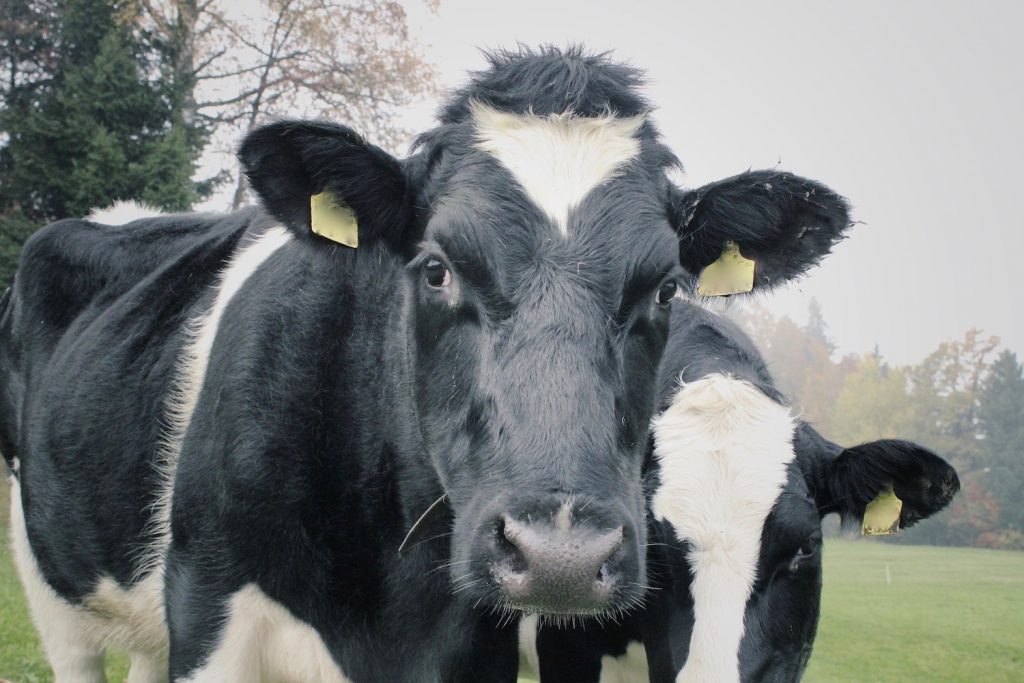 Defra is asking for 'accurate and credible data' on the severity of issues facing the dairy sector, to back up the industry's call for support.
The Royal Association of British Dairy Farmers (RABDF) is urging farmers to submit daily reports of their losses as it strives to create reports for the government and industry.
Earlier this month the association called on the government to help fund a short-term financial support scheme for dairy farmers whose businesses have been severely affected by Covid-19.
RABDF chairman Peter Alvis said: "The situation in the dairy industry is constantly evolving, with different processors and farmers affected each day. It is important, as an industry, we have a firm understanding of the situation, how many producers are affected and the level at which they are affected."
Demand for milk from cafes, restaurants, pubs and hotels disappeared when the lockdown forced them to close, leaving some farmers in a situation where they are being forced to dump thousands of litres of milk. An even higher number of farmers are thought to impacted by reduced milk prices and/or payment terms.
Processors have seen an additional strain due to staff being off sick or having to self-isolate.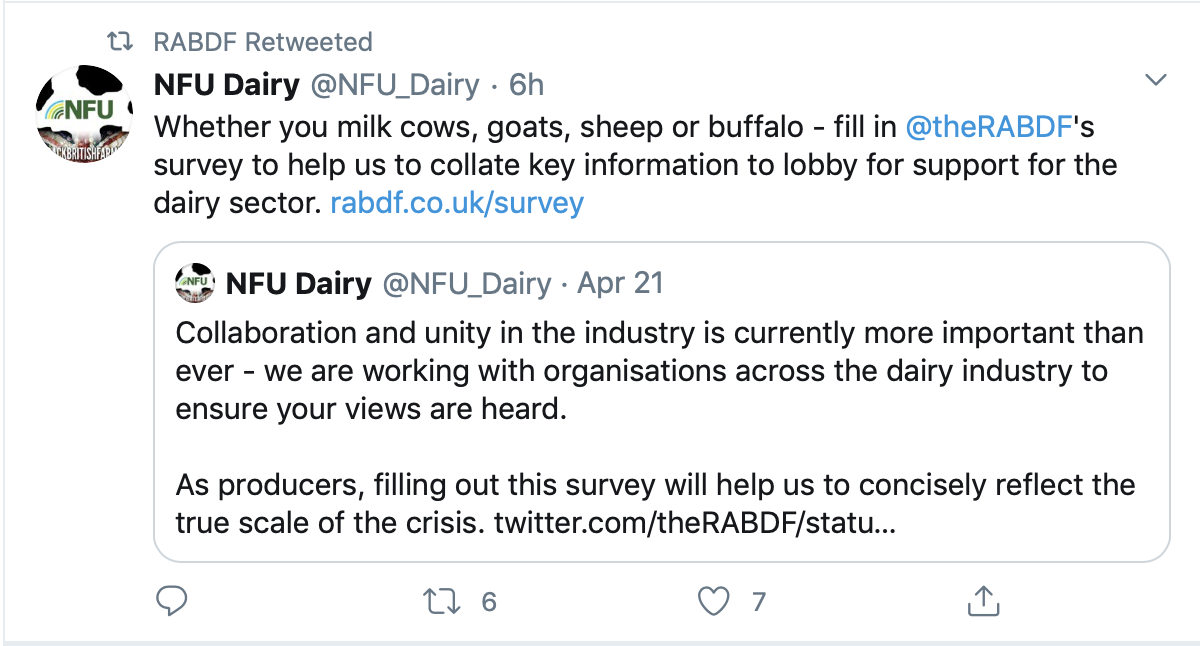 'A first step'
Defra announced last week that it would relax elements of UK competition law to support the industry. Legislation, which will be laid soon, will allow the industry to adapt to changes in the supply chain, including decreased demand from the hospitality sector and reduced collection by retailers who have had to close.
Environment secretary George Eustice said: "We've heard loud and clear our dairy farmers' concerns which is why we are further suspending competition rules law to allow dairy farmers to work together on some of the most pressing challenges they are facing. I am also urging farm businesses to access the loans that are available from their bank to support them in this period.
"We welcome our farmers' heroic efforts in ensuring food supplies remain resilient and will continue to support them through this difficult time."
In a letter from Mr Eustice that has been circulated on social media, he ruled out a 'production reduction' scheme, saying it 'would not work in the current circumstances'.
He wrote: 'We are dealing with a 'temporary dislocation in the market that is affecting a minority of farmers; deploying the same scheme as in 2015 would not ease production across the board and would incentivise the culling of cows.'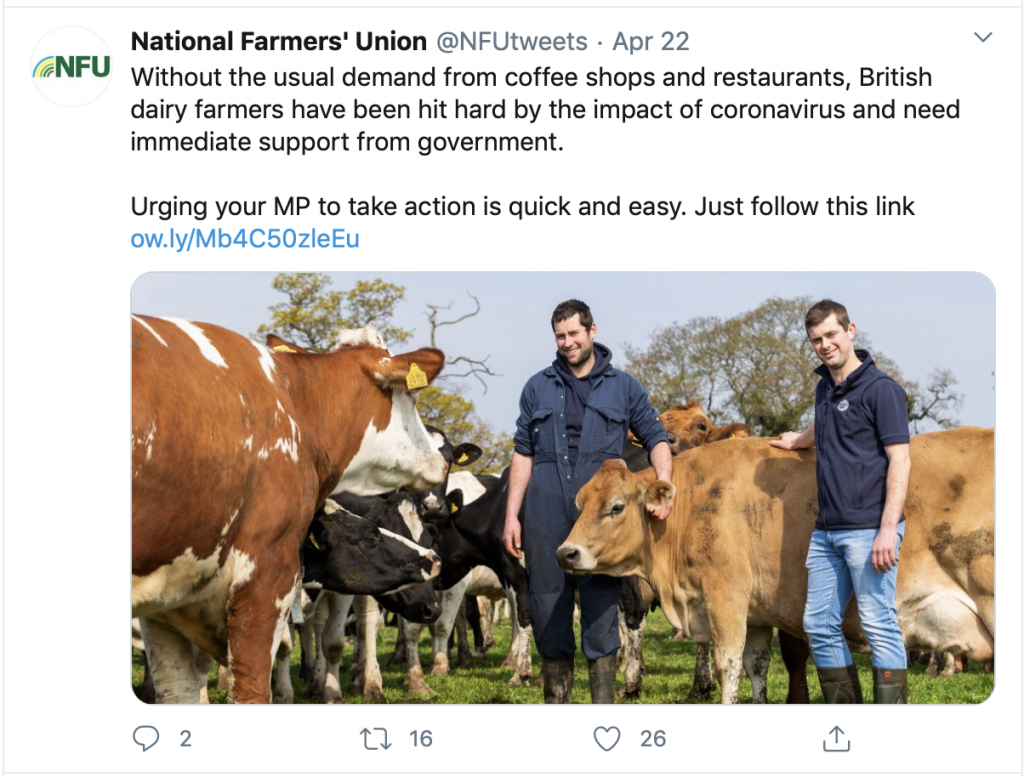 NFU dairy board chairman Michael Oakes said: "It's good to see the secretary of state recognise the major challenges the dairy sector is facing as a result of the market disturbances caused by coronavirus.
"We have been calling for these changes to competition law for a number of weeks now and it will allow the supply chain and Defra to collect the vital evidence urgently needed to help further understand the situation.
"This is just a first step in terms of the support the dairy sector will need to help it get through this crisis and we continue working with Defra on a number of other asks of government that we need to see actioned urgently."
Similarly, Mr Alvis said it was a step in helping the industry work together and identify how surplus milk in the supply chain can be rerouted.
"This survey will help that effort by building a clear picture of how many farmers are affected and the best options for dealing with oversupply," he explained. "If there is still an issue the industry is unable to solve then as a sector, we must be able to demonstrate clearly to Government how big the problem is and where the issues lie."
Dairy UK and AHDB are working to identify spare processing capacity, how to stimulate demand and how production can be temporarily reduced.
Raw milk
Farmers are also being warned not to give away or sell raw milk straight from the tank unless they are registered to do so.
Some dairy farmers may be getting requests from friends and neighbours to sell milk straight from the tank, as some supermarkets are seeing shortages of milk on the shelves. However, selling or giving away raw milk and cream is illegal if you are not registered to do so, RABDF warned.