Doe family celebrates 125th anniversary
Quasquicentennial! It's not a word you use every day but on Saturday 24th June Ernest Doe & Sons Ltd celebrated this significant milestone in its history. In celebration, the company shares an insight into its rich history…
Since its humble beginnings shoeing horses and repairing implements in 1898, family-owned business Ernest Doe & Sons has grown and flourished, thanks to the support of generations of customers and the Doe family's dedication.
The business spans five generations, with managing director Angus Doe overseeing the business alongside his father, chairman Colin Doe. It has established itself as the UK's largest family-owned full-service agricultural, construction and groundcare machinery dealership, supplying and supporting equipment to a broad customer base, together with 19 country stores and two online e-commerce sites.
A legacy of vision and determination
At the age of 17, Ernest Doe took up an apprenticeship with Mr George Wood, blacksmith of Ulting. After Mr Wood retired, he leased the shop to Ernest, who later bought the Freehold of the blacksmiths with the neighbouring farm.
In 1920, Ernest Snr's son Ernie persuaded him to buy some of the second-hand tractors that were being sold off by the Ministry of Munitions – predominantly Model F Fordsons – marking the beginning of Ernest Doe's tractor business. It became the Essex agent for the Case Company in 1930 when it launched its model L and C tractors; as well as Fordson tractor dealers. In 1936, Ernie and his brother Bert took over the running of the business and a partnership was formed between Ernest Snr, Ernie and Bert.
When war broke out in 1939, the Ministry of Agriculture formed a 'War Agricultural Committee' in each county, to support UK food production. The Essex membership, comprising well known successful farmers, was tasked with ensuring that every possible acre was put under the plough. 25 Fordson tractors and Ransome ploughs were made available to support the initiative and Ernie was tasked with organising the use of the tractors, making space available at the Ulting site.
In 1943 the first branch was opened at Fyfield, with a further five to open in the next eight years. The contracting business also grew significantly during this time and E Doe & Sons (Contracts) Ltd was established as a separate entity headed up by Bert. Ernest Doe & Sons Ltd was incorporated to take over the agricultural business with Ernie and his son Alan, in March 1947.
All three of Alan's children worked for the business and his son Colin later became managing director from 1989 and chairman in 2020. During a 30-year tenure as MD, Colin doubled the company's turnover and opened seven further branches.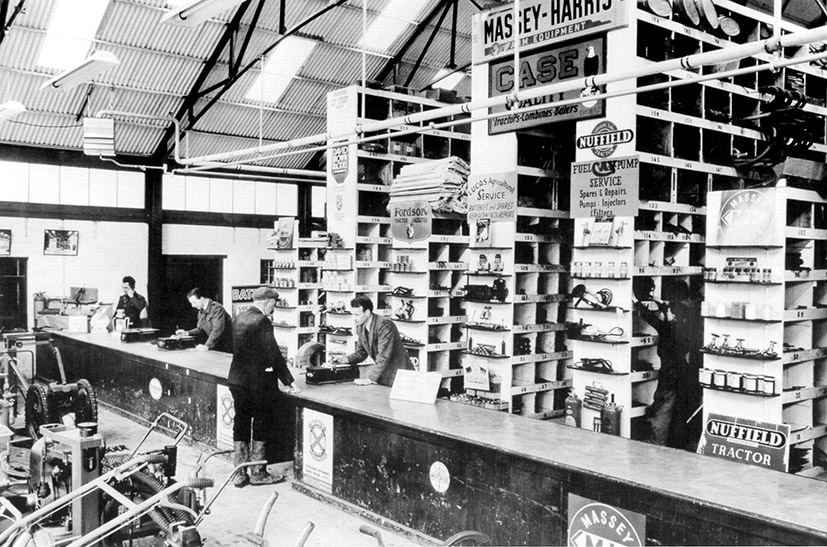 The Triple D
In the 1950s there was a demand for higher power on the land. A customer, George Pryor, spoke to Ernie about joining two tractors together to make a 'whopping' 100hp but he needed more development work. Ernie tasked his service manager Charles Bennett and his team with developing the concept and the Doe Dual Drive tractor, or the Triple D, launched in 1957.
It featured a distinctive design with two engines and four-wheel drive capabilities. This configuration allowed for improved traction and pulling power. The tractor became particularly renowned for its ability to handle challenging terrain and work in adverse conditions.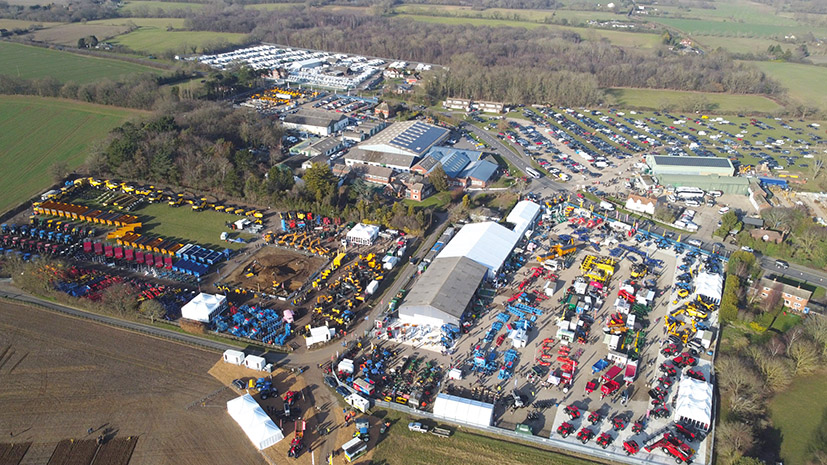 The present day
Ernest Doe & Sons' broad product range incorporates cutting-edge machinery and equipment, including tractors, combines, excavators, turf care, highway mowers and more. The company now operates 19 branches, including the Ulting HQ, covering eight counties across the South East and Anglian regions. Beyond its product offering and services, its commitment to providing personalised support and expert advice has gained its customers' trust and loyalty.
The most recent additions to Ernest Doe's machinery portfolio are Horizon Agriculture and FarmDroid – which promote sustainable land management and resource efficiency – together with a whole range of specialist fruit and viticulture machinery.
Lithium-ion technology also features heavily in Ernest Doe & Sons' present-day machinery offering, particularly in the groundcare sector. They are ideal for portable machinery and devices, storing large amounts of energy in a relatively small and lightweight battery. They provide a cleaner and more sustainable option, compared to traditional fuel powered machinery.
It is also committed to being a good corporate citizen and managing its business in a way that has a positive impact beyond its business operations.
Ernest Doe & Sons' remarkable milestone of 125 years is a testament to the enduring power of vision, determination, and a commitment to excellence. Thank you to everyone who has been part of this incredible journey.