Isuzu pick-up review
Few UK farmers would leave the Isuzu D-Max out of their list of options when buying a new pick-up, so Farmers Guide put the base Utility version through its paces. David Williams reports
Isuzu's D-Max line-up includes seven equipment levels from the Utility to the top of the range Arctic. Several higher specification versions come only with a double cab and selectable 2wd/4wd, but the Utility is also available with a single or extended cab, and with 2wd – making it an attractively priced entry-level pick-up.
Base version
Farmers Guide borrowed the Utility double-cab, and the week-long test included a good mix of longer road journeys as well as off-road load- carrying tasks on fields and farm tracks.
Only one power unit is available across the range. The 1.9-litre 4-cyl, 164hp engine meets the latest emissions standards without requiring AdBlue. Overall, performance was good on the road and there was plenty of acceleration. Off-road there was plenty of overlap between the gears at lower speeds to adjust the speed to match ground conditions without shifting, and low range can also be selected, providing extremely low speeds for maximum control. Ride comfort is good, and the capable suspension coped well on rutted farm tracks during the test, including with a half-tonne payload. The standard tyres are 245/70R16s and ground clearance is 225mm – plenty for most farm situations.
Interior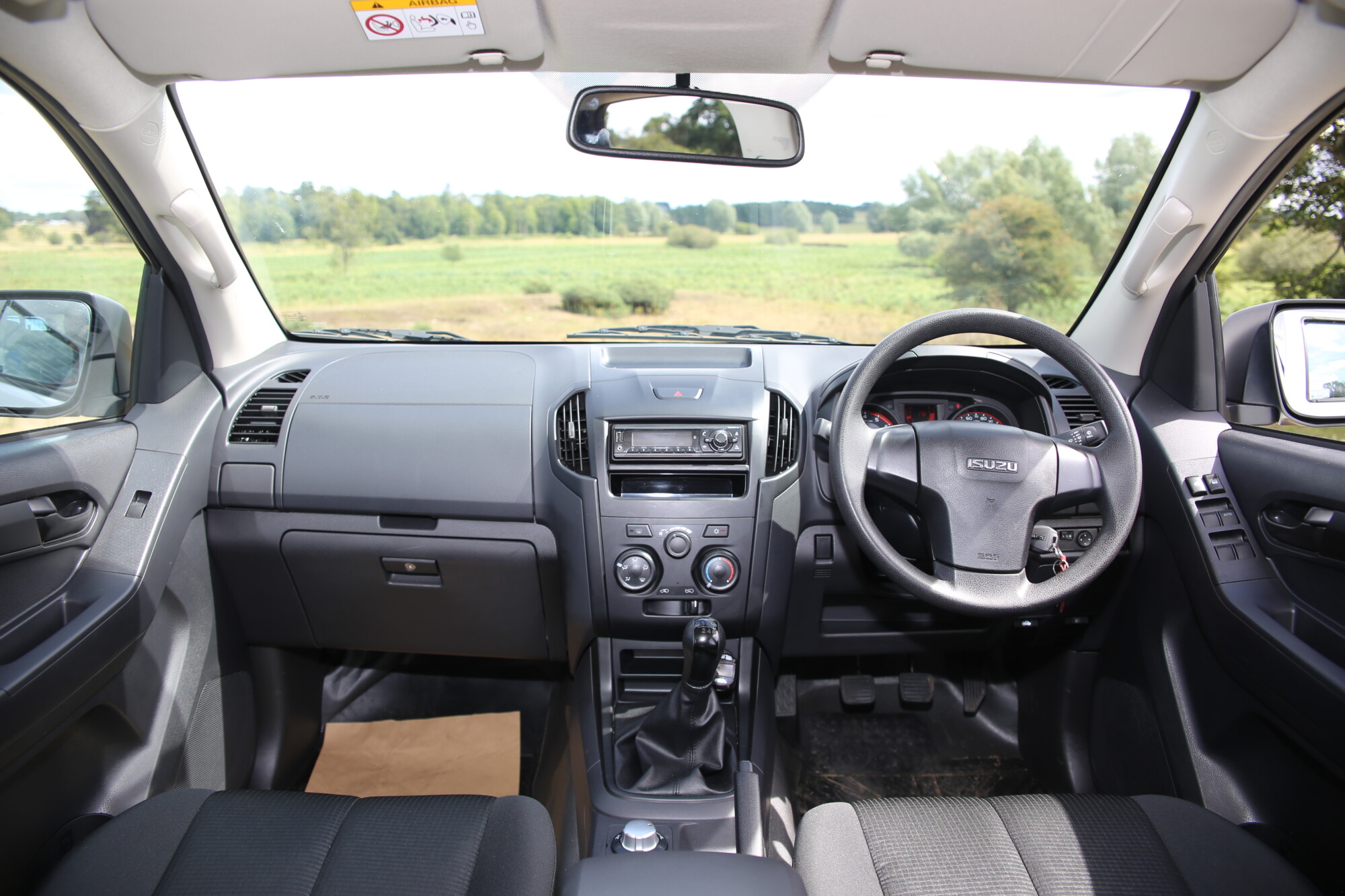 The seats are durable fabric, and the Utility comes with a rubber matted floor making it practical for farm use and easy to wash out. There is reasonable legroom for a tall driver and front seat passenger and, even with the front seats right back, the legroom in the rear is adequate. The driver's seat comes with height and angle adjustment. There is plenty of storage in the front including a large compartment in the centre console, and there are two glove boxes on the passenger side. There are also several useful smaller trays and compartments for odds and ends, as well as door pockets. For rear seat passengers, there is storage in the back of the front seats. The rear seat is split, and either side can be lifted to provide space for large items. The jack and tool kit are stowed under the right-hand rear seat.
Most controls are well laid out and large enough to operate while wearing gloves, including the heating and air conditioning. The test drive coincided with some very hot weather, and the air conditioning was so powerful that mist was created as the chilled air left the vents – it was excellent.
There is a trip computer operated by a fiddly push-button set into the main display dials, which stated that average fuel consumption during the test was approximately 32mpg, while on longer journeys over 35mpg was easily achieved.
The entry-level Utility specification doesn't include many frills, but we were surprised at the lack of an integral Bluetooth phone connection. This means that hands-free phone connection has to be made through a function of the radio, which is less convenient. All other D-Max versions come with Bluetooth built-in, and controls on the steering wheel.
Driving controls include a rotary dial for 2wd, 4wd and 4wd low-range selection, and there is also a hill descent speed control. Visibility all around is very good, and the external rear-view mirrors are large and well positioned and come with electric adjustment, although this excludes folding. A handy feature is a reversing camera which displays an image on the internal rear-view mirror, making it easy to watch the hitch while backing up to a trailer. The rear cab window is heated.
Practicality
The D-Max is a practical pick-up and the version tested has a maximum 1,141kg load bed capacity. Like most double-cab pick-ups, some of the load space is sacrificed for the longer cab and the ability to carry rear seat passengers, but the usable area includes a bed length of 145cm, bed width of 150cm (narrowing to 110cm between the wheel arches), and 135cm access width through the tailgate. The tailgate itself is very strong and easily capable of supporting heavy items during loading and inside the load bed there are tie-down points in each corner. The test vehicle came with a hard canopy which was excellent. It had a full-width mesh rear gate which locked, and the sides were in line with the cab so there was almost no loss of rear visibility due to the canopy being fitted. Towing capacity is 3,500kg and the maximum gross train weight is 6,000kg.
Servicing
The Isuzu comes with a very generous five-year, 125,000-mile manufacturer's warranty which helps maintain excellent resale values, and servicing is every two years, or 12,000 miles.
Verdict
The Isuzu D-Max range has a superb reputation for durability and reliability, and excellent back-up is available throughout the UK through the official dealer network. A large number of Isuzu dealers also represent other major agricultural machinery brands, so are well used to looking after the needs of farmers in their trading areas.
At £21,314 + VAT on the road – the D-Max Utility double cab offers great value. It's practical and ideal for load carrying and towing tasks on the farm and locally, but it really is quite basic so where longer road journeys are a frequent part of the work load it might be worth upgrading to the Eiger version which adds cruise control, electric folding mirrors, a reversing camera, and an integral Bluetooth phone system as well as more comfort –for only £2,200 extra.