Unrivalled versatility from iconic off- and on-road vehicle
A series of mid-October practical demonstration days provided an opportunity for potential and current Unimog users to find out about the latest models. David Williams was there.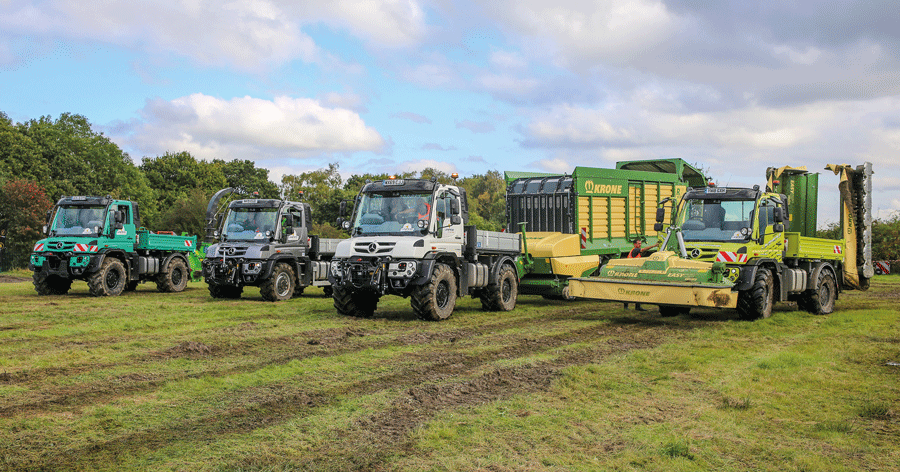 Unimogs have been manufactured by Mercedes-Benz since 1948, and the brand's popularity with UK farmers and agricultural contractors is growing. Superb performance for transport tasks has become the primary reason most farms invest, while low running and ownership costs increase the appeal. Exceptional off-road performance plus a range of attachments including three-point linkage and PTOs, means they can also double up as a tractor for field work including light cultivations.
The four 'Unimog on the Farm' demonstration days were strategically located around the UK including Yorkshire, Suffolk, Gloucestershire and Fife, and this year's event included an invitation for owners of heritage machines to bring them to display. A presentation by Unimog specialists at each location highlighted design features and benefits of the latest models, and provided an overview of the range.
Up to 300hp
The Unimog line-up includes UHE extreme off-road models, and UGE all-terrain implement carrier variants.
UGE models account for most UK sales and are supplied for on- and off-highway applications. In total, there are 10 models in six wheelbase lengths in the Unimog line-up.
Combining the off-road ability of a tractor with commercial vehicle handling, braking and steering, the Unimog can travel, where permitted, at up to 90kph. High payloads can be carried and the largest model in the UGE range – the U530, has a permissible gross vehicle weight up to 40t, depending on the trailer and body.
Fuel consumption figures are impressive – averaging between 7.4–11.5mpg for a range of tasks, and with 1,400-hour service intervals, running costs are low. Three years' warranty is standard, and up to five years is an option. Used Unimogs sell well, attracting high prices, so depreciation is low.
All Unimogs have a mechanical transmission providing working speeds from 0.13–90kph. Hydrostatic drive is available for extra flexibility, and is fitted in addition to the standard transmission. When infinite speed control is needed, the clutch drive disconnects from the engine and the hydrostatic motor provides drive to the gearbox, with power supplied from the vehicle's hydraulic system.
Back-up for the vehicles is impressive and although there are only four specialist sales outlets covering the UK, there are also 23 specialist service dealers, but for breakdowns the whole Mercedes-Benz commercial vehicle network is available, ensuring minimum downtime. Add to this that over 94 per cent of parts ordered are immediately available from UK stock, with non-UK parts supplied within
24 hours, and the after-sales support is excellent.
For users needing to fix costs of ownership; service and extended warranty packages are available. Three years' servicing, with full driveline and vehicle warranty, costs £280 per month, and budgeted servicing up to five years is available, with full factory warranty.
Agricultural appeal
The demonstration days gave existing users an opportunity to meet and discuss experiences, and allowed potential users to experience the range of Unimogs at work. Farmers Guide attended the Yorkshire event, where a woodland test track with deep, muddy ruts would have stopped most other off-road vehicles but didn't even require diff-lock engagement on the Unimog U5023 UHE and U423 UHG models tested.
An on-road course over a few miles provided an opportunity to tow a large trailer at higher speeds, and a wide selection of mounted and towed agricultural implements including mowers, rakes and a forage wagon were each matched with suitable models for a grassland working demonstration.
Although Unimogs are unlikely to be chosen over conventional tractors for primary cultivations, their ability to perform field work if needed helps justify a place on the farm or contracting fleet. Most agricultural users select Unimogs for their efficient farm transport capabilities, saving time and fuel, but equipping machines with a PTO and rear linkage means they can perform the work of medium-sized tractors if a breakdown occurs or during busy periods. Central tyre inflation is a popular option, allowing pressures to be increased for road travel, then decreased at the touch of a button for field work. Unimog's design includes air supply pipelines running through the axles with no risk of snagging on obstructions. According to head of Unimog Katie Purcell, investing in central tyre inflation and a PTO makes a lot of sense, increasing versatility, but also enhancing resale value later.
Another useful option for farm work is VarioPilot. This allows the user to move the steering wheel and pedals for left- or right-hand drive. No tools are needed, and the user simply releases the locking lever, removes a dashboard panel and slides the steering wheel and pedals across. The process takes just a few minutes and, for tasks such as verge cutting, it increases convenience and safety. Other situations where it assists the user include working alongside a harvester when operating the Unimog from the left-hand seat makes it easier to keep an eye on trailer loading progress without neck strain. Because VarioPilot makes the machine compatible for English or European road use, it's another option described by Katie Purcell as a shrewd investment – appealing to a wider market and increasing the machine's resale value.
Tasks for which Unimogs are ideal include transporting seed, fertiliser and water to machines working in the fields. Swapping between a rear platform or a water tank takes little time with just four pins to remove and replace to secure the load.
Test-drive
Whether operating in fields or on public roads, the Unimog feels extremely capable and is easy to drive. The cab is spacious and comfortable, and the controls are well arranged. Visibility is excellent, especially to the front where the short bonnet leaves a clear view. Visibility to the rear isn't as good as from a tractor seat but removing the rear tailgate from the load platform makes it much easier to watch rear-mounted implements.
Manoeuvrability is good and was highlighted by the ease with which tight turns were negotiated on the woodland test track. The steering itself is light but has a reasonable amount of 'feel'.
A wide range of transmission settings is available, including front, rear and centre diff-locks but, as the Unimog proved so capable in the muddy conditions, the standard full-time 4wd on-road mode, with automatic gear selection and changing, proved more than sufficient. In manual mode, gear changes are made using buttons on a stalk below the steering wheel and is easy to use.
Ride quality on the road is good, as the tyres and seat soak up most of the bumps, but off-road the ride is harsher due to the extremely stiff suspension, especially with an empty rear load bed.
The cab is reasonably quiet, partly because of its design but also because the engine's high torque means revs can be kept low, unless PTO-driven implements are operated requiring a constant speed.
Verdict
Sales of Unimogs in the UK are increasing, and with many farms keen to improve compliance with road transport regulations, while also wanting to reduce transport time and costs, this trend looks set to continue. More than 200 new machines have been sold in 2019, and speaking with owners at the demonstration day, it's clear that a Unimog's versatility is considered an advantage over conventional tractors and commercial vehicles. One farmer at the event commented that a lorry can transport his crops more efficiently than a tractor from the field edge to the store, but a tractor is still needed as the lorry can't travel on the field. His Unimog carries out the whole operation from field to yard, and is safer and quicker.