Cheffins Vintage Top 10
Here is a compiled list of the top ten lots sold at the Cheffins Vintage collective and on site sales from 2020.
Over 3,200 vintage items were sold under the hammer via online sales and at the regular collective auctions at Cheffins' Saleground at Sutton, Cambridgeshire, throughout 2020, with gross sales for classic machinery totalling over a vast £3.5m.
2020 saw Cheffins offer 380 classic and vintage tractors, 75 motorcycles, 11 stationary engines, 55 classic commercials and over 500 automobilia items in 12 months. There were also nine timed online sales throughout the year.
Below are not all top value items, but they are the top value items in each section of the sale :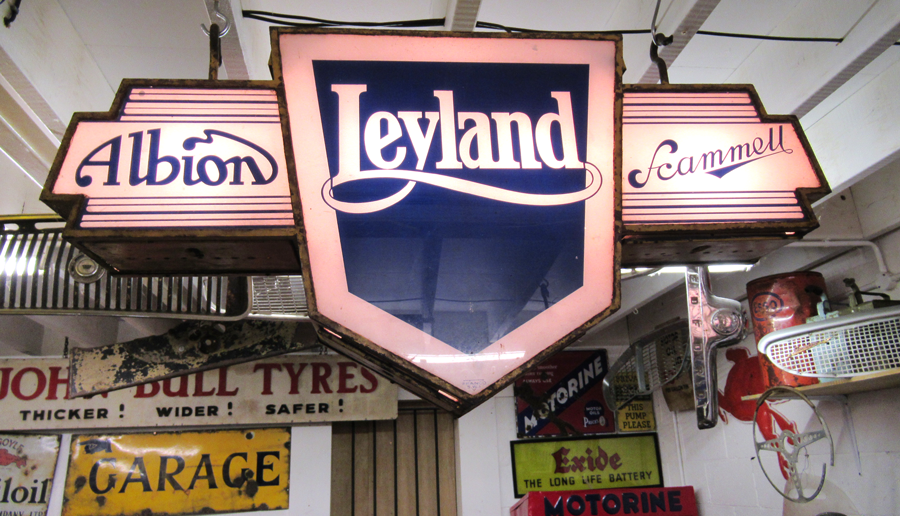 10. Leyland, Albion, Scammell – Sold for £5,390
Very fine double sided hanging showroom sign, metal frame, Perspex panels marked `Franco W1`, 43x21ins
---
9. Three inch scale freelance design model traction engine 'Heartbreaker' – Sold for £5,500
This model was built in 1902 by George Long of East Dereham in Norfolk, no mean feat for a 20-year-old wheelwright and carpenter. It is based loosely on a Burrell design and is a slide valve, single cylinder 3 speed engine. A 1937 article in the Dereham & Fakenham Times with accompanying photo describes how Mr.Long re-modelled his engine around 1929 and describes in detail the engines features and capabilities. A further 1954 article in the Thetford & Watton Times again describes the engine, its construction in 1902 and Mr Longs 52 year ownership.
Around 1955 the vendors father purchased the engine from George Long as a present for his then seven year old son who spent happy years having rides around the West Country farm behind 'Heartbreaker'. Eventually the engine fell into disrepair and was kept under the stairs at the farmhouse until 2015 when a restoration was undertaken by David Clarke of Atlantic Design.
---
8. 1947 750cc J.A.P. V twin 'Lyclone' Special MOTORCYCLE – Sold for £8,268
Reg. No. 481 YUF Frame No. B28873
Engine No. MTS/D 96033/5
The Board Track inspired special, is a true masterpiece of instinctive design and engineering and was built by the sadly missed Roger Lye, former proprietor of the fondly remembered Lyco Engineering. The starting point for the special was the acquisition of the 1934 J.A.P. V twin side valve MTS/D engine which revealed absolutely no wear internally at all and it became clear that this was an unused engine complete with magneto and carburettor. The magneto was subsequently rebuilt whilst the brand new carb' was replaced with a spare TT unit. The frame is a rigid 1947 Norton item which has been skilfully extended to accommodate the V Twin power-plant, the forks are Webb heavy weight girders which have been re-spindled, re bushed, and fitted with new damper stars. The front wheel and brake plate are from a 1928 Raleigh and have been rebuilt with new bearings and new brakes.
---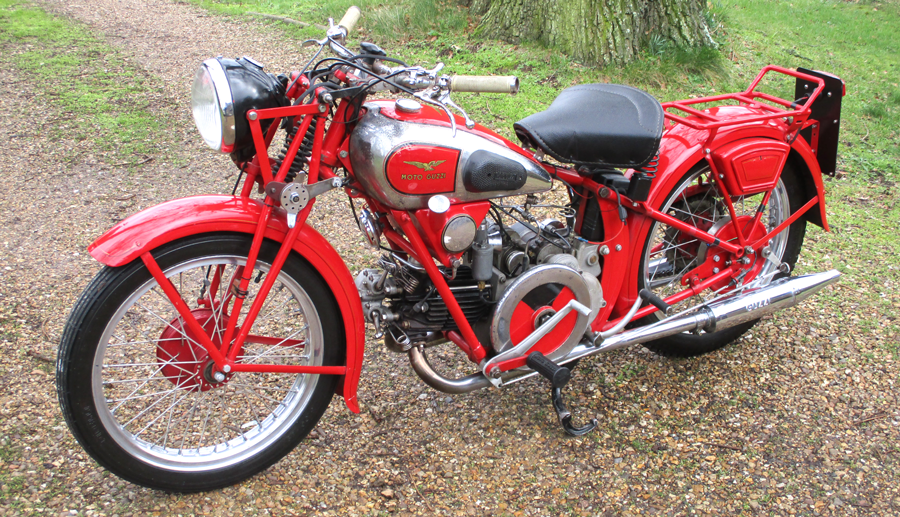 7. 1936 500cc Moto-Guzzi 500V Bitubo MOTORCYCLE – Sold for £9,720
Reg. No. 733 XUM
Frame No. 25970
Engine No. V 33086
An extremely rare bike in the UK and indeed anywhere as only around 2,000 were ever produced by Moto-Guzzi. A ground breaking twin port single with overhead valves and 4 speed box that set the standard for many many years. Purchased by the vendor in 2007 from a deceased's estate and left in its original condition which has a nice mellow patina, he has used it for VMCC runs and has also taken it to a few local shows.
A high quality rarity, pre-war girder forked big singles from Mandello appear very seldom on the open market, this example is offered with V5C documentation, a special machine.
---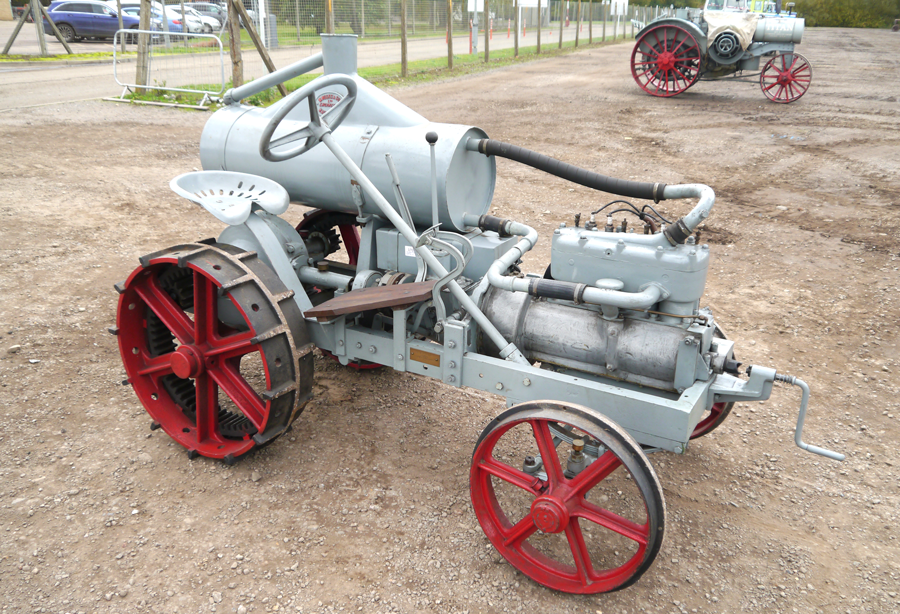 6. 1915 WEEKS-DUNGEY 'Simplex' 4cylinder petrol TRACTOR – Sold for £43,460
This was a rare opportunity to obtain a scarce model of an early British tractor. The Weeks-Dungey Patent 'Simplex' was the brainchild of Hugh Percival Dungey of Middleton Farm, near Cranbrook in Kent. Born in 1881, the son of a farmer and hop-grower, Dungey was a budding inventor with an interest in things mechanical. His ambition was to develop a light and compact tractor that could be used in small fields and between the narrow rows of fruit and hop plants.
The tractor was built on a channel-section frame with the final drive via spur-pinions to internally-toothed gear-rings bolted to the rear wheels. The front axle was spring-mounted with rack-and-pinion steering. The machine was designed to be powered by a proprietary engine and transmission.
Dungey patented his design on 26 November 1915. He then approached the local agricultural engineering company of William Weeks & Son Ltd of the Perseverance Iron Works, Maidstone, Kent, who agreed to put his tractor into limited production. Weeks, a long-established firm that dated back to 1742, specialised in orchard sprayers and equipment for hop gardens.
The production tractor was fitted with a 22hp four-cylinder engine supplied by the Waukesha Motor Company of Wisconsin, USA. Cooling was by thermo-siphon with a large cylindrical cooling tank placed to the left of the driver. The transmission was sourced from the Detroit Gear Engineering Company of Michigan. The gearbox gave three forward speeds and a single reverse via a foot-operated clutch.
A comprehensive restoration was undertaken during 1971 to bring the tractor up to full working order. It was last driven in 1983 when it was displayed at the Camborne Show. Since then, mainly due to the inability of its aged owner to swing the handle, it has only been shown as a static exhibit. For the past 17 years, it has been stored undercover in a machinery showroom.
---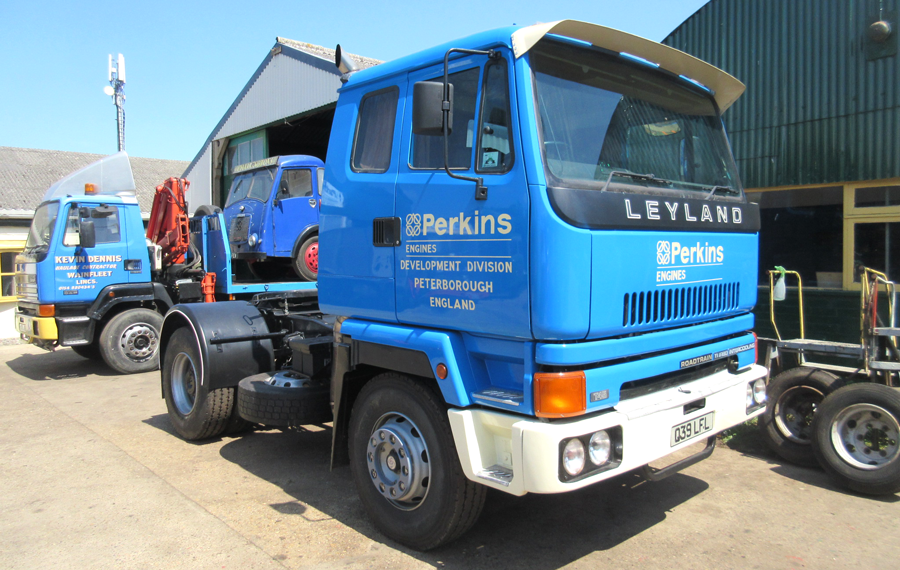 5. 1980 Leyland Roadtrain 4×2 tractor unit – Sold for £44,625
Reg. No. Q39 LFL
Chassis No. 8120200
Fitted with a Perkins 6cylinder turbo diesel engine and double sleeper cab. This Leyland was purchased directly from Perkins at Peterborough having been a Perkins Development tractor unit and is fitted with an intercool radiator. The 2,500 miles showing on the clock are not warranted as it is understood that it was run on trade plates for testing on the A1 and has since been fitted with a different engine. The unique Leyland is supplied with a 2007 test cert' and blue V5C.
---
4. 1917 SAUNDERSON Model G petrol/paraffin TRACTOR – Sold for £53,000
Reg. No. NR 3454
Serial NO. G1323
This tractor was purchased by The Bedford Trading company in 1917, from there it was sold to Cleaver Brothers who were farmers from Shawell, Leicestershire in 1924. The tractor completed tasks on the farm such as thrashing, wood sawing and corn grinding.
---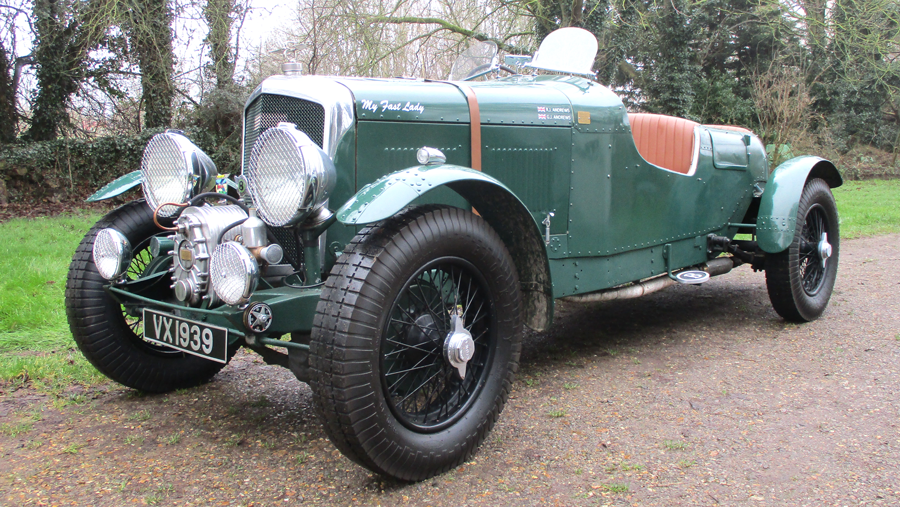 3. 1948 4 ¼ litre Bentley Mk6 Special "My Fast Lady" – Sold for £68,370
Reg. No. VXI 939
Chassis No. B332DA
Engine No. B166D
Discovered in an old garage in Pembrokeshire in 1984 in a stripped down condition, the then owner conceived the idea to create a pre-war style racer. The chassis was shortened to an "A" type specification and a 1928/29 "class rules" all aluminium body was commissioned from Terry Laroche an ex Rolls-Royce coach builder who lived locally. The original engine was retained.
The last owner then came into possession in 2014 and he spent considerable sums in improving on the build. The British Racing Green boat tail 2 plus 2 body was re-finished and improved, very smart 19″ spoked wheels with Blockley tyres were fitted,  the period instruments are fitted to a machine turned aluminium dashboard with a period style steering wheel and fold down aero screens. The beige interior has been recently upholstered and a tonneau cover fitted. The front end carries a dummy supercharger unit.
---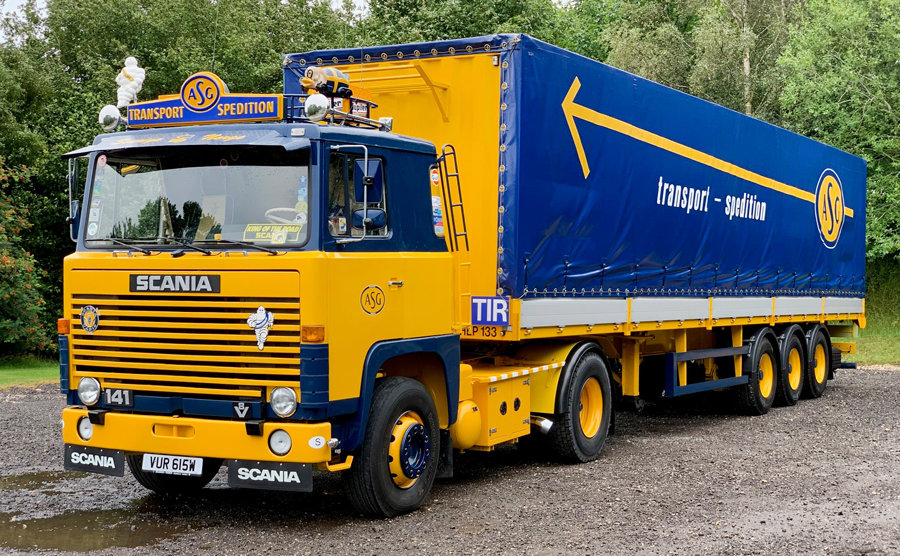 2. 1981 Scania LB141 V8 4×2 Tractor unit and Tri axle Tilt Trailer – Sold for £69,300
Reg no VUR 615W
Chassis no 4220040
An impressive 10 speed LHD unit that has been totally re furbished, the yellow over blue cab is a twin sleeper unit with blue and cream leather upholstery and is presented in fine order with 766,787 kms showing on the tacho unit. The cab roof displays the ASG Transport Spedition headboard along with air horns, mascots and Jupiter beer crates. The M&G Trailers Ltd 40ft tri-axle trailer is in matching colours and has never carried a load. The blue tilt is also liveried for the Swedish company ASG Transport Spedition.
---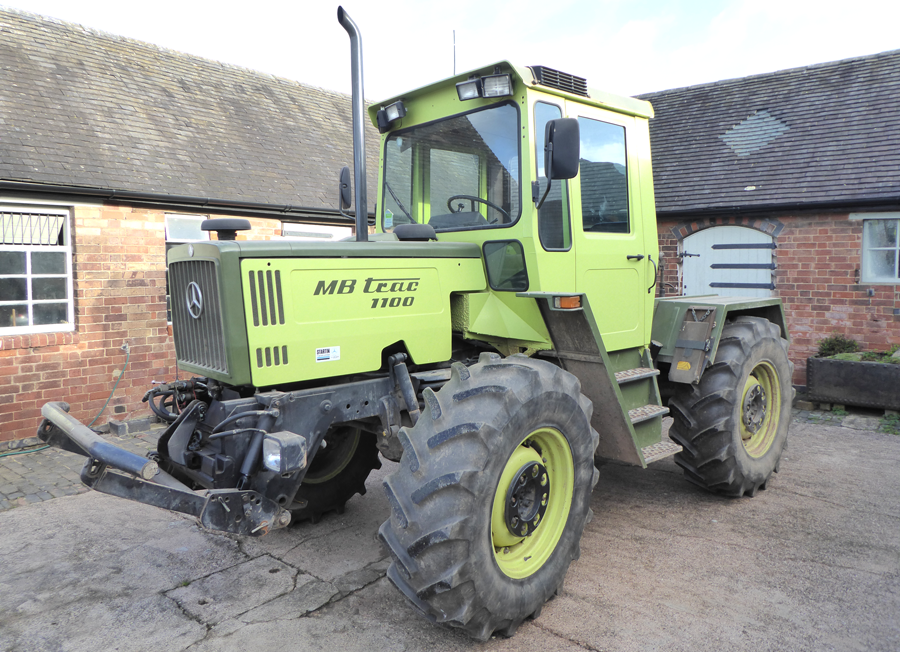 1. 1990 MERCEDES MB TRAC 1100 4WD 6cyl diesel TRACTOR – Sold for £74,465
Reg. No. G195 UUT
Serial No. WDB4411630W152481
A low houred, one owner example, originally supplied by Startin Tractors of Warwickshire. Just 2,407 hours are recorded with its condition consistent with the meagre hours. The original owner was meticulous and kept this true late classic under cover when not in use.