Artist inspired by rural #KeepTalking campaign
A Perthshire artist has created a series of artwork inspired by the #KeepTalking theme of RSABI's winter mental health campaign.
Gill Wilson created the work over the summer, in her studio which is based on the family farm at Loanleven, near Perth where she lives with her husband Randal.
Taking her inspiration from RSABI's #KeepTalking message, which aims to encourage people in the farming community to look out for each other and stay connected, Gill's work features a range of beautiful farming scenes, including hares, ducks and hens.
Gill has gifted the rights to use the artwork to the charity, which is this week launching a selection of beautiful gifts featuring her work – including tea-towels and fine bone china mugs.
Carol McLaren, RSABI CEO, said the charity had approached Gill back in July with the concept of producing images which could be used in a variety of ways to help raise awareness of the challenges of loneliness and isolation in farming.
"We were bowled over when Gill not only offered to come up with ideas for the artwork, but also chose to gift them to us. After working for several weeks she produced a range of design options for us – all with the theme of the importance of talking and staying connected.
"The drawings and watercolours include some light-hearted images such as chattering hens, and playful hares, as well as a powerful image of a solitary farmer seated beside his working collie, taking a moment to enjoy the company of his loyal working companion."
Gill's work can be found, along with other gift ideas, in the RSABI shop at www.rsabi.org.uk/shop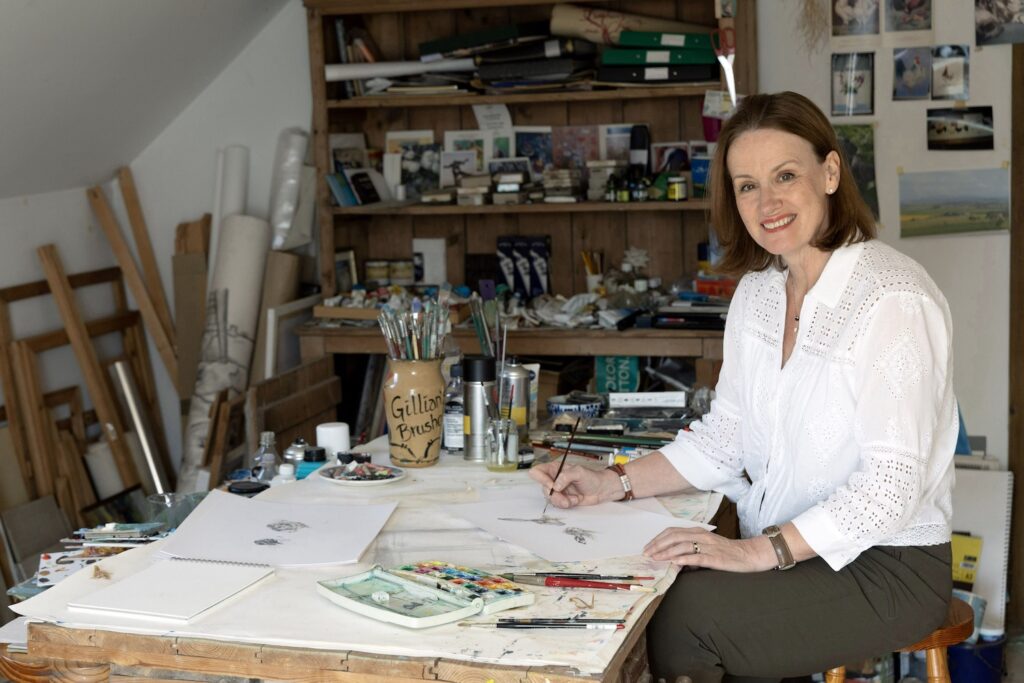 Vital funds
RSABI has also launched a collection of farming-themed festive greetings cards, now also available to purchase at the online shop.
Income raised from the card and gift sales will provide RSABI with vital funds to continue its work to provide financial, practical, and emotional support to people involved in Scottish agriculture.
Pauline Macmillan, head of fundraising at RSABI, said: "The run up to Christmas is a very important time for fundraising for RSABI. As a charity, we rely on the kind donations of our supporters, and income from initiatives like our Christmas card sales and gifts allows us to continue providing essential services to those in the farming community who may be struggling.
"Our thanks go to everyone who chooses to support us with the purchase of cards or gifts this Christmas – your support is hugely appreciated."
The charity is also calling for people looking to get ahead with gifting this Christmas to consider the gift of an RSABI Supporter Scheme membership, which will include a free #KeepTalking beanie hat worth £10.
RSABI offers free practical, financial, and emotional support including counselling services, delivered quickly after receiving the initial enquiry. Its free confidential support service is available 24 hours a day, every day of the year, by calling 0808 1234 555 (calls won't show up on phone bills) or through a confidential webchat service, available on RSABI's website www.rsabi.org.uk.
---