Updates future-proof versatile models
First deliveries of the latest Case IH Optum AFS Connect tractors start in spring 2022, but Farmers Guide test drove one of only two already in the UK. David Williams reports.
As before, there are three models from 250–300hp (rated). The flagship Optum 300 CVX, with up to 313hp (max) weighs only 11,530kg unladen but can be ballasted to 16,800kg, and also has a relatively short 2,995mm wheelbase. Rear tyres up to 2.15m diameter achieve traction to pull large cultivators and the Optum can operate power-hungry, PTO-driven implements while also being ideal for transport applications. Case IH doesn't reveal sales numbers, but marketing manager Charles Blessley said the previous Optum's sales growth in recent years was exponential as demand for this class of tractor increased.
The latest Optum has more than just a facelift. Although the chassis, engine output and front-end styling is similar to before it features a completely new cab and several external design improvements.
All-new cab
The new cab is 7.5% bigger and extends further to the rear, with increased space for storage and making the operator's work area feel much larger. A revised mudguard profile makes room for a larger door as well as a cooled storage box beneath the passenger seat.
The new mudguard shape also improves the view down to the sides, and the front windscreen wiper has been moved to the base of the screen, improving forward vision, and there is a 20% larger swept area.
The cab finish is even better than before, and three trim levels include a choice of fabric or leather seats. Keyless-entry allows users to lock and unlock the cab using a fob or just by touching the door handle. Fobs can be allocated to each user, and as the cab is entered then preferred settings for that user are automatically applied which saves setting up the controls each time.
The front console is revised and incorporates a large number of vents, improving air distribution around the cab for greater comfort. Uprated air conditioning reduces the cab temperature 35% faster than before.
Improved controls
Essential operating information including the engine speed, memorised travel speeds, fuel level and engine temperature are all displayed on a new external A-pillar display which replaces previous gauges recessed into the pillar.
The new AFS PRO 1200 HD 12in touch terminal is on the main control armrest. The Android-based operating system is used to set up and monitor almost all tractor and implement functions including GPS guidance, plus climate control, the radio and mobile phones. Manual knobs, switches and buttons are hidden beneath a hinged cover, allowing those who would rather not operate everything from the touch-screen to use traditional controls instead.
Isobus Class 3 including tractor control by implement is standard.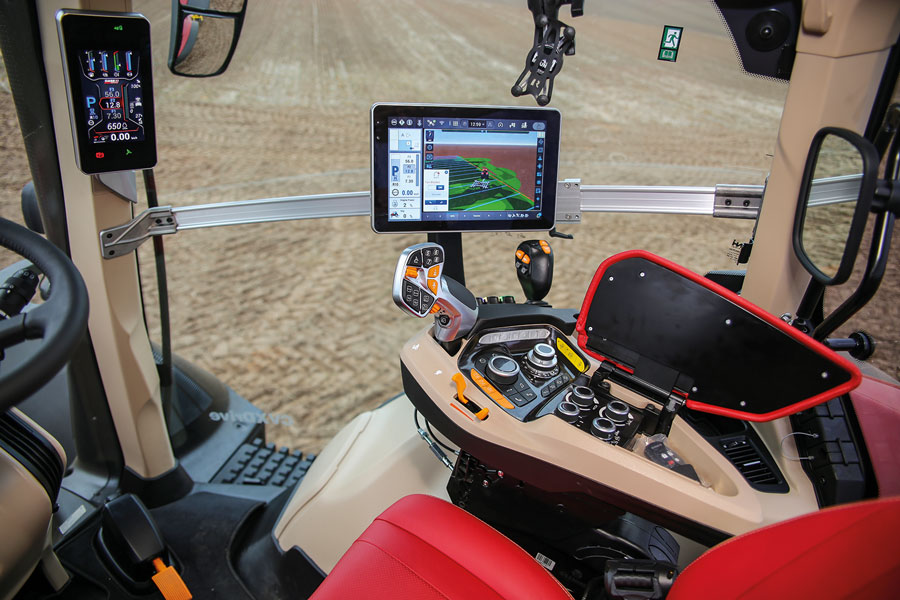 User preference
A new feature is customisable controls, which can be assigned to multiple functions. These include buttons and switches on the joystick and the four main hydraulic control switches. For safety, the hydraulic controls are colour-coded with LED lights, and as the operator reassigns them to operate alternative spools, the LED lights change colour too, to avoid confusion.
On the previous Optum the driver could adjust the performance response in three stages to suit a task. Drive engagement, acceleration and deceleration as well as response to changing loads were all adjusted simultaneously. The new Optum allows the driver to adjust each aspect separately for different acceleration responses when selecting forward or reverse, for example.
A new kick-down feature increases the engine speed and selects a lower gear when the accelerator is depressed quickly for maximum acceleration.
Advanced trailer braking is included, which can be set to engage the trailer brakes before the tractor brakes when travelling downhill and reducing the chance of jack-knifing. A foot-operated exhaust brake saves wear on the mechanical brakes by using exhaust gasses and the cooling fan to reduce the engine speed and slow the tractor.
The differential lock and 4wd can be programmed within the headland management system to automatically disengage and re-engage based on the steering angle or operation of the rear linkage.
User-friendly data handling
The biggest contribution to farm efficiency is likely to come from AFS Connect wireless connectivity. New AFS Connect tractors come with three years of Advanced AFS telematics alongside three years' or 3,000 hours' warranty. Telematics are connected as soon as the tractor leaves the production line, and owners can access the data through the MyCaseIH portal. The Optum's processors can manage huge amounts of data allowing remote task management, monitoring and record keeping, and making it easy to keep an eye on service requirements. Screen sharing is available, allowing a manager or trainer to view the same display image as the operator and talk him though settings. When the display is viewed remotely, then the screen is highlighted with an orange border to inform the driver. The trainer cannot change settings himself, but can initiate markers indicating the settings to be changed.
Task information such as AB lines and variable application maps can be created in the farm office and then sent to the tractor and field working data can be shared. Multiple tractors can be linked in the field so that working data can be shared in real time so that areas aren't worked twice or missed.
Monitoring is also possible through the Case IH AFS Connect smartphone app. This provides fleet status updates including tractor locations, work status, job progress and fuel levels, but doesn't allow screen sharing or task editing currently.
With the owner's permission, the dealer can access selected information such as error codes to help diagnose faults, and working data to help plan servicing. Breakdown prevention is also possible, as operating data is automatically compared to similar machines which have had a common failure, and allowing potentially faulty parts to be checked or replaced before breakdowns occur.
Work data is updated every minute, or stored and updated later if there is a break in transmission.
AFS product specialist John Downes said that one aspect of work history data which has proved particularly useful for owners of other models with AFS Connect so far, is the driveline working hours figure. Case IH said that when this is contrasted with total and idling hours recorded, it often highlights surprising differences, providing an opportunity to consider strategies to improve work rates and efficiency.
Third-party friendly
Within the MyCaseIH portal, the Farm Management section provides convenient task recording and analysis by field and by crop. Compatibility with other brands including Claas and John Deere means only the Case IH portal is needed for fleet management – including location, location history, engine hours, operating status and average fuel consumption. Fuel use data can be recorded for each field or crop, and costs for inputs such as diesel can be added, simplifying analysis.
Although the app cannot be used for task planning or screen sharing, the user can mark points or areas of interest and these are then displayed on the terminals of all tractors on the farm fleet.
Compatibility with third-party agronomy and farm management software is increasing and will allow field maps to be sent directly from agronomists to the machines for tasks such as variable-rate drilling or fertiliser applications.
Where fleets of older Case IH tractors are also operated, the previous AFS 700 display can utilise the data, However, functions such as screen sharing are not possible.
Test drive
Farmers Guide spent a morning operating the Optum 300 AFS Connect with a Bednar cultivator on a Nottinghamshire farm. A previous model Optum was also available to compare which highlighted advantages including the improved cab access due to the new steps and wider cab door.
The cab interior is smart and well finished, and is a definite step above the previous version. Vision all around is very good, and the front console and bonnet are narrow, allowing a good view down to the front.
The demonstration tractor had the optional key fob for access. With no ignition key, a start/stop button is pressed on the right-hand panel instead. Twin throttle finger controls set minimum and maximum engine operating speeds, and the engine's 'droop' which is the reduction in revs allowed when loads increase.
The 12in display has clear menus and provides convenient operation by touching the screen, although on uneven ground the mechanical switches and knobs are more reliable. The travel direction is set using the steering-column mounted lever, then the joystick is pushed forward to move away.
During the test drive a sound measuring device confirmed that with the engine at full speed the sound level was just 65dB – and while cultivating there was never a need to raise voices while holding a conversation in the cab.
Useful automation
With Headland Management Control 2 operating, the Optum automatically reduced its travel speed at a set distance from each headland, then raised the implement out of work and lowered the engine speed before completing each turn. With the implement's dimensions programmed in to the terminal, including the transport wheel position, using Accuturn 2 the Optum achieved the tightest turn possible each time for pass-to-pass working. Alternative headland turn strategies can be selected in seconds just by touching the display. Unless changes to the work strategy are needed, then the only operator input required is confirmation before each headland turn by pressing a joystick-mounted button.
The new Optum AFS Connect is comfortable, quiet and easy to operate, and there is huge scope for keen operators to use settings adjustments within the AFS 1200 Pro display to optimise efficiency and performance.
Demonstrator opinion
"I've always liked the Optum, and the new AFS Connect version will practically sell itself," commented Case IH demonstrator Ed Watson. "The new cab will rival the best from other brands, and the user-friendly AFS 1200 terminal and assignable controls will be something keen operators enjoy using. This Optum will open the door for our dealers in terms of attracting customers who were previously loyal to competitor brands."
John Downes said the task management and recording functions are user-friendly and provide accurate data. "Fuel use and time taken for tasks are automatically recorded, and the resulting information can help make informed management decisions. It doesn't add to the driver's workload and everything is stored safely in the cloud, so when there is a need to review costs of operations, then all the data is there to view.
"It's not essential currently but there are advantages to having it, and if records have to be kept in future to calculate the carbon footprint for a particular crop, then this will help."