Farmworker rescued after falling down 40ft silo
Bedfordshire Fire Control has confirmed it rescued a male casualty from the silo in Milton Ernest, following a rescue mission that lasted hours.
A farmworker has been transferred to Bedford Hospital after being rescued from a 40ft silo on Monday (31stAugust).
Bedfordshire Fire Control sent a specialist rope rescue team and a drone to the scene and used its aerial platform from Bedford to help extricate the casualty, who sustained injuries from the fall into the empty 40ft silo.
The fire service confirmed it had rescued the worker at 3.28pm on Monday 31st August and transferred him to the care of the East of England Ambulance Service.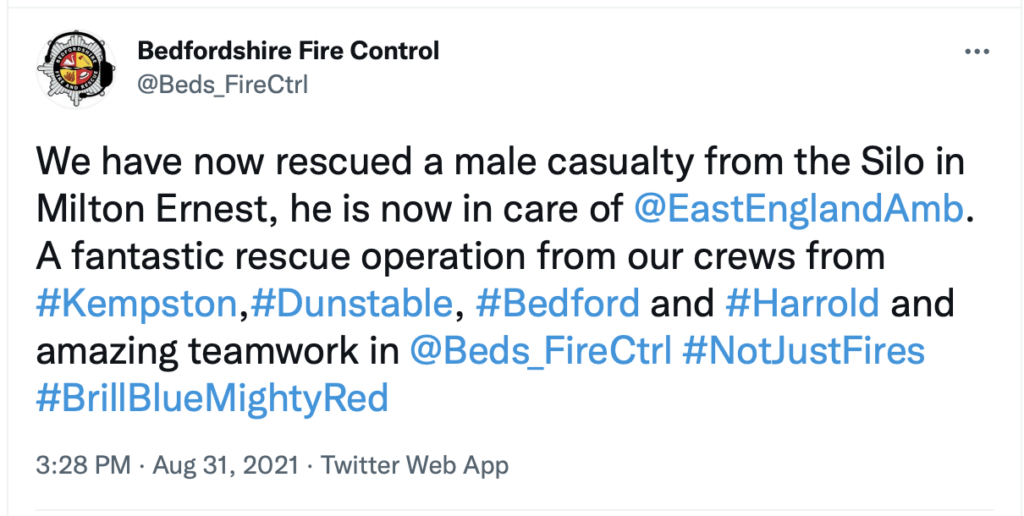 A spokesperson for the ambulance service said: 'We were called at 11.58am on Tuesday with reports of a person who had fallen into a silo in Milton Ernest.
'We sent the Hazardous Area Response Team, one ambulance and two ambulance officers. One person was taken to Bedford Hospital South Wing for further care.'
The incident follows a spate of farm fatalities which prompted the Health and Safety Executive to issue a warning last month, after four deaths were reported in just two weeks.
HSE urged farmers and farm workers to make safety a priority after the deaths, which included a vehicle collision that killed a three-year-old child.
The HSE's latest farm fatality figures, released in July, showed there were 41 deaths in the industry in 2020-21, a rise of more than 60 per cent on the previous year.