Drones: A new age of farming
Drones are changing the face of farming, allowing for precision, optimisation, visualisation and application in ways that have never been seen before. This year's Cereal's Event is showcasing the very latest developments.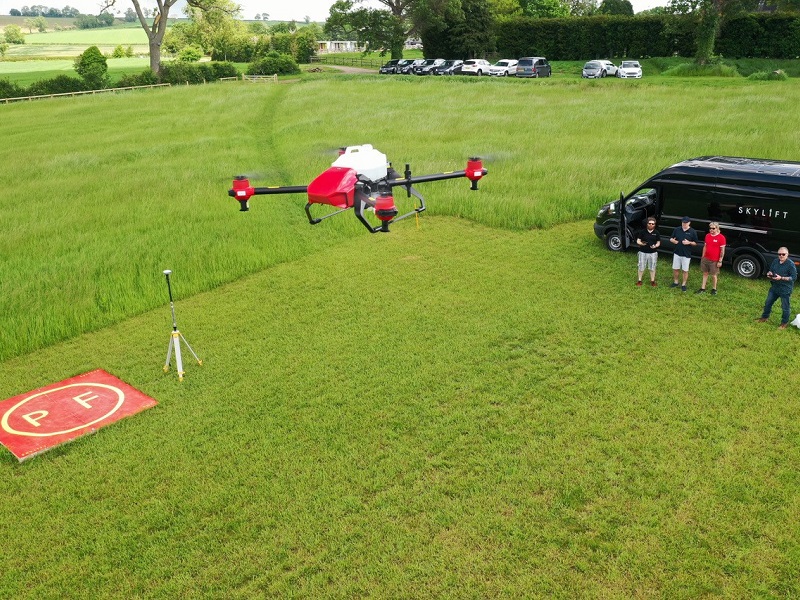 Farmers are probably familiar with using drones to map fields and identify issues with soils, yield variability and weeds, but the next revolution could be a game changer for a number of reasons. The Cereals Drone Zone, themed Scout, Seed and Feed: Cover Cropping with Zero Carbon, will show ground-breaking drones and their capabilities, which could revolutionise some aspects of farming.
"There will be drone demonstrations twice daily in the main Syngenta Sprays & Sprayers Arena," explains event organiser, Alli McEntyre.  "These will illustrate how autonomous drones and robots can assist farmers across a range of physical tasks."
Although various eastern countries are already using drones to spray crops, this technology is still in its infancy in Europe – largely due to regulations – but the British Drone Consortium is working to change this. "The regulations mean people have been afraid of new technology, but in China and the East they have been happy to embrace it," says Jim Bishop, director at Red Air Media. "We have spent the past year working out a way to use drones for spraying and are at the point we just need chemical companies on board. We can do anything with a drone."
Here's a preview of the companies, and their drones, featuring at Cereals:
Drone Ag
Skippy Scout is Drone Ag's unique crop scouting system, with a drone taking photos of key points in fields. Able to scout 10ha in five minutes, it can identify weeds and damage to build field reports on crop health, problems and progress.
At Cereals, Drone Ag will be demonstrating Skippy Scout's automated flight as it collects close up leaf imagery at key points in the arena before seamlessly generating a crop report within minutes.
British Drone Consortium
XAG's JetSeed is able to spread seed, fertiliser and plant protection products. The British Drone Consortium (BDC) – as the only organisation with permission to fly this drone in the UK – will be showcasing it at Cereals.
The XAG JetSeed is able to precisely propel seeds and fertiliser via stable jets of air to in the desired way. It has an autonomous flight control system and high-accuracy navigation. Its hopper can carry 15-20kg loads at present and can cover around eight-10ha per hour.
"One of the biggest issues in this country is farmers not being able to get tractors onto fields in wet weather to sow seeds," explains Mr Bishop. "Jetseed was designed for use in paddy fields and so is ideal for these conditions. Working with the Government we are aiming to be the first licenced drone organisation to sow seeds and apply sprays."
The organisation is already working with Turkey to deploy chemicals and salts in the Black Sea to disperse sea snot (pollution) using the drone.
Working with other companies, fields can also be mapped and 3D images of crops created to tailor spot application. With the adoption of the technology, farmers will be able to contract in drones and pilots, or get trained up and licensed to use drones themselves through the BDC.
Harper Adams
Bringing the only V40 drone outside of China to Cereals, Harper Adams University's National Centre for Precision Farming will be demonstrating spray drone technology.
The V40 is the first of a new generation of drones specifically designed to improve spraying performance. This draws on XAG's decade of development and millions of hectares sprayed. The key innovation is its double rotor design which brings numerous advantages. The first being that it improves spray penetration into the crop because the airflow below the drone is less turbulent than on older four or eight rotor designs. A second advantage is the size and volume – being reduced by  two-thirds it is lighter and easier to transport.
Autospray Systems
Supplying both air and ground-based autonomous spray solutions, AutoSpray Systems will be demoing the R150 at Cereals. This is a modular, multi-function platform which can spray crops, cut grass, sow seeds, spread pellets and tow up to one tonne. It has an electric drive train to minimise carbon footprint and noise pollution. It also has an independent electric four-wheel-drive system and differential steering for manoeuvrability with a minimum turning diameter of 0.7 metres. Its 100-litre capacity intelligent spray tank with real-time sensing enables fully autonomous operation and data integration.
Dual Engine RTK positioning gives cm-level navigational accuracy with fully automated route recording and repeatability. The R150-ATJ can operate in total darkness and is suitable for 24hr operations.
There will also be additional drone demonstrations taking place throughout both days outside of the arena, says Ms McEntyre.  "The technology on show offers farmers the chance to see the future in action and what could be operating on their farm very soon."
The Cereals Event will be held in Lincolnshire from the 30th June – 1st July 2021. For more information or to register for tickets visit www.cerealsevent.co.uk.