Claydon Drill's two-day Suffolk event
Suffolk-based Claydon Drills enjoys a loyal customer following and the company's annual open days on founder Jeff Claydon's heavy land farm are popular. David Williams was there.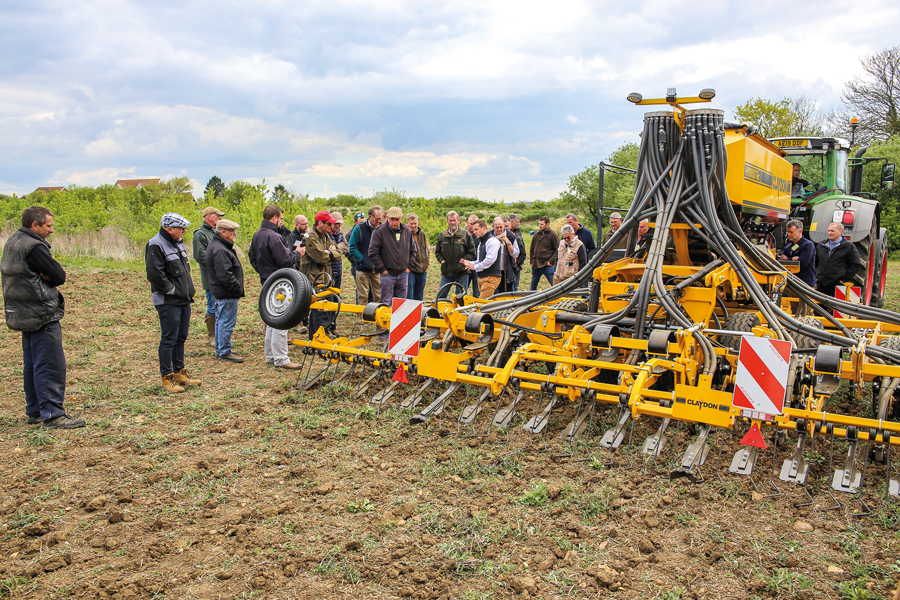 Suffolk-based Claydon Drills enjoys a loyal customer following and the company's annual open days on founder Jeff Claydon's heavy land farm are popular. David Williams was there.
This year there were four half-day sessions over two days which attracted farmers and contractors from all over the UK. Since its first V Drill strip-tillage drill entered the market in 2003, Claydon's range has expanded and, with complementary products from a straw rake to a shallow stubble cultivator, a new inter-row weed hoe and Cambridge rolls making up the 'Claydon Opti-Till System', the company offers almost everything needed for successful but low-cost cereals production argues its creator.
But, just purchasing and operating the recommended machinery isn't a recipe for guaranteed success admits Jeff, which is why he continues to experiment with techniques to improve his own farm performance and encourages independent trials on his land. The open days showcase the successes and failures so that knowledge and experiences can be shared and this year presentations by respected speakers including NIAB head of farming systems research Dr Elizabeth Stockdale and Hutchinsons Crop Protection technical manager Dick Neale attracted considerable interest.
Useful event
"All four sessions were attended to full capacity," explained Claydon commercial director Spencer Claydon. "Feedback was that visitors were impressed by Dr Elizabeth Stockdale's presentation on soil science as well as Dick Neale's soil pit demonstration.
"The new inter-row hoe generated considerable interest, particularly because we used a prototype and then the final version across our farm during the past two years and its results were clearly visible."
Along with the hoe, new product highlights included a demonstration of the latest Opti-Till T6c trailed 6m drill unveiled earlier this year at Lamma.
"The event is a great opportunity for those considering a move to direct drilling to chat with those already doing it and also for those with more experience to share hints and tips, compare their experiences and further improve their results. Our crops are looking good and generated a lot of positive feedback from visiting farmers from throughout the UK which was pleasing, and we took orders for new drills and TerraBlade hoes over the two days. Overall it was very successful," added Jeff.
Smaller version
The T6c has a 3,500-litre hopper, smaller than the previous Hybrid T version but a more compact layout, ideal for UK farms, was one of the main objectives when the T6c was being developed.
The seed hopper can be supplied for seed only or for seed and fertiliser and 50 per cent of the drill's weight is carried on the hitch with the remainder on the drill's wheels. The hopper and seeding chassis are separate so that regardless of hopper contents the seeding depth remains constant. Claydon standard seeding coulters follow the leading tines which zonally cultivate the soil behind the front cutting discs which cut through trash and help reduce soil disturbance.
Steel shoulders on the front cutting discs maintain even depth and also control seeding depth in conjunction with pneumatic depth wheels behind the seeding coulters. Depth is easily adjusted by fitting collars to a hydraulic ram at the front of the chassis to restrict the operating stroke.
"We trialled the new drill with customers who are used to the previous version and they commented on the improved contour following and precise depth control resulting from the floating chassis," explained Spencer. "Weight can be transferred from the hopper to the front discs if the ground is extremely hard but penetration is rarely a problem."
The distribution heads are to Claydon's own design and Kverneland Accord metering units are fitted. The drill is supplied Isobus-ready.
"A customer who trialled the prototype ordered the first production machine," added Spencer. "The improved depth control, ability to add fertiliser during drilling and the front trash cutting discs were all described as significant benefits and because the new drill is equally capable of operating into ploughed or min-tilled soils it is extremely versatile."
Solving the resistance challenge
The TerraBlade inter-row hoe was announced last year while still under development on Jeff's farm. With Claydon direct drills using banded seed rows, the hoe provides practical, low-cost and effective physical weed control. "We found it easy to drive up to 6–10kph by eye, while those using RTK guidance could operate accurately up to 12kph," explained Jeff. "During trials we found out that positioning the RTK antenna on the hoe, rather than on the tractor improved the result."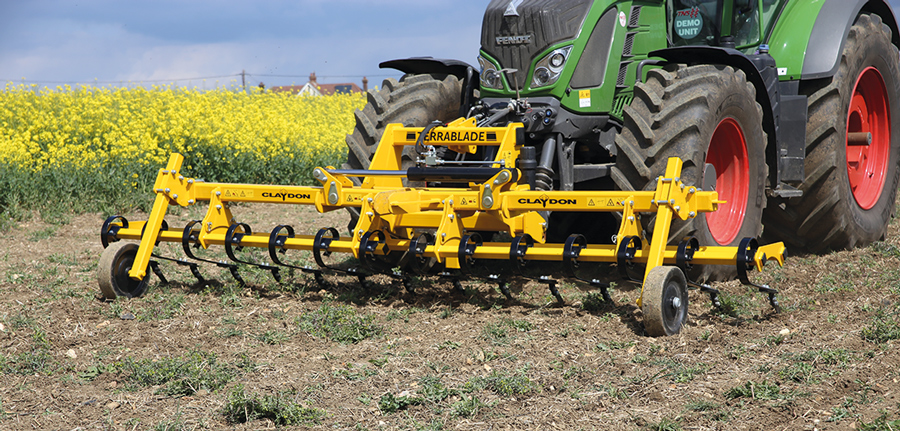 Jeff commented that many orders for the TerraBlade were placed at the open days, mainly by growers keen to reduce herbicide use and costs as well as those tackling herbicide-resistant problem weeds such as black-grass.
Soil condition critical to success
Soil specialist Dick Neale spent much of the two days in a large soil pit from where he explained to interested farmers why a good soil structure and complementary soil biology are essential. "Jumping in to a direct drilling system without adequate soil preparation means it is easy to get it wrong," he stressed.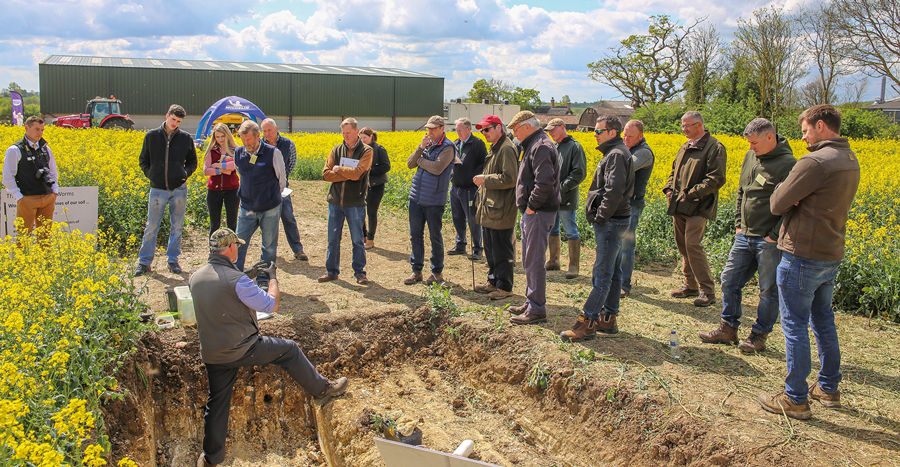 Tyre pressures and technology
A demonstration by Michelin highlighted the relevance of operating tractor tyres at optimum pressures. Flour spread on the ground around the treads of a pair of identical tyres on the same tractor clearly illustrated the different ground contact areas resulting from a correctly-inflated tyre compared with the other which was over-inflated.
The recently launched Michelin Evobib tyre is designed for tractors fitted with central tyre inflation systems, tying in well with Michelin's acquisition of pressure control system manufacturer PTG late last year. A flexible carcass and innovative tread design means that for road work higher pressures lift the outside tread clear of the ground for reduced rolling resistance and fuel consumption. Reducing pressures in the field means the tread profile 'flattens' so the full tread width contacts the ground reducing compaction, maximising grip and optimising tractor performance. The tyres are designed for tractors up to 500hp. With the Evobib tyre at the event are agricultural account managers Phil Barker and Tom Saunders.