Latest model impresses potential customers
New Holland's updated T7 Heavy Duty (HD) models share the same model numbers and power as their popular predecessors, but feature a new cab, extra comfort, additional features and advanced precision farming systems and connectivity to maximise working efficiency.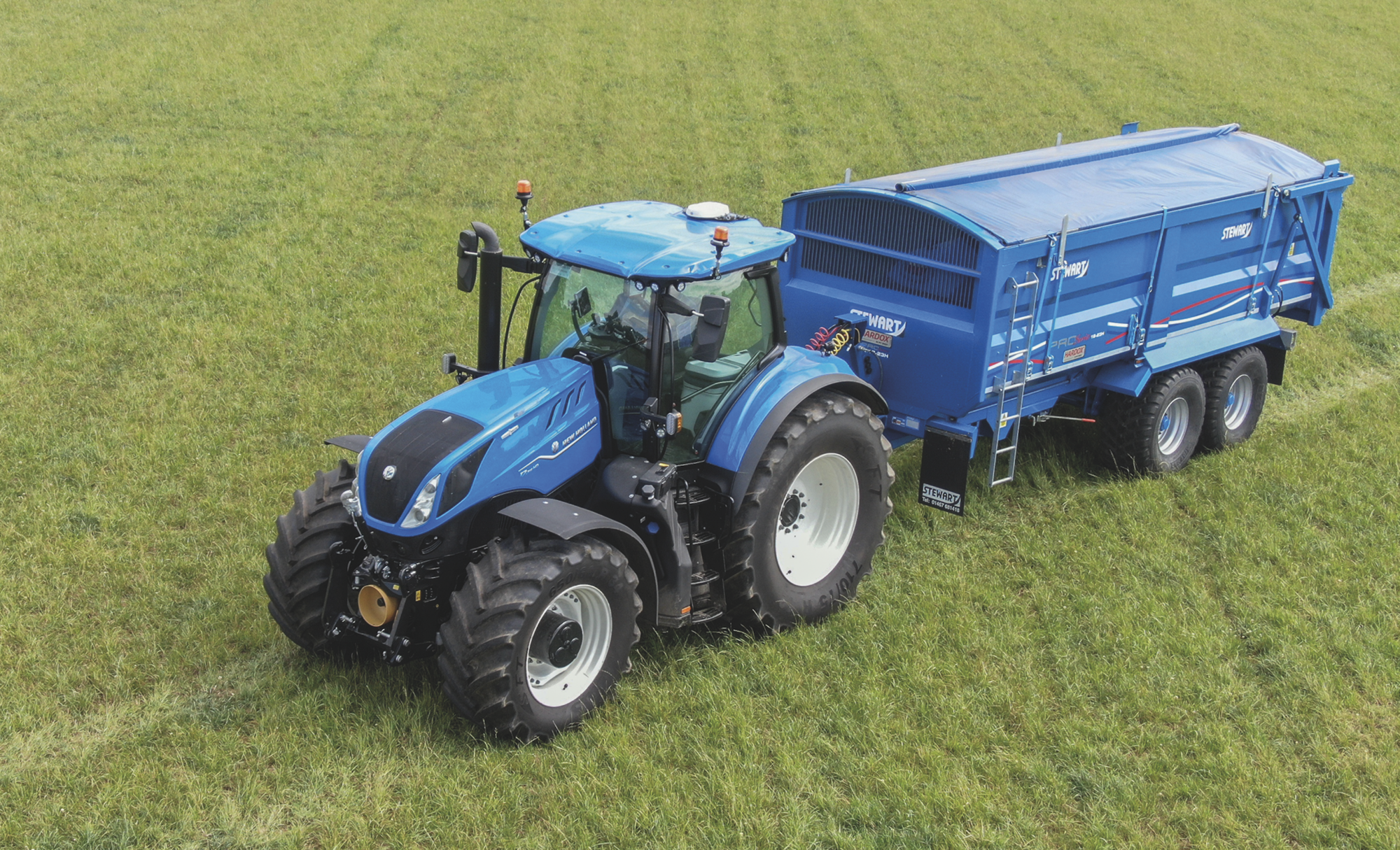 The new tractors were launched to European press through an online event in late July, and will be demonstrated for the first time at Tillage-Live in September. However, Farmers Guide was invited to visit a Leicestershire farm where a potential customer was evaluating the flagship T7.315 HD.
Exceeding expectations
From the outside, the new Horizon Ultra cab appears similar to the previous version, but only two per cent of components are shared. Extra length and headroom adds 7.5 per cent more space. "There is a larger floor area, plenty of room for tall operators, plus extra space for the passenger improving ride comfort," explained New Holland tractor product specialist David Redman.
Improved visibility
The glass area is 11 per cent larger. A new cab roof profile provides space to stow the sun visor out of sight without losing any of the view through the screen. The front wiper is relocated from the top to the bottom of the screen with a wider arc, and an extra sweep is made a few seconds after being switched off, ensuring the screen is clear.
Visibility all around is improved. A steeper mudguard angle improves the view of the area beside the rear wheels, and has also created space for larger doors for better cab access.
There is a clearer view of front and rear hitches and implements, and a front grille-mounted camera is standard. A new light package with up to 24 LEDs is available, with programming in groups to suit different applications. The rear work lights can also be set to operate automatically when reverse is selected.
Extra comfort
The in-cab noise level is only 66db, which New Holland claims is the quietest in the industry. David said that the quiet cab attracted a lot of praise during testing, with many users commenting that they hadn't realised just how quiet 66db is, in a working situation.
Heating and air conditioning air flow is increased by 30 per cent, and the new cab comes with zone selection – using vents throughout the cab for effective distribution including behind the operator seat. Nine vents in the front console keep the windscreen mist-free in colder weather, while the operator's feet are kept warm at the same time. The top-of-the-range Auto Comfort seat features lateral suspension and climate control.
A media system with two speakers is standard but an upgrade to four speakers with a floor- mounted sub-woofer is an option.
Practical
The ignition switch is relocated below the right-hand side window. Like the larger T8 Genesis, the T7 HD can also have a remote fob which unlocks the cab and provides key-less starting. If the fob is faulty, then the cab can be unlocked manually and a PIN code entered to start the engine.
Another upgrade is extra storage. "Customers told us that they wanted more storage, and the new cab includes a 30-litre space behind the seat, a covered compartment behind the passenger seat with an integral USB charging point and a mains voltage socket, and there are also open storage trays on the right side of the cab, and a netted storage bin within the roof bezel."
"There is also a 12-litre fridge below the passenger seat with a shelf and room for two 2.5-litre drink bottles, and the option of an extra floor-mounted fridge powered from a socket in the foot throttle housing," David added.
User-friendly controls
Most controls are logically grouped on the SideWinder Ultra armrest, and task set-up and monitoring is through the user-friendly IntelliView 12, 12in display. Eight armrest- mounted configurable switches are colour-coded by LEDs, so that when functions are changed the colours also change to avoid errors or confusion. Options include programming joystick-mounted buttons for headland management sequences so that the user doesn't have to move his hand from the control. Advanced connectivity allows operators to connect mobile devices to the tractor screen and operate them using buttons on the armrest.
A pad of 15 rubber-faced buttons located by the main joystick, includes quick-keys to select menus for specific areas on the screen. Other options for menu selection include direct touch to the screen, or a handy scroll selector and button.
Steering wheel-mounted display
The smaller InfoView screen displays essential operating information and is mounted on top of the front console behind the steering wheel.
A new CentreView display option moves it to the middle of the steering wheel – an industry first which ensures a clear line of sight.
Versatile controls
The main multi-function joystick controls most driving functions as before, but it has gained a new 'kill-switch'. This is the first time a button of this type has featured on a New Holland tractor, and pressing it disengages the PTO and deactivates the hydraulics.
An additional 'mouse'-joystick on the armrest is an option to operate the front and rear linkage.
A small joystick can also be added, and is ideal for tasks such as buck-raking on a silage clamp – allowing one-hand operation of forward and reverse shuttling plus hydraulic linkage and spools while the other hand is used for steering.
New external controls
Additional controls on the rear mudguards add convenience. As well as the usual linkage and PTO buttons, new configurable buttons can control spools, and select up to two memorised engine speeds. David said this offers particular advantages for tasks such as vacuum tanker operation, as the required engine and PTO speed can be selected from outside. A new engine stop button allows the user to attach an implement then stop the engine while the PTO shaft is connected, without having to return to the cab.
Flexible operation
Forward, neutral and reverse are selected by a steering column- mounted lever, or the main joystick. Three operating speeds can be selected and stored, and adjusted through the IntelliView display or by a scroll wheel on the joystick.
Other controls include transmission response in four stages. These range from gentle to aggressive acceleration and deceleration, and a fourth mode allows different responses to be selected for forward and reverse – ideal for tasks with a lot of shuttling such as working on a silage clamp.
An exhaust brake activated by a heel switch is more convenient than before.
Future-proof design
The next-generation PLM Intelligence used in the T8 Genesis as well as the latest T7 HD models will be adopted in all New Holland Next Generation equipment, so that customers find the same logic when switching machines.
The MyNewHolland app connects to the MyPLMConnect portal, making it convenient for users to manage their fleet and farm data.
Authorised dealers can also view machine data, helping plan servicing away from peak operating periods and improving fault diagnosis through error codes.
New Holland Remote Assistance allows the display from the cab screen to be shared. Settings can be checked to improve performance and operating efficiency.
High expectations
"The new T7 HD continues the popular family 'feel' of the current T8 Genesis and T7 HD models, but also introduces many new features to improve operating efficiency and assist users," explained David. "The InfoView display in the centre of the steering wheel is a new concept, but it has proved extremely popular with test users who say it is in the ideal position."
Test drive
The farm selected for Farmers Guide's test drive belongs to the Morris family, based near Lutterworth. Trading as Morris Brothers Contracting Ltd, the family farming business was started by Reg and Doreen Morris and is now run by directors Reg and Doreen, their sons Stephen and John and Stephen's sons Joe and Ed. Arable crops are grown on owned and contract-farmed land, and a herd of Limousin x Charolais beef cattle and a flock of North Country Mule sheep provide meat for a chain of local butchers shops owned by relatives of the family. A very successful farm contracting business has been established, serving local land owners in Leicestershire and Northamptonshire, and although all general farm contracting services are offered, baling is a speciality. The seven baler fleet includes four square balers of which two are New Holland, plus three round balers including a baler wrapper.
Versatility attractive
"We wanted to try the new T7 HD as we believe that there is a place on our fleet for a more powerful but versatile tractor," explained Joe. "We have used Ford and then New Holland tractors since the 1960s when a Doe Triple D was operated.
"We get on well with Andy Loxton and his team at the Russell Group's Rothwell depot which looks after our area, and operate six New Holland tractors currently; including two T7.210s, two T6080s, a T7050 and a T6.175, plus two tractors of another brand.
"However, we are considering a bigger tractor for square baling and heavy cultivations. We operate on some steep slopes and when conditions are heavy then our work rate is limited. A tractor with more power would allow us to make more of the baler's potential and achieve better bales and higher work rates. We would also like to offer customers more primary cultivations, and a tractor with extra weight, traction and power would help us achieve that. One problem is that we can't justify investing in a tractor to sit in the shed for most of the year, so whatever we buy has to be versatile and manoeuvrable, and suitable for almost any field, yard or transport task. The new T7 HD has a relatively low unladen weight for top-work, but can also be ballasted effectively for heavy draft work."
Impressive performance
Ed said that having tried the new tractor he was very impressed. "It's 100hp more than our most powerful current tractors, but it doesn't have a huge bonnet in front, and even on narrow roads it feels little different to our standard T7s.
"We tried it on a 3m mower for which it had much more power than was needed, but it didn't feel too large even in small meadows, and with so much power available we operated in economy PTO mode with the engine at a reduced speed, and it consumed less fuel than our own smaller tractors. Carrying out lighter tasks like the mowing, a tank of fuel lasted three days. We tried it on the large square baler too, and on our heavy cultivator and the extra power made a big difference. For long days baling it was very comfortable, as the engine speed remained constant and it rocked less than the smaller tractors."
Other compliments regarding the new tractor's features included the ability to programme the transmission for a task. "The transmission modes are a great feature. On the gentle setting, headland turns were much more comfortable, but for road travel – selecting a more aggressive response increased deceleration and acceleration when negotiating junctions – making it easier to negotiate other traffic."
Joe described ride comfort as "fantastic", adding that minor roads in the area are very uneven. David pointed out that the test tractor had standard coil spring cab suspension, whereas uprated hydraulic suspension will be available for 2022 for an even smoother ride. Joe also appreciated the improved climate control and air distribution, including the ventilated seat. The low in-cab noise level surprised both users who agreed it made the tractor less tiring to drive during a 12-hour working day.
Safety and convenience
Ed also liked the extra external controls on the rear mudguards. "Being able to configure the buttons to control attachments is handy, and the engine stop switch is a great feature. Anything which increases safety is welcome, and it removes any temptation for an operator in a hurry to connect the PTO while the engine is running. It also saves climbing into the cab with dirty hands just to switch off the ignition."
User-friendly systems
Although the new T7 HD is equipped with a much higher level of precision farming capability than the farm's own standard T7s, Joe commented that the IntelliView 12 display and SideWinder Ultra armrest controls were easy to get used to.
"I was surprised – the number of adjustments that can be made are endless, but after a very short time I was used to the simple menus and found them straightforward to set up and use. I was especially impressed by the guidance which proved extremely accurate even without RTK, and it was great to be able to monitor task progress on the clear field maps. I also like the connectivity and ability to monitor the tractor's work and performance through an app. It's simple to use and with more of our fleet conncected in time, it would be a great management aid."
Likely purchase
"The new T7 HD is a big step up in terms of power and capability from our current tractors, but it doesn't feel much bigger even in the yard. There is more power than we need for jobs such as fertiliser application or light cultivations, but if smaller tractors aren't available then it could easily be used without costing a lot extra for fuel. On the road, with our large grain trailers, the performance was fantastic and it handled steep hills easily. With ballast fitted, it had no trouble putting the extra power down to the ground and adding it to our fleet would allow us to offer contract customers an improved service and higher work rates.
"Having been able to try this pre-series tractor, it's very likely we will invest in the production version when our next tractor is due for updating," Joe confirmed