Bale wrapping workshops offer forage preservation best practise advice
  Kuhn Farm Machinery is holding a series of bale wrapping workshops, demonstrations and best practise clinics to help farmers improve the quality of, and get the most from, their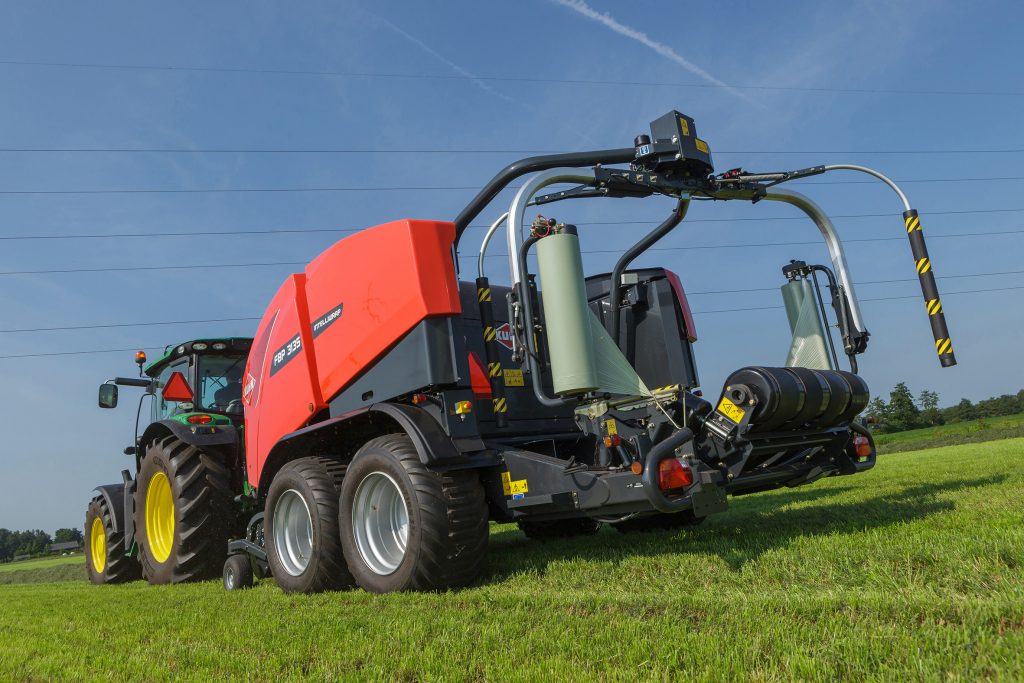 Kuhn Farm Machinery is holding a series of bale wrapping workshops, demonstrations and best practise clinics to help farmers improve the quality of, and get the most from, their baled forage. The workshops, which are being co-hosted by Kuhn main dealers and Kuhn's film manufacturing partner, BPI Agriculture, are being held at six venues across the UK throughout April and May. 
"Preserving the maximum nutritional value of baled silage and haylage relies on a number of factors, not least of which are bale structure and consistency, forage quality, and ensuring each and every bale is protected within a 100% airtight wrapping," explains Stuart Anthony of BPI Agriculture.
"We have therefore teamed up with Kuhn Farm Machinery to talk to farmers about the latest film wrapping products and bale wrapping techniques as well as some key tips and pitfalls to consider as the grass harvesting season approaches."
Each event will also include a detailed explanation of Kuhn's unique and patented film binding system which eliminates the need for an initial layer of netting to be placed around the cylindrical side of the bale, instead using a layer of standard wrapping film to fulfil the same function.
"Unlike other film binding systems which use wide mantle film for binding, the Kuhn system uses two standard 750mm stretch film rolls to fully encapsulate the bale," explains product specialist, Katie Calcutt. "As well as improving silage preservation and making the recycling of waste plastic easier, it also reduces plastic usage by up to 30% by pre-stretching the wrapping film by 70% prior to application. Film loading is also quicker and easier as each roll weighs just 27 kg, compared to the wider rolls which can weigh between 40-90 kg."
The demonstration events will also give attendees the opportunity to learn more about two of Kuhn's most popular baler wrapper combination machines: the award-winning twin satellite FBP 3135 BalePack which won the DLV Machine of the Year 2018 award in the forage harvesting category at last year's AgriTechnica exhibition, and the i-BIO+.
"Both machines are now available with Kuhn's film binding technology," Katie adds, "and use our IntelliWrap system which gives complete control of the wrapping process by allowing the operator to select even and odd numbers of film to be applied. The FBP is also available with Kuhn's 3D wrapping system which wraps around the cylindrical surface of the bale first to exclude more air, thereby improving forage preservation and maintaining bale shape for longer."
"Ensuring the wrapping film is applied correctly is key to quality forage preservation," Stuart adds. "As well as being UV, tear and puncture resistant and impermeable to oxygen, the film must also have the appropriate elasticity and cling characteristics to ensure each bale retains its integrity, no matter how long it is in storage.
"We'll therefore be talking to delegates about the importance of making sure crops are cut at the correct growth stage, assessing dry matter prior to baling, handling and storing film rolls correctly to avoid damage, machinery maintenance and calibrating the wrapper to ensure optimum film coverage and pre-stretch."
Date
Venue
Event type
1st May 2018
M-Trac Cymru,

Gaerwen Auction Centre, Anglesey

Promotional event
3rd May 2018
Brodyr Evans Bros., Cefnmadws,

Llanrhystud, Ceredigion

Film binding & Kuhn FBP demonstration
10th May 2018
Grassland UK, The Showground,

Shepton Mallett, Somerset

Best practice clinic
16th May 2018
Royal Welsh Grassland Event,

Four Crosses, Powys

Best practice clinic
5th – 6th June 2018
Ravenhill, Scotland (venue TBC)
Opening evening (5th) & working demonstration (6th)
7th June 2018
Bryson Tractors, Caldwellside,

Lanarkshire

Open evening
For more details about the events and for the latest venue information, visit www.kuhn.co.uk