Performance upgrades impress on large Notts arable farm
The first of a new range of Horsch self-propelled sprayers to arrive in the UK started work at Flawborough Farms in May last year. David Williams visited the users to find out how it performs.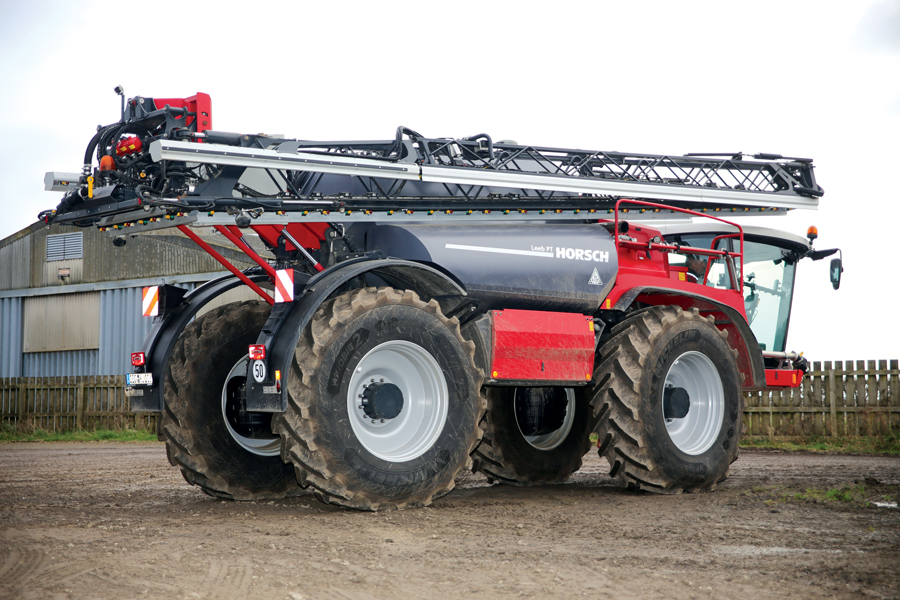 Horsch Leeb launched two new self-propelled sprayers at Agritechnica last November, with 6,000- or 8,000-litre tank capacities replacing the previous single 8,000-litre PT280 model. Full production has recently started, but since May 2019 a pre-series Leeb 8.300 PT 8,000-litre machine has worked at the family-owned Nottinghamshire farm undergoing final tests.
"We have a great relationship with Horsch UK. It's a family-owned business like ours, and the team is always keen to listen and talk," explained Flawborough Farms partner and farm manager Tom Hawthorn. "We bought the UK's first Horsch Leeb 8 GS trailed sprayer in 2012, having visited the factory and seen the incredible boom stability demonstrated. For us it's about keeping £2.50 nozzles in exactly the right place to apply hundreds of thousands of pounds worth of chemicals, so having the confidence to operate booms low enough to maintain an ideal nozzle height above the target, even at high speeds, is essential."
Extra capacity
In 2013, the UK's first Horsch Leeb PT270 self-propelled model was purchased, replacing a self-propelled model of another brand, and carrying out most of the farm's spraying alongside the trailed machine. Both sprayers operated until last year when the PT270 was traded in for the new Leeb 8.300 PT while the trailed sprayer was kept, ensuring capacity during busy periods.  Working efficiency is optimised by transporting pre-mixed chemical and liquid fertilisers to both sprayers using a Unimog-based bowser. In recent years the trailed sprayer's workload has reduced due to the addition of maize and other spring crops as part of a range of cultural measures adopted to supplement herbicides for control of chemical-resistant grass weeds.
Unbeatable boom performance
"Our experience of Boom Control ProPlus active height control on the trailed sprayer meant we specified it for the PT270 and the latest 8 PT," added Tom. "It's so good that the boom rarely touches anything, and the original boom on our trailed sprayer performs as well as it did when new, even after spraying well over 5,000ha per year. We specified 25cm nozzle spacing after discussing its advantages with Horsch Leeb application systems managing director Theo Leeb. It's not used all the time as finer 02 nozzles are more sensitive to blockages, and in some situations such as when it's windy, low-drift nozzles at wider 50cm spacing are more effective. But where maximising leaf contact is important, such as when applying pre-emergence herbicides and ear washes, doubling the number of nozzles gives us better results. And, although we spray far less against black-grass now than we used to, when we do the finer nozzles improve results."
Higher work rates
Tom said excellent boom performance improves work rates. "For black-grass treatment we spray low and slow, up to about 12kph, but for most pesticides we average 14–16kph, and for fertiliser up to 20kph. The superb boom stability allows the ideal height to be maintained whatever the speed."
Leeb 8.300 PT updates
The new sprayer has a 310hp FPT power unit and hydrostatic transmission with hydraulic wheel motors replacing the previous mechanical system, while also improving fuel efficiency. Flawborough Farms' machine has optional HighPowerGear wheel motors delivering 18 per cent more torque at the wheels than the PT280, and Tom said its performance is very impressive, improving climbing ability on slopes while higher travel speeds save time.
The chassis is new with hydro-pneumatic self-levelling suspension. This allows height adjustment on the move with up to 1.35m clearance available. The boom is parallelogram linkage mounted, replacing the previous mast-mounting and improving performance on bumpy ground, while keeping it closer to the rear axle.
The Claas-derived cab is quieter than the PT280's, with an improved ride largely due to the new suspension. A new ErgoControl armrest houses the main operating controls including a redesigned multi-function joystick. Cruise control provides speed selection at the touch of a button and a headland management function allows control sequences to be stored for automatic operation, including selecting pre-set speeds, switching spray sections and lifting the boom for each turn. Horsch suggests this maintains accuracy across the farm with precisely the same action repeated each time.
The new sprayer is compatible with a wide range of precision farming brands and Flawborough Farms' machine has a TopCon X35 terminal for auto-steer and section control.
Increased efficiency
Liquid handling is improved, and a new CCS Pro operator station is standard with a touch-pad terminal offering automatic filling and cleaning functions, similar to the PT280 but an upgrade from Flawborough Farms' earlier PT270. The 57-litre induction bowl ensures rapid chemical mixing, and automatic filling programmes include pump speed adjustment between 10–100 per cent, and a pause when the liquid reaches any pre-set tank level allowing time to add complex mixes. "That's a big advantage," said main operator Lorne Boulton. "Slowing down the fill rate allows time to check the mix is correct and helps avoid errors." Other functions include various wash-out programmes and Lorne said he is still getting used to them. "I use fully automatic tank and system cleaning most of the time which completes each section in a logical sequence," he explained. "Our previous sprayer had a continuous rinsing mode rather than sequential cleaning and I could leave it running as long as I felt necessary. The new automatic system is quicker and finishes with the spray lines and nozzles being purged by a high-pressure air blast leaving them clear of fluid. It's excellent, but I am still building up confidence to trust it completely."
Exceptional back-up
Lorne said improved suspension gives a better ride and the sprayer feels more stable. "The tank holds enough for 80ha so care is always needed with that amount of liquid being carried, but the Leeb 8 PT handles it better and feels more stable than the PT270, and the extra power from the engine and transmission means performance doesn't vary much whether it's empty or full. The difference between this and the previous model is unbelievable, and it's a better working environment too."
Lorne added that apart from minor software issues the pre-series machine has suffered no major problems. "I'm especially impressed by the back-up from Horsch and the company's interest in our feedback. When issues occur I select a reporting function on the screen and the previous 15 minutes' operating data is sent to the company. Usually, within six hours a software update arrives to cure the problem."
Tom is also pleased with the back-up. "Because our Horsch sprayers have all been early production and pre-series machines, there has been a lot of involvement of the factory and UK teams," he said. "Support is also available from Claas Eastern, our local main dealer, and we know the team there well and receive excellent service. We expect the new sprayer to be just as reliable as its predecessor and will run it for a minimum of five years."