New tractors, combines and mowers debut at German press launch
Claas used an exclusive press event in Germany to show its new 650hp Xerion flagship for the first time, along with smaller tractors from 75–103hp, a new mower conditioner and entry-size combines with styling and features like larger models. David Williams was there.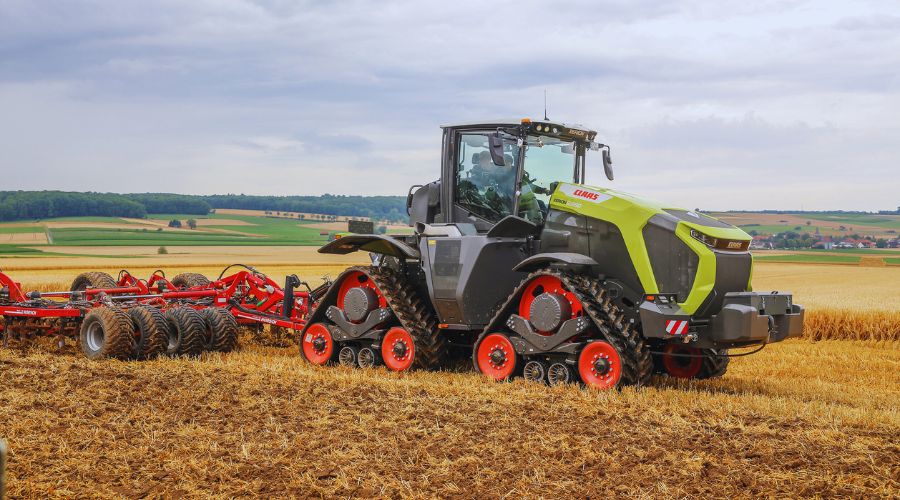 The event was in late July, a short distance from the Claas company's Harsewinkel headquarters. Claas previewed the new tractors during an ambitious evening presentation and then demonstrated in the field the following day. Unfortunately, the weather was like that of the UK in late July; chilly with frequent showers slowing harvest progress and preventing the new combines working for the event.
All the new products will be displayed at Agritechnica this November, but some are available to order now.
Small tractors with wide appeal
Three new series of small tractors have been added to the tractor line-up.
The entry Elios 200-series includes four models from 75–103hp. The base Elios 210 comes in cab or platform versions, and Elios 220, 230 and 240 models are available only with cabs. You can upgrade a base (24-forward/12-reverse), four-speed, three-range, two-mechanical ratio mechanical transmission with Twinshift (two-speed powershift) and an electro-hydraulic Revershift clutch-less reverser.
Rear linkage capacity is 3.2t and the gross vehicle weight is 5.1t, and the tractors have 30in rear wheels. Claas describes the Elios 200 models as ideal for simple yard tasks, with or without the optional Claas front loader.
A line-up of three Elios 300-series models starts at 85hp. They feature a five-speed transmission (30 forward/15 reverse) with Twinshift powershift which increases tractive power by 20%, and the Revershift reverser as standard. A clutch activation button on the back of the main gear shift lever eliminates the need for the foot clutch when changing gear. Optional Smart Stop disengages the transmission to bring the tractor to a standstill when the foot brake is applied. The transmission re-engages drive when the brake pedal is released.
Two Axos 200 models with outputs of 92 or 103hp slot in directly below the current Arion 400-series. These share the transmission of the Elios 300 models but have higher lift capacity and greater payload capacity than the Elios models. They are also equipped with rear wheels and tyres up to 34in. Axos models remain ideal for yard work with a 2.62m overall height, and an impressive 3.79m turning radius.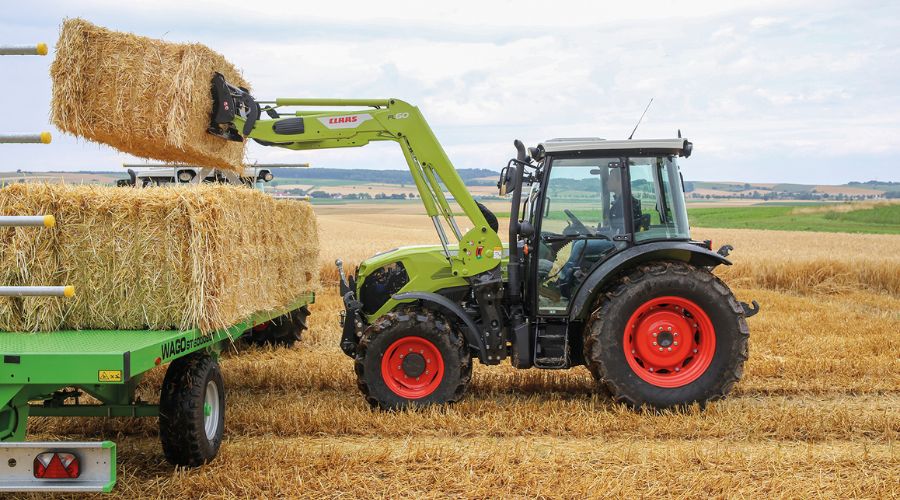 Shared engines for both types
All the new tractors except the base Elios 210 share the same FPT 3.6-litre, 4-cyl engine. They also include a wastegate turbocharger, intercooler and viscous fan for versatility and efficiency. These tractors achieve rated outputs from 83–98hp at 2,300rpm and produce maximum 85–103hp at 2,000rpm. Full engine torque is available across a wide rev range. The Elios 210 has a slightly smaller FPT 3.4-litre, 4-cyl engine delivering 75hp and 309Nm of torque. All models use SCR (AdBlue) to meet latest emissions requirements. One engine speed memory is standard. Two speed presets are an option – adding convenience for working with PTO-driven or hydraulic-powered implements.
Capable hydraulics
Standard rear lift capacity is 3.200kg for Elios models, and 3,350kg for the two Axos models. Front loaders with 3,200kg lift capacity are available. Hydraulic oil flow rates of 87 litres/min are standard but an optional third pump increases flow to 114 litres/min for faster cycle times. With the additional pump, an electrohydraulic operating system is available for Elios 300 and Axos 200 models and these tractors can be fitted with up to four spool valves.
Standard PTO is 1,000/540, but 540/540E is an option, and a front PTO can also be specified for the  front linkage with 1,000/540E and electro-hydraulic engagement.
Loader options
Claas loaders with mechanical or hydraulic levelling are available. There is a choice of operating systems to suit the application. E-Pilot S provides fingertip control of the loader only, whereas the Electropilot joystick can also operate hydraulic functions and rear implements. It contains direction change buttons too when Revershift is fitted.
Comfortable and functional
Elios 300 and Axos 200 models have a flat cab floor. Air conditioning and an air-suspended seat are options. A passenger seat is standard, and the steering wheel has height and angle adjustment. They display operating information on a 4.2in digital console behind the steering wheel. The display is also used to adjust functions such as the rear linkage operating speed, and spool valve flow rates and timings.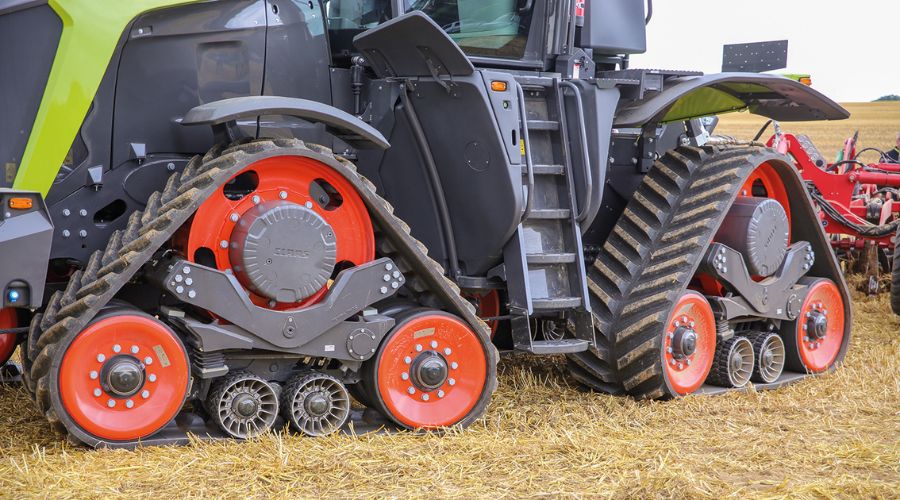 Power tractor – 650hp flagship
At the other end of the Claas tractor line-up, the Xerion 12-series provides a new option for large agribusinesses and contracting operations. There are two models – the 12.590 with up to 585hp, and the 12.650 with 653hp and 3,100Nm of torque.
Both models have a rigid chassis and four equal-size wheels or tracks and front and rear axle steering. Claas describes the tractors as highly efficient for the toughest draft work.
UK buyers are unlikely to choose wheeled versions as they need dual 800/70R42s to transfer the massive power to the ground. This makes the tractors excessively wide for UK roads. The much narrower four-tracked Terra Trac variant will therefore be the preferred option.
Low engine speed concept
Power is from Mercedes Benz 6-cyl, 15.6-litre engines which fit perfectly with the Claas low engine speed concept 2.0 strategy. Equipped with compound wastegate turbochargers, both models produce maximum power from just 1,600rpm and maximum torque down to 1,300rpm. Idling is at just 650rpm. Massive cooling packs maintain efficiency with the help of a reversible fan.
Drive and traction
The new Xerion design helps maintain 50/50 front to rear weight distribution to maximise traction. The 1,400-litre fuel tank is centrally mounted so weight distribution doesn't change as the fuel level reduces.
The transmission, as would be expected, is a Claas CMatic CVT unit. Benefits of using CVT include gentle drive take-up which reduces shock loads on implements when starting off or altering speed. The new transmission is designed so that operators can utilise the full power for any application. Maximum torque is available from the minimum speed of only 50m per hour.
There are four drive modes with automatic selection. The drive management system transmits power continuously to both the front and rear axles and ensures maximum soil protection – regardless of the steering angle. This means that full traction is available even on sloping ground or when negotiating field obstructions.
The Terra Trac achieves a maximum 40kph transport speed at 1,400rpm. The wheeled version has a top 50kph road speed which is unique in its power class.
Technology maximises efficiency
Like Claas Arion and Axion conventional tractors with CMatic transmission, the new Xerion is available with a similar Cemos process optimisation system. This assists the operator by optimising power transmission, drive management and suggesting ballasting strategies based on the task and working conditions. You can achieve more than 10% fuel savings by using the system. It can recommend settings to increase soil protection too, as well as maximising working efficiency.
Phenomenal hydraulics
Up to three load-sensing pumps supply up to 537 litres/min at 1,900rpm. This means that even the largest drills with high hydraulic flow demands can be operated at low engine speeds, saving fuel. Up to
eight double-acting circuits can deliver up to 140 litres/min each. Cebis terminal displays flow rates for each spool.
New tracks
The new Terra Trac track assemblies have a positive drive, with at least eight drive lugs always engaged. There are two auxiliary steering cylinders per axle, and the track units are in two parts with rubber blocks between the undercarriage and main frame to absorb shocks and vibration. Two pairs of mid rollers on bogies adapt to ground undulations to maximise the footprint and traction. The Camso-manufactured tracks are available in 762 or 914mm widths.
Steering modes include standard trailed rear-wheel steering, four-wheel steering with the front and rear axles. These react simultaneously and there is also a reduced crab steering mode ideal for silage clamp applications. Dynamic steering can be selected – reducing steering wheel turns by 50% for fieldwork.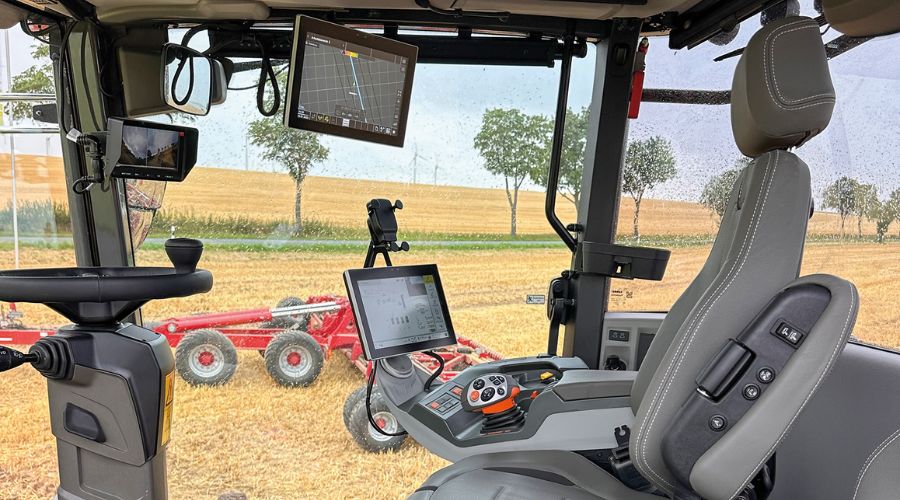 Largest cab of the range
The cab is like larger Claas Lexion and Trion combines, but it is extended by 27cm at the front giving even more space. The steering column has available footrests, and in the right-hand front corner by the A-pillar for use when the seat is rotated 40 degrees for an improved view of the rear implement.
Control is through a CMotion joystick; like Claas combines, and monitoring and set-up is through a Cebis touchscreen terminal.
The cab has four-point suspension. The company's demonstration drivers at the event suggested that ride quality on- and off-road is exceptional and superior to a wheeled tractor, especially over rough ground.
Precision farming
A full range of Claas precision farming applications are available. The Cemis 1200 12in display allows remote transfer of field maps and guidance lines and is used for strategies including section control and variable rate applications.
Smaller combines with extra performance
There are two new Evion five-walker models, the Evion 410 and Evion 430 – both powered by Cummins 6cyl engines and using the Cemis 700 control concept. Replacing the discontinued four-walker Avero and smaller Tucano models the new combines slot into the range directly below the new Trion series.
The Evion has a 600mm threshing drum and a synchronised impeller combined with five 4.4m long straw walkers and a feeder housing 1,420mm wide. This gives a concave area of 0.95m2 and a separation
area of 6.25m2 provided by the straw walkers.
The Cemis 700 terminal infinitely adjusts the threshing drum speed between 480–1,150rpm. Like the larger combines, the concave clearance is also adjusted from the cab and has blockage protection. A Multicrop concave is standard so changes are rarely needed for different crops.
For improved secondary separation and higher throughput, the centre risers of the straw walkers have been redesigned for extra loosening of the crop and achieve faster transfer to the subsequent straw walker racks.
In addition to the anti-blockage system on the drum, there is new sensor-based monitoring of the straw walker crop flow. If blockages start to develop, then the operator receives acoustic and visible warnings. An optional Cemos Auto Crop Flow feature automatically deactivates the header and feeder if a risk of blockage or serious belt slippage is detected, to prevent more crop being taken in.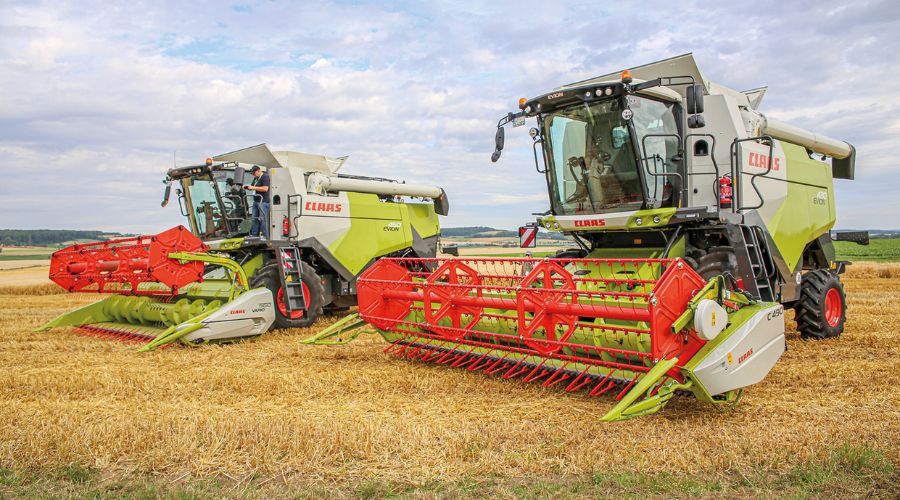 Enhanced cleaning
The upper and lower sieves move in opposite directions and have a total 4.8m2 sieve area. The sieve design is enhanced in line with Lexion and Trion cleaning systems. Electric sieve adjustment and loss monitoring is standard. The radial cleaning fan is adjusted from the cab and can be controlled automatically for uphill and downhill working with the optional Auto Slope. The optional 3D cleaning system compensates for lateral tilt to 20% on slopes.
Grain tank capacity
Grain tank capacity is 5,600 litres for the Evion 410 and 6,500 litres for the Evion 430. Unloading at 90 litres per second increases productivity when emptying stationary on headlands. The 105-degree tube movement means trailer filling progress is easily monitored from the seat. A pivoting end spout is an option.
Dynamic Power
The Cummins 6.7-litre engine is like that used in the Trion, and maximum power is available at only 1,900rpm. Dynamic Power Management delivers only the necessary power by 'repositioning' the engine's power band and achieving significant fuel savings up to 10%.
The ground-drive transmission is hydrostatic with manual control and there are three mechanical gears.
Header choice
The Evion has a similar header mount to Lexion and Trion models so a wide range of attachments is available. Maximum cereal header width is 6.8m.
Contour ground adaptation automatically adapts the attachment to compensate for ground undulations parallel to the direction of travel. Auto Contour, programmed through the Cemis 700 terminal is an option, and allows the cutterbar to adapt to both parallel and transverse ground undulations.
Operator environment
The spacious cab has similar controls to larger combines, including the CMotion joystick. There is a large, clearly arranged keypad and a Cemis 700 touchscreen. Pre-programmed settings for a range of crops provide a reliable start point, and these can be optimised for the conditions during work and saved for recall later. The Cemis 700 terminal is fully Isobus compatible and can be removed for use in tractors and with other implements.
Automatic climate control is standard, and footrests and a cool box are options. LED lighting is also included, but optional upgrade kits are available.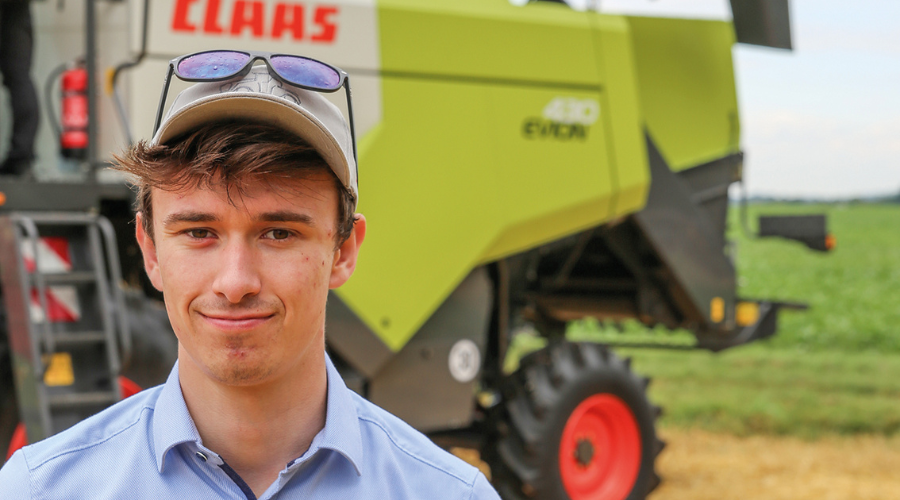 Claas UK combine product specialist Rob Portman told Farmers Guide that most demand for the new Evion series will be from farms with 20–200ha which prefer operating new and more efficient combines with a comfortable cab, features and a choice of headers similar to the latest larger models.
Forage range grows
Claas has added the Disco 9700 RC Auto Swather to its line-up. The mower-conditioner with a belt merger is specially designed to provide high work rates even in very high yielding, bulky but fragile crops such as wholecrop rye and triticale.
The infinitely adjustable working width is from 8.8–9.5m, and both mower units can be drawn in to increase overlap and avoid misses on field headlands and cross-slopes, or pushed right out for maximum productivity – utilising the full 9.5m working width.
The roller-conditioner crushes the crop gently without seedhead losses which would result from a tine conditioning action. The counter-rotating rollers drive through a heavy-duty driveline including a specially developed scissor gearbox to ensure the heaviest crops are pulled through without blocking. The conditioner spans the full width of the mower bed for efficient crop transfer, then the forage is discharged uniformly onto the wide belts of the Auto Swather to create a perfectly shaped swath.
In demand from professional contractors
The grouper belts are 1.1m wide with Kevlar reinforcement to handle heavy and bulky crops. The grouper units are individually controlled and when working without swath grouping, with less regrowth or when less wilting is required, one or both belt units can be folded up hydraulically to consolidate a working width of 19m to 12m for the next pass with a 12.7m four-rotor swather.
The new Disco 9700 RC Auto Swather is rated for tractors up to 500hp, and it was tested last year in a crop of wholecrop Triticale yielding 60t/ha in Texas, where it performed well at speeds of 15–20kph.
Claas UK forage product specialist, Dean Cottey said that most demand for the new mower will be from professional contractors harvesting a range of crops including high volume biomass, wholecrop rye or triticale as well as grass.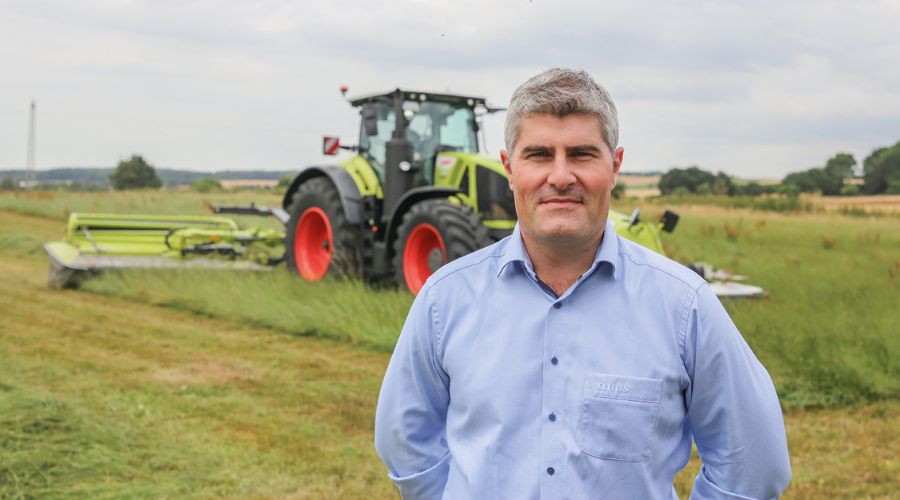 ---