Clarkson's new book combines humour with an unflinching insight into life as a British farmer
British farming's unexpected advocate Jeremy Clarkson is back with a new book this autumn, picking up from where he left off in A Year on the Farm, which described his first year as a farmer. It was a year that included 'biblical weather, a forest of red tape, a lockdown, a herd of escapey sheep [and] 10 million vindictive bees […]'.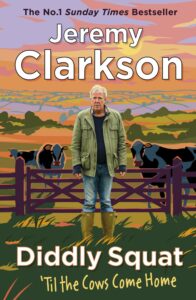 Despite a challenging introduction to farming, and the fact that he's 'still not very good at it', Clarkson's Oxfordshire farm, Diddly Squat, 'is still going strong(ish)', he writes in new book 'Til the Cows Come Home.
Announcing the launch of the book, which is a collection of his Sunday Times columns, Clarkson said: "It has been described, mostly by me, as the best book ever".
It's filled with all the expected humour and sarcasm – criticisms of sheep; bickering with his side-kick Kaleb Cooper; and general irritation with the government and local council.
But mixed in among tales of his farming blunders and swipes at James May, Clarkson tackles much more serious themes – the significant challenges and frustrations British farmers are facing, the lack of government support and what Clarkson calls 'a tsunami of misinformation and stupidity' from anti-farming and anti-meat lobbies.
The many woes to hit Clarkson's farm over the past year include: OSR that's 'gone wrong'; fence posts that 'cost more than space rockets'; and not being allowed to burn the stubble off when his barley field is hit by brome ('no Jeremy you can't have an accidental fire either', warns his land agent Cheerful Charlie).
His oversized tractor also continues to cause issues; at one point writing off a borrowed £20,000 6m wide disc he was towing by crashing it into a telegraph pole – prompting a severe telling off from Kaleb, who had also crashed his own truck the previous day.
Alternating frequently between humour and solemnity, Clarkson believes there is one sign he is starting to become a real farmer: 'I can now whinge for hours, without repetition or hesitation. The weather, Defra/Carrie Johnson. That bloody alpaca. Chris Packham. Brexit. Badgers. Ramblers. The timber shortage. Flea beetles. Black grass. Sheep.'
'Escapey' animals: Part two
Sheep, the enemy of Clarkson's sanity, continue to haunt him from beyond the grave in year two of Diddly Squat Farm, with the mutton giving him heartburn and their excrement having potentially introduced brome to his barley field.
Having been assured that cows are 'easier' than sheep, he subsequently introduced 29 shorthorn cows (which have 'hair like Kaleb's') to the farm, with the aim of serving the meat in his own restaurant. His idea of converting an old lambing shed for the restaurant unfortunately goes down 'like a shower of sick' with some 'red trouser people' in the local village.
Despite reassurances to the contrary, however, his cows prove just as keen to escape as the sheep – and one cow in particular, nicknamed Genghis, brings Clarkson to the lowest ebb of his farming career, with a carefully-aimed headbutt in a sensitive area.
Diversification woes
With the subsidy cheque now 'smaller than a pre-war postal order', like many farmers, Clarkson turned to diversification to generate more income for the farm, coming up with numerous money-spinning ideas, and describes watching 'in horror as almost all of them ended in expensive failure'.
From the trout that were stolen by otters and herons; to the wasabi that prompted customers at the farm shop to 'buy a sausage instead'; to his latest experiment – growing chillies, which he plans to make into chutney and sell at £500 per jar to make a profit.
Among other endeavours, he caused Cheerful Charlie to 'rhythmically bang his forehead on the table' when he invested in a brewery, despite previous disastrous attempts to grow spring barley.
On a more serious note, he describes the devastation local farmers, hoteliers and publicans felt when planning permission was denied for his on-farm restaurant, which would have stocked local produce and brought many customers to the area.
The decision, he says, sent a clear message to thousands of struggling people who farm in a national park or area of Outstanding Natural Beauty – 'that they may not turn unused buildings into cafes or gyms or office space'.
He adds: 'It's nearly impossible to make money from farming these days and in recent years farmers have relied on government grants to keep going. But those grants are being phased out and we have been told by the government that to survive we must diversify. And now local government is saying we can't. That has to be addressed, and soon.'
'Farmers here feel helpless'
Uncharacteristically serious, Clarkson takes aim at trade deals such as that between Australia and the UK, which will force British farmers to compete with cheap food produced in countries with far lower animal welfare standards, saying 'farmers here feel helpless'.
He believes part of the solution is educating British consumers about poor animal welfare practices elsewhere in the world, such as the use of ractopamine and hormones, compared to the high welfare standards on British farms. Or, put more simply: 'food from abroad is cheaper because it's s**t'.
'We need to fight back,' he urges. 'We need to sit outside supermarkets with the food we grow, in our tractors, telling shoppers that if they really care about animals and they really care about nature and they really want to see red admiral butterflies in their garden, they'd better wise up and start eating British meat, even if it does cost an extra five pounds.'
He also hits out at the planning system which he describes as 'completely broken', 'expensive' and 'too weird'; as well as the 'army of snails' that delivers payment to dairy farmers.
It is perhaps Clarkson's humorous but unflinching depiction of life as a British farmer that made the Clarkson's Farm Prime series such a hit with many farmers, as well as the general public. His latest book is no different as he explains the impact of Russia's invasion of Ukraine and the astronomical cost of fertiliser on British food security.
Summarising his feelings on the frustrations faced by British farmers, he refers to the case of elderly Norfolk farmer Paul Rackham who was ordered to pay nearly half a million pounds in 2021 for carrying out remedial river works on his farm without a permit. 'Welcome to the world of farming. You try and do your best and someone with a clipboard sends you a bill for nearly half a mill,' Clarkson writes.
But despite the fact that farming is 'unbelievably hard work and not very well paid', the 'endless tellings off from his team' and daily difficulties, it seems Clarkson's love of farming remains unchanged – 'It all feels very important, somehow, to be making food', he writes. And when a spare moment presents itself and the sun is shining, 'it's the best job in the world'.
'Til the Cows Come Home, published by Penguin Michael Joseph is available now.