Paralympic athlete Sammi Kinghorn shares inspiring journey from farm tragedy to racing glory
The life of Samantha Kinghorn MBE changed in an instant when she was crushed by a forklift at the age of 14, leaving her paralysed from the waist down. With her incredible spirit and determination, she has climbed the sporting ladder and is now Britain's fastest-ever female wheelchair racer. Farmers Guide spoke to Sammi about triumph over adversity in the context of Farm Safety Week.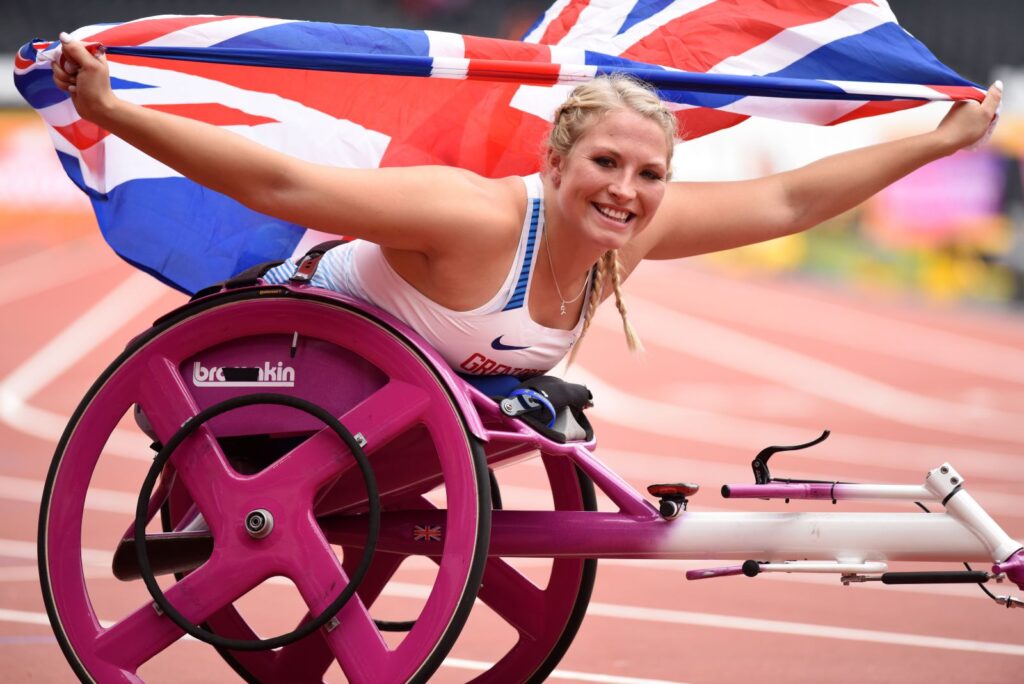 Growing up on a third-generation family farm in the Scottish borders, Sammi was impassioned by the countryside at a young age. She holds dear memories of helping her father – the manager of the farm – at every opportunity, often working from after school to dinner time.
'I had the best childhood,' she says with certainty. 'I spent every moment I wasn't in school out playing on the farm, I gained a lot of trust and respect from my parents quite young because they were both really busy, especially with being a farmer, you're busy all the time.'
On the fateful day of 2nd December 2010, she was supposed to be sitting her prelim exams in school, but was instead helping her father on the farm which had come under heavy snow.
'I remember that morning, my dad came up and he was really panicked because animals were dying, we didn't really know when the snow was going to stop and we didn't really know what to do.'
While her father was clearing paths with a forklift, for a reason still unbeknown to her to this day, she jumped on the machine just underneath the main arm, which began to descend on top of her.
'I remember feeling all the pressure down my back, hearing my back pop, and in that moment genuinely thinking that I was going to die.'
'The first feeling I felt before there was pain, or before I was scared, I felt really guilty. I was really lucky to grow up in a household with people that really enjoy what they do; my dad loves farming, it's in his blood.'
'I thought that I'm going to ruin the two things he loves most in the world – me and his job.'
She eventually came off the forklift and ran out of its way, but ended up slipping and falling onto a pile of compacted snow. 'I felt pins and needles running up and down my legs, and then everything tightened and stopped. That was the last time I felt my legs.'
Embracing wheelchair sports
The following six months saw Sammi Kinghorn navigating the challenges of rehab at the local spinal unit. She describes the experience as being a toddler again, but with the added frustrations of already knowing how to do everything and remembering how easy it used to be.
However, the worst moment of the entire time she spent in hospital was seeing her parents devastated by the extent of her injuries.
'I remember they both walked in and my mom couldn't even get the words out, she started screaming my baby, my baby, we're so sorry; she was just inconsolable.
'My dad couldn't even look at me, and I remember thinking in that moment this is not his fault, I have nobody to blame but myself. I was taught from a very young age not to touch machinery.'
While recovering at the spinal unit, Sammi was given the opportunity to try out various wheelchair sports, from tennis, fencing, archery, hand cycling, skiing, swimming and eventually wheelchair racing, which changed her whole life.
'I'll never be able to take away the guilt that my dad feels because he is my father and although it's not his fault, he's always going to feel guilty.
'But when I do my job now and I travel the world, I compete in stadiums with thousands and thousands of people and I do well, and most importantly I love it, I know that it makes him feel that little bit better.'
Controlling the controllable
Overcoming adversity always brings with it valuable life lessons, which Sammi also had her fair share of along her journey of becoming a multi-medallist Paralympic wheelchair racer.
'To control the controllables is probably one of the biggest ones, I think that's for everyone not just in sport, focusing on the things that we can control because there's so many things that we can get caught up about that we have absolutely no control over.'
For Sammi, that means bringing her best form to every race while accepting she can't control the weather or other competitors on the track.
From experiencing first-hand how life can genuinely change in a moment, she has also learnt the importance of seizing every opportunity and pursuing a fulfilling career. A piece of advice she received from her dad has set her on the right track from early childhood:
'Life can be very short or life can be very long, so why would you spend any of that time doing something you don't enjoy.'
For services to Disability Sport, Sammi was also awarded an MBE last year in the Queen's Birthday Honours, presented by HRH Princess Anne.
'I remember opening the envelope and being like this is mad. My mind is still blown now, it's never something I thought I would get the honour of receiving and I'm very proud of it.'
'Farmers think they have to rush to get the job done'
Sammi was among the speakers inspiring thousands of delegates at this year's Oxford Farming Conference, after which she was approached by the Farm Safety Foundation (Yellow Wellies) regarding the annual farm safety campaign.
Having watched her dad take on unnecessary risks countless times during work, as well as being involved in a farm accident herself, Sammi sympathised with the campaign's goals and agreed to help spread the message.
'I've watched my dad rush jobs or come in the house sheep-white having had a close experience with a cow because someone was late and he thought he'd just do it himself quickly.
'Farmers sometimes need to just take a beat and it's hard because they're always short-staffed and they tend to be on their own,' she added.
However, thinking twice and slowing down can pay dividends over time, with so many farm accidents being preventable had farmers taken the necessary precautions before starting a job.
Summarizing her message to farmers, the athlete said: 'To ask for help, and to slow down, I think is the most important thing.'
What's next for Sammi Kinghorn?
Having just come back from the World Para Athletics Championships in Paris where she won gold setting a new record in the T53 100m, Sammi is still reeling from the thrill of the past week.
Her sights are now set on the Paralympic Games next year in Paris, where she is hoping to claim more medals. Over the longer term, her plans are to continue doing what she loves most, travel the world honing her craft, and push her limits knowing that there is still room to improve.
Sammi has also recently landed a full-time presenter role on BBC's Countryfile, a show she has grown up watching with her dad. The role was initially meant to be a one-off, making it an even bigger surprise when Sammi received a call back asking if she would stay on the show, which for her was a dream come true.
Relating her experiences, she said: 'I've been interview loads of times but I've never interviewed someone else, so I was really terrified, but I went and done it and I loved it.
'Being able to travel the world and speak to people that are passionate about the countryside, I love that.'
Read more news stories on our Rural News hub.
---