R&D collaboration set to enhance food safety in potato crisp production
Perthshire-based Taylors Snacks and Abertay University are joining forces in a new project looking at mitigating levels of acrylamide, a suspected carcinogen, in potato crisp production in a bid to enhance food safety.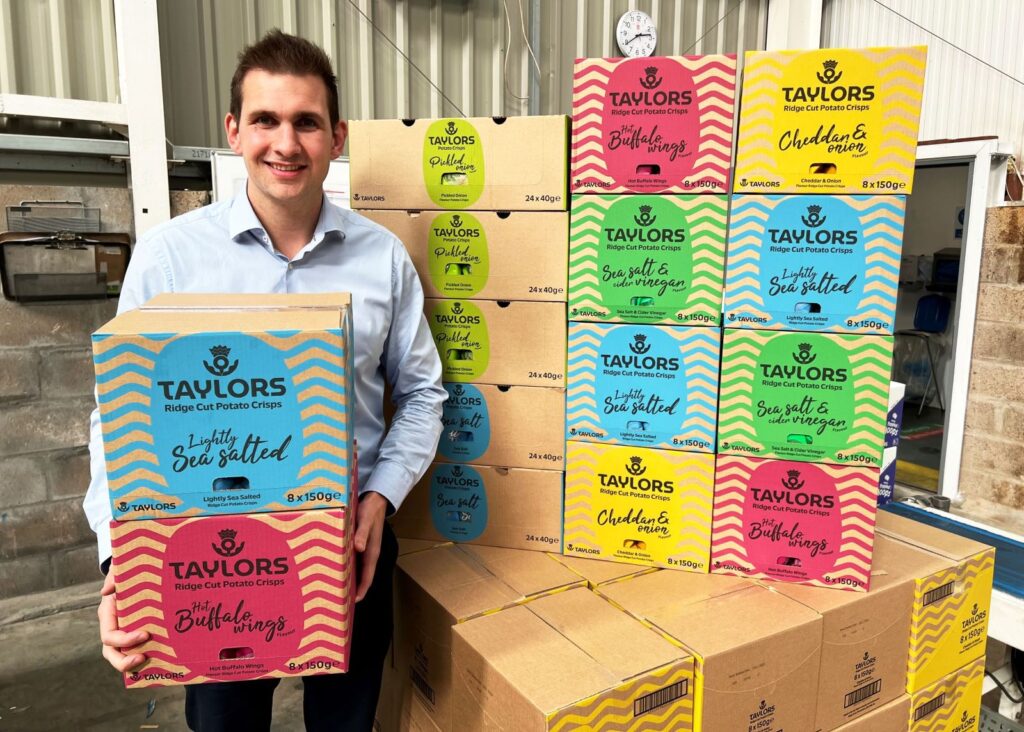 James Taylor of Taylors Snacks with new packaging.
The project is the fifth in a series of ten case studies, developed as part of the 2023 RHASS Presidential Initiative (PI), exploring the science behind food and drink production. The findings of the research are set to benefit the wider industry as it seeks to meet the latest benchmarks to be set by the European Commission later this year.
The aim is to reduce acrylamide, a natural chemical compound that can form in starchy foods when cooked at high temperatures, in consumer food items.
Although scientific evidence has not yet proven acrylamide is a threat to human health, in the interests of consumer safety, the European Commission issued an advisory benchmark for food processors cooking or baking products in 2018, which will be updated with new specifics later in 2023.
To research and develop an online monitoring system to measure and manage levels of acrylamide in crisp production in real-time, Abertay University, one of the leading centres for acrylamide research in the UK, partnered with local company Taylors Snacks, renowned for producing Mackie's of Scotland crisps.
Professor Alberto Fiore, who is co-leading the project with forensic chemistry expert Dr Keith Sturrock at Abertay University's Division of Engineering and Food Science, explained:
"Acrylamide is an organic compound that can form in familiar carbohydrate-rich foods cooked or fried at high temperatures, including coffee, biscuits, cereals and crisps, when the sugars react with a specific amino acid at temperatures above 120C.
"In the home, acrylamide would occur in burnt toast or chips that have been in the oven for too long, but in manufacturing, it's more nuanced. Working with industry like this is vital for our work to have real impact," he pointed out.
"Working with Taylors Snacks will give us valuable insights and live scenarios that will positively impact wider industry research and development."
A first for the industry
Taylors Snacks, which rebranded from Mackies Crisps earlier this year, produces more than two million packets of crisps, popcorn and other snacks every month for retail, export, wholesale and food service from its base at Errol.
The project, made possible with funding from Innovate UK's Knowledge Transfer Partnership programme (KTP), will build on the extensive work Taylors Snacks has already undertaken to minimise levels of acrylamide in its products, taking a holistic approach, analysing every stage from raw materials to processes and end product.
This phase is vital to build a full understanding on which to create the inline digital monitoring, innovative technology that will anticipate acrylamide levels and allow processes to be adapted in real-time.
To coordinate the project and maximise the research development and knowledge transfer, an associate from Abertay University will be based at Taylors Snack's head office for the duration of the partnership.
James Taylor, managing director of Taylors Snacks, commented: "This is pioneering work which will blaze a trail in the industry.
"We constantly aim to exceed the best practice benchmark and working with Abertay University will allow us to optimise processes to continue to produce safe, great tasting products for consumers while benefiting the rest of the sector who will learn from this work with Abertay University."
A true expert in the field, Professor Fiore has dedicated the last 15 years to acrylamide research, working with a number of businesses including multinational processors. His work to date has included looking at all variables from plant varieties to the radio frequency of ovens, introducing new technology or naturally occurring antioxidants, and developing recipes.
Meanwhile, ongoing wider research relating to acrylamide includes developing gene edited wheat varieties with low asparagine content to mitigate acrylamide formation in the cooking process.
Commenting on the project, Linda Tinson of the RHASS PI said: "The project illustrates the value of science at every stage of food production, and the two-way advantage of introducing lab research into real life processes. It is when academia joins with industry so closely and constructively that both enterprise and science progress."
The RHASS PI will culminate with a showcase at the Royal Highland Show, bringing together different sectors and stories from over the past months and creating a lasting legacy of materials which will be made available for anyone to access.
For more information on this year's Initiative and to view past and future case studies, please visit: https://rhass.org.uk/presidential-initiative/