Great support and enthusiasm at returning popular open day
Claas dealer Mann's Green Thursday event returned this year, following a break in 2019 while building work was carried out at the dealer's headquarters in Saxham, Suffolk. David Williams attended.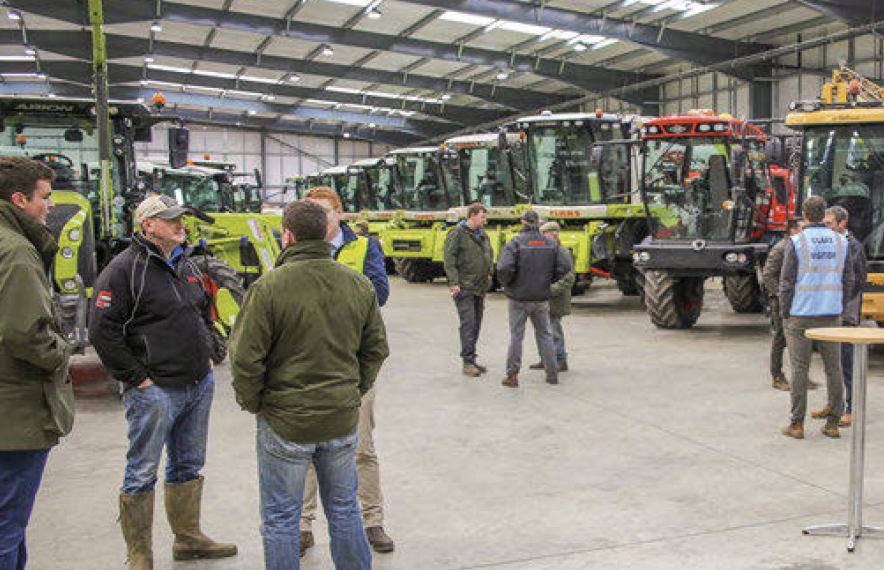 Claas dealer Mann's Green Thursday event returned this year, following a break in 2019 while building work was carried out at the dealer's headquarters in Saxham, Suffolk. David Williams attended.
The event is always popular with customers, with large numbers of ex-demonstration and used machines available at special offer prices. This year, new Claas and Horsch machinery was also on show along with Stewart Trailers and Cherry Products handler attachments, plus product specialists from each company were present.
Well attended
Weather on the day was cold and wet, preventing field work from progressing, and the event was well supported. "From an attendance point of view the weather was ideal and it seemed that many of the farmers who came were keen to have time away from their farms and make the most of the opportunity to look at what machinery was available," explained sales director Paul Moss. "Whereas our Green Thursday events were previously known for the wide selection of used machines on offer – this year we made the most of the new facilities to show new products as well, which proved popular."
Complementary brands
Manns brand manager Chris Chilvers commented that Horsch representatives Matthew Smith and Ben Harrison were kept busy assisting potential customers with enquiries regarding new and ex-demonstration machines. "There was interest in cultivators and drills with a strong focus on spring crop establishment as well as for this autumn. The wet weather has created challenging conditions with limited time to get crops in the ground for the coming harvest and farmers need machinery capable of making the most of working opportunities when they occur," he said. "The new Horsch Leeb 8.300PT self-propelled sprayer was available to view, and trailed sprayers attracted a great deal of interest, too."
Stewart Trailers were also proving popular. Manufacturer product specialist Colin Smith attended and answered many technical queries about the trailers, and especially their brake specifications. "There is growing attention to maximising safety both on and off road, so braking standards were a hot topic," explained Chris. "Customers want to be certain that brakes fully meet current standards, as well as those likely to be introduced in future. There is also greater interest in build quality, so the specification of steels and paint was often discussed.
"Central tyre inflation is a new option from Stewart Trailers, allowing tyre pressures to be adjusted on the move to suit field and road tasks, and the number of enquiries this generated suggests it will be specified for more trailers in future."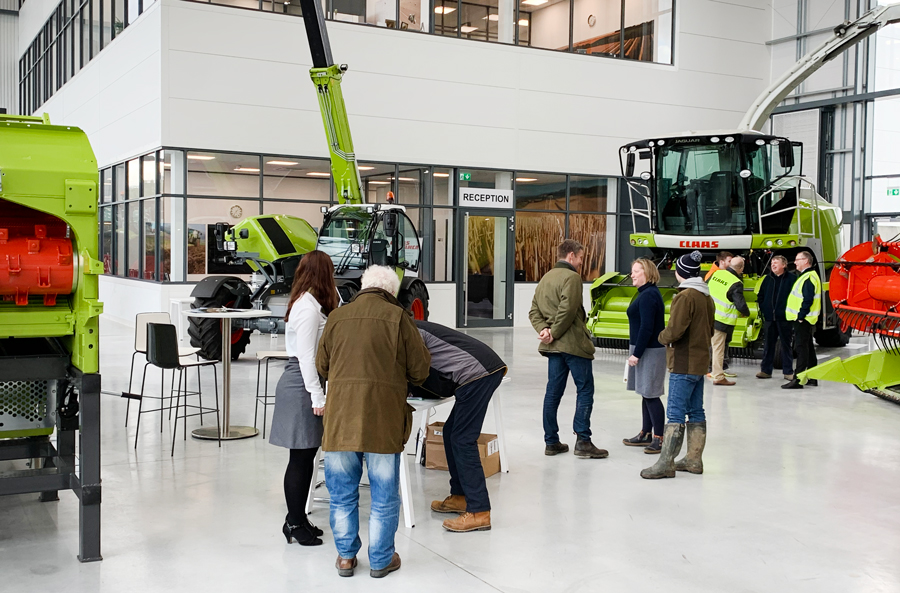 Strong demand
Of the used machinery; Claas combines, tractors and green harvest products sold well, and orders were also taken for a second-hand Horsch self-propelled sprayer as well as one of another brand. Used cultivation equipment was in demand from Horsch and other manufacturers. "Of the used combines, most interest was in machines of five to six years old," added Paul. "As always, Claas Lexion 770 and 780 models were targeted by family farms keen to increase harvesting capacity, but we also sold other brands which had been taken as trade ins.
A used Quadrant 4000 large square baler was sold on the day. "We had a very successful Green Thursday again this year and were delighted with the response from visitors who are viewing the year ahead with great optimism, despite the sustained wet weather which has hampered establishment of winter and spring crops," continued Paul. "Farmers attended from across the whole of Manns' trading area from Kent to Northamptonshire, and one of the new combine sales was to a farmer from Kent who had travelled to Saxham to find out what deals were available on the day. Our sales teams will be following up enquiries in the coming months and expect a busy year ahead."
See our April issue for the full write-up.