Increased variety and choice from Manitou
New compact loaders from Manitou were previewed at Lamma earlier this year. The range includes skid-steer and articulated versions to suit a wide variety of users. David Williams has been trying them out.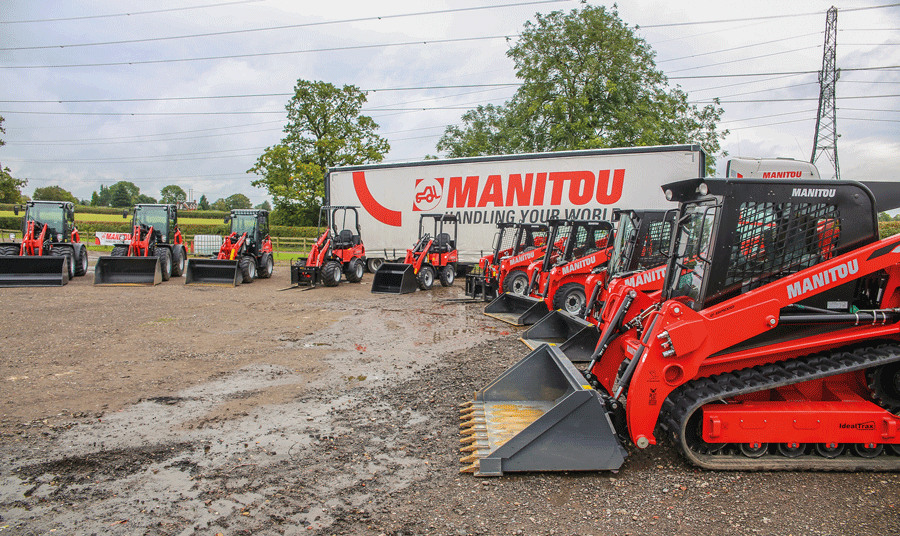 Manitou enjoys an excellent reputation for its range of agricultural telescopic handlers. Latest NewAg models feature significant improvements over earlier versions including a host of user-friendly cab and control upgrades which are proving extremely popular with arable and mixed farms.
Compact and versatile
Manitou purchased the American compact loader manufacturers Gehl and Mustang in 2008 and have offered both in the UK under their original brand names. But, in 2018, the Manitou branding was added and from this year the full range of products is available under its own name through the established Manitou dealer network, while supply of Gehl-branded products will continue through dedicated Gehl dealers.
Along with current larger Manitou MLT telescopic handlers and MLA articulated handlers, the new compact versions give the company and its dealers access to additional markets including smaller-scale horticultural and fruit and vegetable producers, and to poultry and pig units where traditional buildings with limited working space require smaller machinery.
Articulated loaders
The new articulated loader line-up includes eight models from the MLA 1-25H – suitable for working in the tightest spaces with an overall width under 36 inches, up to the 2017-introduced MLA-T 533-145V+ with 4,978kg lift capacity and 5.2m maximum lift height.
Manitou quotes lift capacity for articulated models in line with the EN474-3 standard, which equals 80 per cent of the machine's tipping load at full articulation with the boom retracted.
MLA1–MLA5 models have ball joint articulation and larger versions have a heavy-duty centre bearing. All have a fixed rear axle which allows a lower overall cab height and ensures maximum stability. Steering articulation angle is 45 degrees across the range for superb manoeuvrability. Up to 10 degrees of oscillation between the front and rear sections maintains stability and ensures effective ground contact by all four wheels on uneven work areas.
Comfortable and practical
As in Manitou's MLT telescopic handler range, there are four specification levels; Essential, Classic, Premium and Elite. The top Elite specification (available on the MLA-T533 only) includes many upgrades to improve productivity and assist the user, while lower specification levels are adequate for basic handling operations.
A fully enclosed cab is standard on the largest machine, and an option for MLA 3, 5, 6, 7 and 516 models. Other options include a two-post ROPS; four-post open canopy and four-post canopy with front and rear windows.
Controls are well laid out and on MLA 6, 7, and 516 models, a seat-mounted Command armrest accommodates the joystick, transmission and hydraulic controls, hand throttle and a 12v power supply.
Hydrostatic transmission is used across the range providing step-less speed and direction changes. The MLA1-25H has a single speed range with drive through two axle-mounted motors and MLA3, 4 and 5 models have two speeds through a single drive motor and propshaft. Three-speed transmission is available for MLA 6, 7 and 516 models providing 30kph for transport. The flagship MLA-T533 has M-Vario-Plus transmission using a pump driving two motors for extra power and efficiency.
All models, except the MLA1, have a hand throttle and when it is set the foot pedal can be used for travel speed control, while the engine speed remains constant. This feature is ideal for tasks where constant hydraulic flow is needed such as sweeping using a hydraulic-driven rotary brush.
An inching pedal is also fitted, for precise low-speed control and allows small travel movements, even with higher engine speeds, for fast hydraulic cycle times.
All have mechanical differential locks apart from the base MLA1-25H which, instead, has a 45 per cent limited slip differential.
Load handling
Parallel linkage provides self-levelling during raising and lowering and is ideal for pallet handling, while Z-bar linkage on larger models provides almost double the tear-out force, making it ideal for bucket work. Z-Bar linkage models also gain 'Return to dig', which allows a preferred position to be memorised for automatic return during each cycle. Improved over-arm visibility is also an advantage.
The MLA-T516-75H combines the advantages of Z-Bar linkage with a telescopic boom, and has the bucket ram mounted inside the boom for added protection.
Intelligent Hydraulics is an option for the new MLA-T533-145V+ telescopic model and includes functions such as:
Quick lift – automatically combines two simultaneous movements such as raising/lowering and extension/retraction making it ideal for stacking operations.
Bucket shaker – automatically shakes the bucket vigorously to loosen sticky materials.
Automatic return to load – automatically re-sets the attachment to the memorised position and angle.
Regenerative hydraulics are also an option for faster boom lowering, regardless of engine speed for faster cycle times.
Skid-steer range
The simple design and superb manoeuvrability of skid-steer loaders makes them attractive for a range of applications, and the line-up from Manitou includes models with radial or vertical lift, and tracks or wheels.
Traditional radial lift (R models) is suitable for most applications but vertical lift (V models) incorporates a variable geometry linkage at the base of the arms, allowing the load carriage to lift through a constant vertical plane. This keeps the load closer to the front of the machine for higher lift capacity and also increases maximum lift height, so models equipped with vertical lift are often chosen for tasks such as pallet handling and stacking.
There are three main variants categorised by chassis size.
Manitou quotes lift capacity for rigid loaders as static tipping load, which is the most that can be lifted by the machine.
A dedicated heavy-duty chassis is used forall tracked models except base versions 1650RT and 1350RT which share their frame with the 1650R and 1350R wheeled versions, and are fitted with tracks or wheels as required on the production line.
All models have Manitou's IdealTrax tensioning system. This automatically tensions the tracks each time the machine is started using hydraulic pressure, and maintains correct tension at all times without over-tensioning, which can shorten track working life. It also makes track changes easier.
Across the line-up a large front idler pulley provides great climbing ability and ensures a smooth ride. Track options include Camso HXD, 4-Season and Bridgestone HD.
Safe and comfortable
All cabs feature an exceptionally high safety rating with Level 2 ROPs and FOPs standard.
To use the machines, a safety restraint bar must be lowered into the working position to unlock the hydraulics.
Access is good, although as with all skid-steer loaders the user has to negotiate the handling attachment, then step between the controls into the cab. The seat is comfortable, from a design chosen using feedback from hundreds of testers.
Unique design
Large frame tracked loaders are available with Manitou's exclusive IdealAccess cab entry. This provides a fully enclosed cab with a glass front screen for comfort and protection, but for access the screen folds up, into the top of the cab, leaving a clear opening. The front screen can be opened and closed with the loader arms in any position, and doesn't increase overall cab height when fitted. Even with IdealAccess, the cab frame maintains its Level 2 FOPS certification.
Heating and air conditioning are options for some models.
Control options for the skid-steer line-up vary by model, but include: traditional foot pedals and hand levers; hands only by T-bar; dual hand levers or joystick.
A two-speed transmission is standard on all tracked variants except the smallest 1050R and 1350RT, and it is also standard on 3300V and 4200V wheeled models and can be specified for the 1650R, 1900R, 2200R, 2600R and 2700V. Up to 19.5kph is available with the two-speed box fitted.
Power available
To power auxiliary attachments an external oil supply is fitted, with flow rates varying by model. The popular 1900R has up to 70 litres/min as standard, but a high-flow upgrade (119 litres/min) is available for power-hungry accessories.
Self-levelling hydraulics are an option for all models except the 4200V, and maintain a constant bucket angle during lifting to avoid load spillage.
Hydraglide boom suspension is standard on models with joystick controls, and is selectable to suit the user and operation.
All lift rams are induction hardened chrome plated, which helps protect against damage and corrosion.
A rear counterweight is available to increase lift capacity for most models.
Test drive
Manitou's demonstration day included plenty of opportunity to try the range, stacking pallets and handling loose stone.
Similar skid-steer models, with the full range of control options, allowed the benefits of each to be assessed.
Having the opportunity to compare the controls side-by-side was useful, and for anyone considering investing in a new skid-steer handler a similar experience is recommended. There is a tendency to stick with controls which are familiar but, during the few hours spent driving the machines, it took little time to learn the techniques required for each, especially under the expert guidance of Manitou's demonstration team. The twin T-bar levers operate the transmission and hydraulic functions and seemed awkward at first, but learning to operate them by finger rather than by twisting the wrist made them much easier to use.
Manitou emphasised that its Pilot Joystick controls are fully hydraulic rather than electric-activated hydraulics, to provide better feedback and control. During the test drive, all the controls were progressive and allowed accurate adjustment of the attachment and load. Hydraulic cycle times were good, even with the engine at lower revs, and operation was progressive and easy to control through all four configurations tested.
In America the tracked skid-steer loader market dominates, but in the UK far more wheeled models are sold. A test-track with ramps demonstrated the improved comfort available from the rubber belts, and the increased climbing ability and traction when working on a heap of aggregate.
Skid-steer loader cabs tend to offer basic levels of comfort compared to other loader types, but Manitou's line-up had good access for operators, adequate space and well-designed positive controls. The demonstration 2150RT with its fully enclosed cab and IdealAccess front screen proved as comfortable as many tractors and with air conditioning and a heater it would be suitable for extended all-year-round use.
Noise levels for all models were reasonable and visibility was good to the front and sides in particular.
Selecting between high and low gear ranges just required a button press and the change was carried out smoothly, providing power for handling and higher travel speeds for movement between work areas.
Improved cabs
Operating the articulated loaders after the skid-steer models emphasised advantages including better comfort in the larger cabs and superior visibility. Cab entry and exit was also easier with better steps and easier access points.
Manoeuvrability was very good with 45 degrees turning angle available, but couldn't compete with the skid-steers which turn on the spot. However, working for long periods the articulated machines are less tiring with their gentler operating characteristics.
Noise levels were low, even on open-frame versions.
For tasks such as pallet stacking, articulated machines offer advantages including improved vision to the forks and load, and the ability to 'side-shift' small amounts just by adjusting the steering angle a few degrees.
Verdict
Manitou is well equipped to make rapid gains in its market share of smaller loaders and handlers with the addition of its latest models. Since re-introducing a larger articulated model last year, the brand has proved it can offer impressive alternatives to the wide range of telescopic handlers for which it is best known. With an excellent dealer network and a name respected by farms of all types and sizes, the new compact models should be on every farm's shortlist.