National Rural Crime Action Week calls for greater security
As rural crime continues its unrelenting spread across the UK, the NFU is calling for greater protection for farmers and landowners as National Rural Crime Action Week gets underway.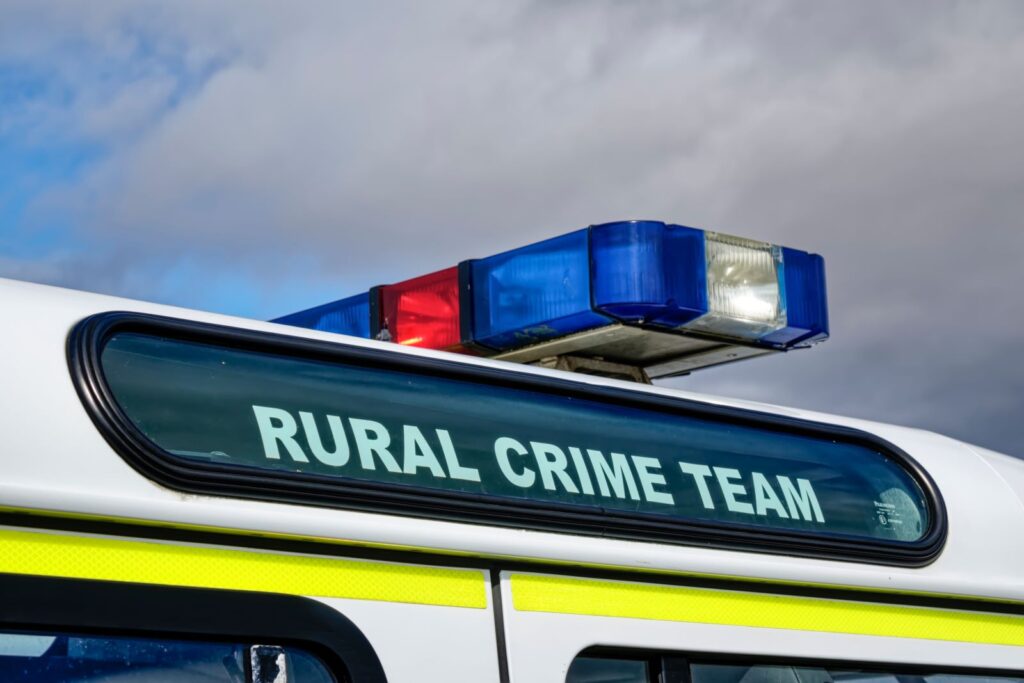 Taking place between 18th and 24th September, the campaign aims to highlights the challenges rural businesses are facing and the work undertaken by police forces and crime commissioners to tackle rural crime.
Following the passing of the Equipment Theft (Prevention) Act, aimed at deterring the theft of quads and ATVs, the NFU is now calling for the act to be expanded to include other agricultural equipment such as GPS systems.
Farm machinery theft is just one of many challenges farmers face nationwide, costing the UK a staggering £49 million in 2022 alone, according to NFU Mutual. An alarming surge in the theft of tractor GPS units cost the UK over £500,000 in the first four months of 2023, more than double compared to the same period in 2022.
Other challenges farmers continue to contend with include hare coursing and livestock worrying.
The NFU, alongside other organisations, successfully campaigned for legislative changes regarding hare coursing, which were included in the Police, Crime, Sentencing and Courts Bill. The NFU is now pushing for the government to follow through its commitment to introduce legislation, originally included in the Kept Animals Bill, to tackle livestock worrying.
NFU vice president David Exwood said: "Highly organised gangs of criminals have continued to plague the British countryside in recent years, stealing livestock, valuable farm machinery and expensive GPS equipment.
"We welcome the action government have taken to tackle hare coursing and ATV theft but urge the government to pass secondary legislation to widen the scope of the Equipment Theft (Prevention) Act to include other equipment, such as larger machinery or GPS systems, and to fulfil its commitments on livestock worrying.
Mr Exwood added the NFU views the creation of the National Rural Crime Unit as a positive step towards making the countryside a safer place and will continue to work closely with stakeholders and police forces to reduce rural crime rates.
Bob Henderson, NFU Mutual lead on Rural Crime, commented: "It is clear specialised policing is highly effective in tackling rural crime and we are proud to provide support and funding for the National Rural Crime Unit, which will strengthen work across the UK ensuring dedicated police resources are targeted where they are needed most.
"We welcome the work by the NFU to bring in changes in legislation to protect farmers and the wider rural community."
Suffolk police launches new rural crime strategy
As part of National Rural Crime Week, Suffolk Constabulary is launching a revised Rural and Wildlife strategy to include a heavy focus on the community, public engagements, and offering crime prevention advice.
The police force has also pledged to continue its commitment to tackling a variety of rural crime, including equine crime, livestock offences, heritage crime which involves the harming of buildings, monuments and parks, and the theft of farming machinery, vehicles, and fuel.
As part of the campaign, representatives from Suffolk police will also be visiting four farms today (Wed 20 Sept) in Stowupland, Bacton, Great Ashfield and Sudbury to offer local farmers crime reduction advice and listen to any concerns they have.
Meanwhile, work over recent months has seen the team attend a pre-harvest farm safety event, where prevention advice was delivered to 120 farmers; provide advice to landowners that are vulnerable to illegal metal detecting; and also liaise closely with anti-hunting organisations and hunts, with a view to seek compliance with the hunting act.
County Policing commander Alice Scott said: "Policing a rural area such as Suffolk offers unique challenges and requires us to work with all areas of the rural community to prevent and detect rural crime. This includes residents, businesses, farmers and those involved in the county's thriving tourist industry.
"There is still more that can be done and in this strategy, we have identified the key challenges faced by rural communities and as a result, the demand on policing."
Police and Crime commissioner Tim Passmore added: "This week is National Rural Crime week and Suffolk is playing its full part in this important initiative.
"The Home Office needs to recognise people in rural areas pay their dues like anyone else and therefore expect to receive their fair share of policing resources."
The commissioner assured keeping people in rural areas safe is a key component of the Suffolk Police and Crime Plan and there will be continued investment in rural policing capacity and resources.